Create and manage quotes
You can access both eQuotes and Sales Quotes via your Premier Page. eQuotes are quotes created online which give users the ability to prepare an order and save it for future purchase. Options for managing eQuotes include: Save, Retrieve, and Edit. Sales Quotes are generated by a Dell Sales Representative and can be retrieved and purchased through Premier. However, any modifications require Dell Sales Support.
A. Saving an eQuote
eQuotes let users prepare an order and save it for purchase later or send it to be reviewed by an authorized buyer.
1. Once all desired products are added to your cart, view the cart and click on "
Save as eQuote.
"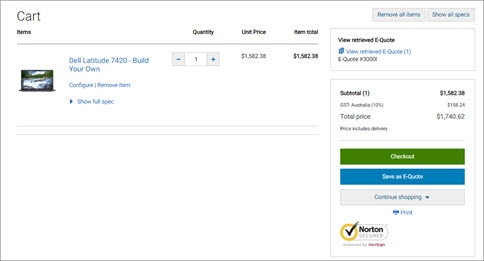 2. Finalize the eQuote by completing all required fields


Specify the name of your eQuote
Enter notes and description if needed (optional).
Enter contact information so you will save time when placing your order.
By selecting your shipping / billing address, you enable us to calculate shipping costs and any other applicable fees (not applicable to all locations), and by providing it, you save time when placing your order.
Then click 'Save eQuote" - You will receive an e-mail confirmation with your saved eQuote information for future reference with a pdf attachment of your quote.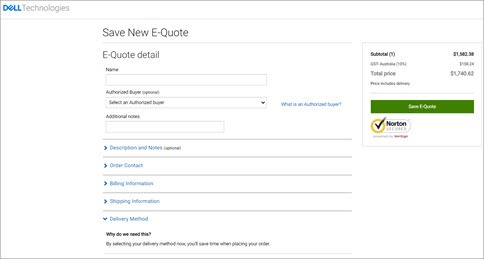 B. Retrieving an eQuote
View and retrieve your Quotes from the Quick links strip available on the Premier home page.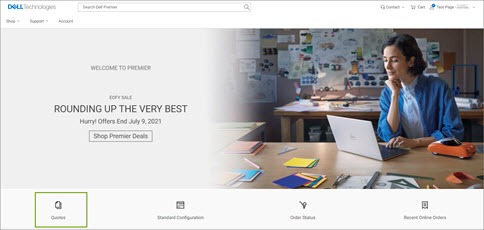 An eQuote can be retrieved by the individual user who saved it or by an authorized eQuote shopper or buyer.
1. eQuote lists can be sorted and displayed by multiple fields. The fastest way to find your quotes is to use the dynamic filtering search box.
2. To purchase a quote, click on the quote number and proceed to checkout.
3. At the bottom of your Quotes page, you can view and access eQuotes which have expired within the last 30 days. Clicking 'Requote" moves the eQuote to cart immediately and generates a new eQuote number. The new eQuote may reflect changes based on item availability and current pricing.
C. Editing an eQuote


The editing feature allows you to modify an existing eQuote. Once modified, you can place an order or re-save with a new eQuote number.
1. You can easily purchase - from within the eQuote list, just click on the eQuote number
2. To make changes to the quantity, open the eQuote by clicking the eQuote number, adjust the quantity and click "
Save new eQuote
" to save your changes. The updated configuration will be saved as a new eQuote referencing a new eQuote number. The original eQuote will not be changed and remains in your list until it expires or is deleted.
3. To make changes to the saved system, click "
Configure
" to re-open the configuration page and select your new options.
D. Retrieve and purchase your sales created quotes 24/7 through Premier*
1. Along with being able to manage your online quotes and orders in Premier, you can retrieve your quotes provided by your Dell Account Team and purchase online.
2. Just login to Premier, go to the Quotes section, retrieve by entering the quote number provided by your sales representative, add to cart and checkout.
3. You will get automated order tracking notifications in your mailbox.
Watch the Video
*May not apply to all products.