Place and track orders
1- Placing an order
A user with buyer or administrator status will have the ability to place orders electronically. Placing orders through Premier ensures order accuracy, which saves your organization time and money.
Placing an order from within your Shopping Cart
1. Add an item or multiple items to your Cart.
2. Verify the quantity of each item selected. The quantity update box allows users to use stepper (+/-) buttons or type in a quantity to change it. The price will be adjusted automatically.
3. You can easily view a complete description of your products by clicking "
Show full spec
" or "
Show all specs
" (top right-hand corner)
4. The "
Continue shopping
" button allows easy navigation back to Premier home page and Shop pages.
5. The enhanced "
Print
" view enables you to print an easy-to-read hard copy with improved print layout.
6. For placing your order, click on the green "
Checkout
" button. This will take you to the secure Checkout screen.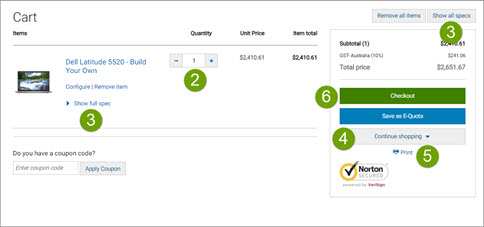 Proceeding to checkout
The single page checkout experience allows you to complete your order quickly.
1- Within the "
Order Contact
" section, input the required information.
2- Complete the required
Shipping information
or select an already pre-populated shipping address.
3- Complete the required
Billing information
or select an already pre-populated billing address.
4- For Channel partners with End User or Value Added Reseller, the user may be asked to make a selection.
5- Mailing Information is required because this is where a hard copy of the invoice will be sent.
6- Select your payment option using the drop-down menu. Fill out the necessary information.
Flexible payment solutions can be made available on your Premier page. Please contact your Dell Account Team for further information.
7- Complete the Trade compliance section.
8- Add any additional required documentation to your order (optional)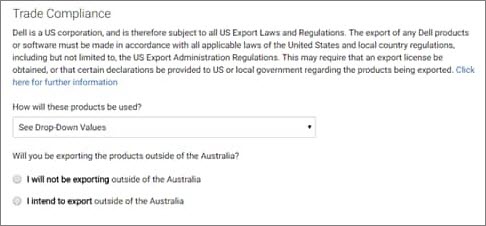 9- Select
Continue Securely
10- Within the
Review
screen, check the order information and make any necessary changes by clicking on the change link. Review the final price that includes taxes as per your billing/shipping address selection.
11- Click the green "
Order and Confirm Payment
" button to send the order to Dell.
12- Within the Thank You screen, you will see a your Internet Reference Number confirming that the order has been submitted.
Note : Final order specifications and amounts, including tax types and shipping & handling, will be communicated following receipt of your online order.
You will receive three order confirmation e-mails updating you on order status:
Order Acknowledgement email notifying you the order has been received by Dell (includes order specifications, tax types and total price).
Order Confirmation email including Dell order number, IRN number, confirmation of the final purchase price and projected ship date.
Ship Notification email contains detailed shipping information and confirms that the order has shipped.
Accelerating your checkout
1. Create your Express Checkout Profile
When proceeding to checkout, you have the ability to create an
Express Checkout Profile
for faster checkout next time. Your profile includes the order contact, billing address, shipping address, delivery method and payment type (Note: For Dell Partners, end user information is included in the saved profile). Every checkout profile can be given a name, enabling you to retrieve it easily.
Select the "Save new Express Checkout Profile" (optional) before pressing the green "Order and Confirm Payment' button. Once your order has been placed, you will get confirmation that your profile has been successfully created.
Good to know: You can save multiple checkout profiles. These profiles are only visible to you.
2. Retrieve your Checkout Profile in Cart
Once enabled, your
Express Checkout Profile(s)
are visible in Premier Cart. Select your profile and enter only your payment details directly in Premier Cart. In some regions, you may be required to complete the Trade Compliance information when proceeding with Express Checkout. Clicking "Express Checkout" takes you to the final checkout step and simplifies your purchasing experience.
3. Manage your Checkout Profiles
At any time, you can access, edit or delete your existing
Checkout Profiles
from your "Account" page. Just select 'Checkout Profiles", located on the left, to view and edit your saved profile(s).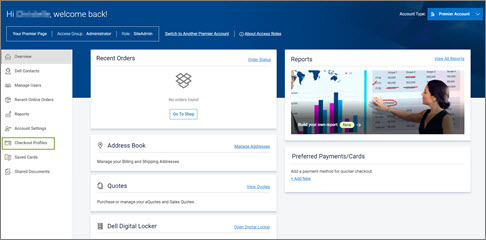 2- Tracking your order
The Online Order Status tool enables you to check the status of your order and view a variety of options relating to current and past Dell purchases. You can track the progress of your orders placed, both online or offline, at any time.
From within your Premier page, you can easily access the order status tool by clicking on the "Order Status" link in the tool belt underneath the Premier navigation menu, or via the "Order Status" section available in the grey strip or finally via your Account page.
The "Order Status" link gives you quick access to all of your orders within the past 2 years that have a status of Received, Confirmed, In Production, Build complete, Shipped, Delivered or Cancelled.
A. Filter and Search


The Order Status page allows you to filter and search by:
1.
Order Number
, your own PO Number and/or Dell Purchase ID.
2.
Customer Number
- displays the customer number(s) associated to your company's Premier page. If you are missing a customer number from this list, please contact your Dell Sales Team to have it enabled for you.
3.
Order Status
gives you the ability to filter by various order status – Received by Dell, Confirmed, In Production, Build Complete, Shipped, Delivered or Cancelled
4.
Order activity
helps to filter by activity such as part-shortage hold, revised delivery date, and invoiced order.
5.
Timeframe
allows you to refine your search
(Last 7, 14, 45, 90 days, last 6 months, past 1 year, past 2 years)
6.
From Date to Date
gives you the ability to select your start and end dates and get a custom report.
B. The different status available
Your online order status provides you with the most up-to-date information related to your order as well as access to key features that help you manage your order. Most frequent used status are:
Received by Dell - Your order has been received by Dell and we're processing it
Confirmed - Your order has been confirmed [explain by whom? "by Dell order processing"?]
In Production - Your order is currently in production.
Build complete - This status informs you that Your order has finished the manufacturing process
Shipped - Your order has been shipped from Dell and is with the delivery carrier.
Delivered - Dell received the delivery date from the carrier.
Cancelled - Your order has been cancelled.
The order could have been cancelled by you or by Dell. If you feel that this order should not have been cancelled, please reach out to your Dell sales representative for further assistance.
C. Access Packing Slip, Service Tag, Credit notes, Invoice and tracking details
Packing Slip – The easiest way to retrieve your packing slips is directly from the Premier order status page, using the expanded view and clicking "View Packing Slip". Packing slip opens in a pdf format and includes order information, shipping information, service tag numbers (system orders), quantity and product descriptions.
Service tags – You have multiple ways to retrieve service tags (when an order goes into Shipped status) directly from the Premier order status page, by clicking "Service tags" in the expanded view or "Items ordered" or finally through the "View Packing Slip" link. Alternatively, you can select the Dell order number or the status of the order to view the service tags for a specific order.
Multiple links to PDF copies of invoices and credit notes are available. Note that invoice links are encrypted and only valid for a couple of seconds.
"Track your Order" allows you to get direct access to carrier information if available.
D. Customizable views and export capability
Using "Customize Columns", you can customize your view by selecting 7 fields (reordering them if necessary) from a list of 30+ options and save it to your profile
Export - All the fields can be exported into an Excel report by clicking the "Export" button. The first 2,000 records will be downloaded instantly; for anything beyond that amount of records, the report will be available in a new link "View Downloads".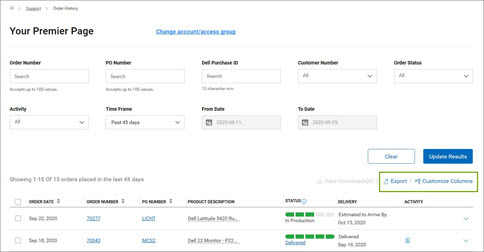 E. Getting access to the Order Details page
When you click on any Order Number link, or "Items Ordered" or even "Service Tags" the application will show you the details of the order including but not limited to
Billing and Shipping details
Estimated Delivery Date
Item
Item Number
Order Details (Order date, Order number, Customer number and Dell Purchase ID)
Order Status
Order Summary
Quantity
Tracking Information
The progress bar at the top allows you to quickly view the status of your order. The "Actions" section at the right of the page provides you with useful links so that it is easier for you to manage your orders from start to finish.
Subscribe to Notifications: Opt-in to receive notifications about an order [by email?], until delivered
View Packing Slip: Retrieve your packing slips in a pdf format
View Invoice: Retrieve an electronic copy of your invoice in a pdf format
Cancel Order (not available in all countries): Cancel order, only possible prior to the "In Production" order status.
Return Order (not available in all countries): Return order, only possible post the "Shipped" order status.
Customer Support: Contact our support experts