Shop for products
There are three product categories available within your organization's Premier Page: Standard Configurations, Dell Systems, and Software & Peripherals. If you do not see a product category available, please contact your Dell Account Team for assistance.
1. Accessing your Standard Configurations:
1. To access your standard configurations, click on the "
Shop
" category and select "
Standard Configurations
" located within the secondary navigation to display your list of customized configurations. For a faster navigation, you can access
Standard Configurations
from the grey strip or from the "Shop Dell Products" sections available on your Premier home page.
2. There are multiple ways to quickly find a standard configuration: you can filter by category, sort by name/subtitle/created by/product/price or use the dynamic search box. Clicking on the name of the configuration or the product image opens the configuration and makes it easy to review the exact list of included components and services. When you are ready, you can add to cart or customize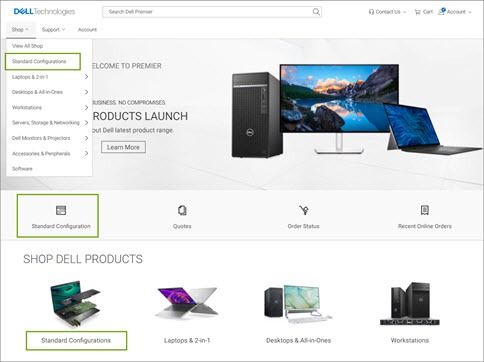 2. Customizing your standard configurations:

1. Locate your standard configuration and click the name of the configuration to view your selection
2. Review the current configuration and click "
Customise and Buy
".
3. Within the configuration page, view/select the component options desired.
4. Click "
Review Selections
" to view your customized configuration.
5. If you need to modify any component, click "
Edit
" next to the corresponding component.
6. Click "
Add to Cart
" to complete the process.
B. Systems
Your Systems Catalog provides access to the complete line of Dell branded products. This catalog can also be customized to display only the products relevant to your organization. You may configure the available options for any product according to your needs.
1. Accessing your Systems Catalog:
To access your Systems Catalog, click on "
Shop
" in the top navigation and then any of the systems related categories in the secondary navigation. A third-level navigation bar will appear enabling you to select a sub-category.
For faster access, choose a category from the "
Shop Dell Products
" section available on your Premier home page.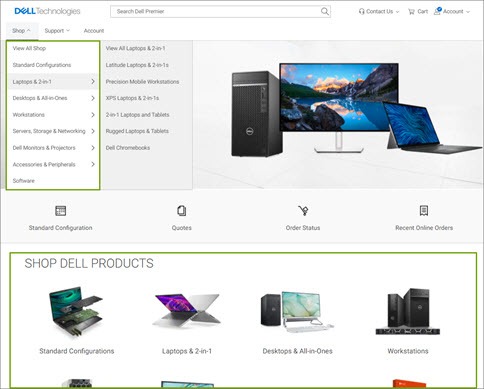 2. Selecting a product within your Dell Systems Catalog
1. Choose a product line from the list of products available (e.g. Desktops, Notebooks, Workstations, Servers & Storage, Dell Branded Peripherals, Imaging).
2. Use our powerful assisted navigation (including refiners and filtering options for finding the right information) on the left of the page to find the right products for your business needs.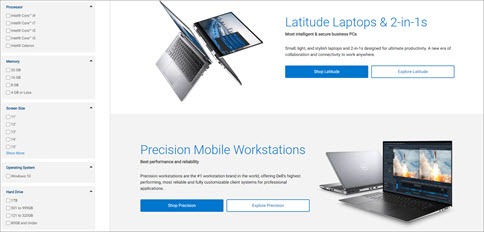 3. When you see the particular Dell model of interest, you can:
Add to Cart
: As you shop for Standard Configurations, Systems, or Software & Peripheral items, simply click on "
Add to Cart
" for each item you would like to purchase or save as an eQuote.
Configure
: If an item is configurable, click on "
Configure
".
The intuitive and single page configurator displays your system with any user-selectable options that are available to your organization.
The price for a configuration will automatically update each time you change an option, so the total system price displayed always includes your current selections.
Tabs along the top let you quickly add accessories or support to your system.
By Selecting "More Actions" you can click the "Review Summary" link to quickly review and edit the configuration options currently selected, or you can choose 'Print or save as pdf" to get the information ready for printing. This displays a summary of the specified configuration, descriptions, and updated price.
3. Product Comparison
When enabled by your Dell Account Team, Product Comparison enables you to compare multiple products. Simply check the box corresponding to the products of interest and select "Add to compare" to enable the compare fly-out toolbar. Click 'Compare Products" to view a side-by-side comparison of product specifications.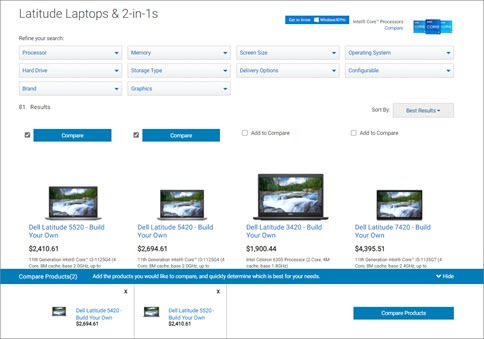 C. Software & Peripherals (S&P)
A large selection of software and peripheral products from multiple manufacturers is available within your Premier page. When shopping for S&P items, you can search by product categories or keyword search. The S&P catalog will have your organization's negotiated pricing included. Note: Some S&P items may not be enabled on your Premier page depending on how the catalog is setup by your Dell Account Team.
Accessing your Software & Peripherals Catalog:
To access your "Accessories & Peripherals" or "Software" catalog, click on "
Shop
" in the top navigation. In the secondary navigation, if "
Accessories & peripherals
" is selected, a third-level navigation bar allows you to narrow your selection.
For faster selection, choose a category from the "
Shop Dell Products
" section available on your Premier home page.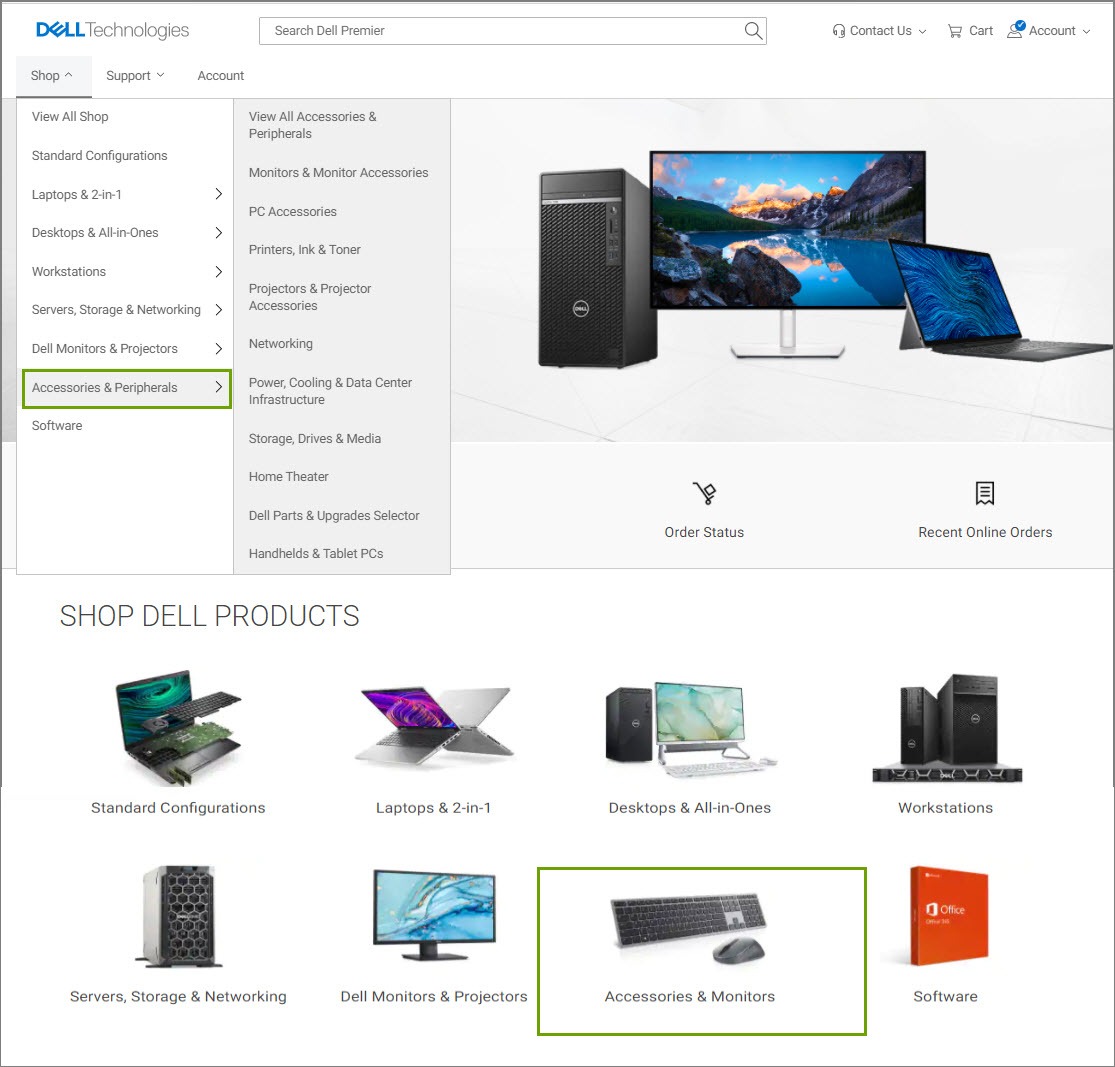 When the Software & Peripherals catalog is accessed, you will be able to view product categories using the left-hand Product Category menu or view the category images.