Through serving our healthcare customers worldwide, we learn about medical trends and needs — such as the void of new, innovative children's cancer treatments.

Dell believes technology is a critical part of changing this void and enabling more effective treatment of disease.

Dell has made a multimillion dollar, multiyear commitment to help doctors and families dealing with pediatric cancer through our work with nongovernmental organizations.

In FY16, our children's cancer initiatives helped more than 28,000 youth directly and supported 36,000 people indirectly.

We believe the resulting breakthroughs in personalized medicine will potentially save countless lives in the future.

---
How Dell helps

See how we're working with doctors to find better treatment plans.

Watch the Video
Digital transformation

How technology turns genetic code - with 3 billion characters - into a treatment plan.

Watch the Video
Speed and Precision

How technology helped 12-year old Beorn find a better treatment, quickly.

Watch the Video
Dell given McCain Award

Dell was given the John McCain Award for our support of cancer research.

Watch the Video
Stories of hope

One of the partnerships we're most proud of is with TGen and Beat Childhood Cancer, harnessing the power of precision medicine to diagnosis and create more effective treatment plans for pediatric cancer and rare childhood diseases. As part of our work with them, we learn about remarkable young patients with extraordinary courage, and their families. Meet some of these special people here.

Jens, 7-years old

Alaska

Read Jens' story

Beorn, 12-years old

Arizona

Read Beorn's story
---
Advancing care. Advancing hope.

When a child is critically ill, doctors need the best information to make a diagnosis – and the ability to make that diagnosis fast.

We've been working with TGen since 2011, and with our funding and technology donations (totaling more than $30 million) we've been able to reduce the time it takes to do a whole genome sequencing analysis from multiple weeks to eight hours. More importantly, we're eliminating the need for unnecessary or ineffective medical treatments.

Since 2011, over 150 critically ill patients have received precision medicine-based treatment based on genomic sequencing. Recently published trial results show that the precision medicine approach stabilized or reduced tumors in 64 percent of children with neuroblastoma.

At TGen, the Dell Genomic Data Analysis Platform combines high-performance computing and a cloud-based portal to help researchers rapidly analyze and understand patients' genomic data, develop individualized treatments, and share their results with colleagues around the globe.

This is known as precision medicine, and it holds the promise of providing better insights for diagnosis and treatment, which can improve chances of survival and reduce medical costs.

How does precision medicine work? What role does Dell's technology play?

Dr. Giselle Sholler asks you to envision a computer monitor with numerous images of DNA and RNA strands, showing the genetic codes causing cancerous tumors to grow. Doctors can then learn how to break these codes by using drugs.

This information is made possible after a process called "genomic sequencing," where a piece of a child's tumor is studied using very specialized computing technology that can analyze more than 200 billion data points.

Dr. Sholler is the director of the Haworth Innovative Therapeutics Clinic at HDVCH. She's also the director of the pediatric oncology research program there, and the chair of the Beat Childhood Cancer Consortium.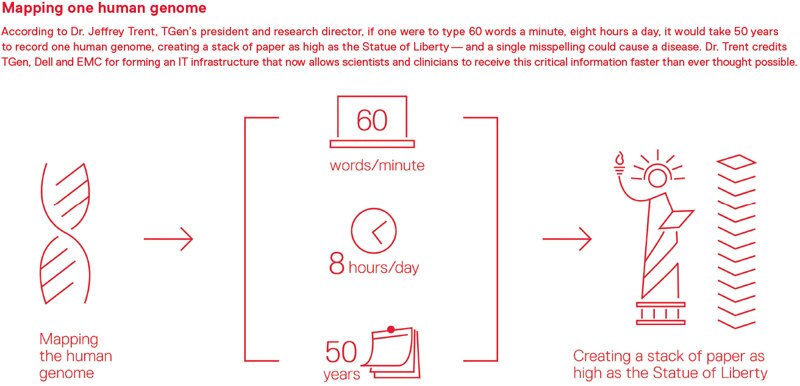 The TGen bioinformatics team in Phoenix, Arizona, uses Dell's high-performance computing solution to analyze patients' tumors as part of TGen's partnership with Dr. Sholler and the Beat Childhood Cancer consortium.

While this analysis at TGen is happening, a piece of the tumor is also at the hospital lab, where Dr. Sholler and her team use it to grow more cells in culture, in order to test which drugs the tumor cells respond to.

Once this work is complete, a broad team of experts from all over the world convene and talk about the patient's information – all digitally stored in the KIDS Cloud, a cloud-based Dell solution that enables medical professionals from TGen and all the Beat Childhood Cancer clinical trial sites to collaboratively review information and create treatment plans.

As a result of all this collaboration – and technology – the young patient is prescribed a personalized treatment plan with more effective medications and potentially, less harsh side effects.

In FY16, Dell's support enabled TGen and Beat Childhood Cancer to launch the world's first Food and Drug Administration (FDA)-approved precision medicine trial that applies upfront molecular guided therapy in combination with standard chemotherapy at the point of pediatric cancer's diagnosis. This represents a new approach, as molecular guided therapy has typically been applied only after patients' tumors have proven resistant to more traditional therapies.

TGen and its partner, City of Hope, are pioneering research in other areas as well. They have developed innovative new ways to isolate multiple cancer types, Alzheimer's disease and other neurological disorders, and rare childhood diseases. We are extremely excited to see what further breakthroughs our technology will enable when it comes to research and testing.

In addition to our efforts with TGen and our other partners, we help patients and their families in more subtle, yet important ways. For example, our support has enabled children staying at a Ronald McDonald House or other charitable location to use our technology to stay connected and keep up with schoolwork as they receive medical care.