Dell acquires Force10 Networks

 
 
 
Acquisition Overview

Why Force10 Networks

Customer and Partner Benefits

Dell completed its acquisition of Force10 Networks, a global technology leader in high-performance data center networking. Dell Force10™ solutions provide enterprise performance and resiliency while reducing overall total cost of ownership, simplifying network deployment and supporting open, standards-based systems and management solutions. Dell's latest investment broadens its enterprise portfolio to offer customers a complete range of data center products and solutions, while the existing Dell PowerConnect™ line continues to address the campus switching market, focused on enabling anytime and anywhere data access. Dell's combined networking portfolio delivers a disciplined, strategic approach for the future of data center and campus networking with next-generation architectures, coordinated capabilities and focus on customer efficiency.
Today's data center networks are complex and manually configured. What worked in the past is no longer viable for future technology. Next-generation data center networks (also known as "fabrics") must enable automation of virtual machine movement across data centers. Dell has taken significant steps over the past 3 years to expand its enterprise presence into a complete solutions provider, including development of an integrated stack of leading server, storage, networking and services resources that help customers streamline operations to reduce IT costs, manage data growth and simplify management. The addition of networking is a natural complement to Dell's server strength.

Dell Force10 expands our enterprise networking portfolio and capability, which enables us to be able to offer customers a comprehensive end-to-end infrastructure solution across storage, servers and networking. Dell remains committed to providing open, capable and affordable solutions together with our solution partners; current networking technology and solution partners will remain an important component of our global enterprise data center strategy. With continued focus on campus switching, Dell PowerConnect delivers solutions to enable anytime, anywhere secure application and data access.

Special note:
Statements that relate to future results and events are forward-looking statements based on Dell's current expectations. Actual results and events in future periods may differ materially from those expressed or implied by these forward-looking statements because of a number of risks, uncertainties and other factors. Risks, uncertainties and assumptions include the possibility that projected benefits may not materialize as expected; that the transaction may not be timely completed, if at all; that Dell is unable to successfully implement the plans, strategies and objectives of management for future operations, including the execution of integration strategies; and other risks that are described in Dell's Securities and Exchange Commission reports. Dell undertakes no obligation to update these forward-looking statements.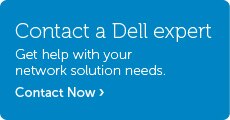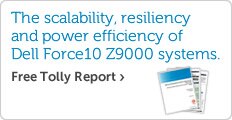 Quotes:

"Data center networking is going through a significant transformation to support applications and virtualization and meet the needs of end users and IT administrators. Simply put, customers need a new approach, which is what we are calling Virtual Network Services Infrastructure. Force10's history of product innovation and technology leadership in data center networking matches and accelerates our vision."
Dario Zamarian,
Vice President and General Manager,
Dell Networking

"We are excited to work with Dell. Combining Dell's global scale, reach and enterprise portfolio with our innovation in high-performance networking provides our customers the best end-to-end solution for today's and tomorrow's data centers."
Henry Wasik,
Chief Executive Officer,
Force10 Networks