Identifying priorities in corporate social responsibility (CSR) is a complex and thorough process involving a broad mix of tactics, including business introspection, industry analysis, environmental and community impact review, and stakeholder engagement beyond traditional business analytics. Through that mix, we can identify and mitigate risks while leveraging opportunities that improve our business and the world around us. This includes helping our customers achieve their goals while improving the environment and well-being for all in our value chain.

In FY18, we conducted a review of our sustainability materiality priorities. Learn more about this review by visiting our FY18 Annual Update on our 2020 Legacy of Good Plan.
Priorities identified by our sustainability materiality review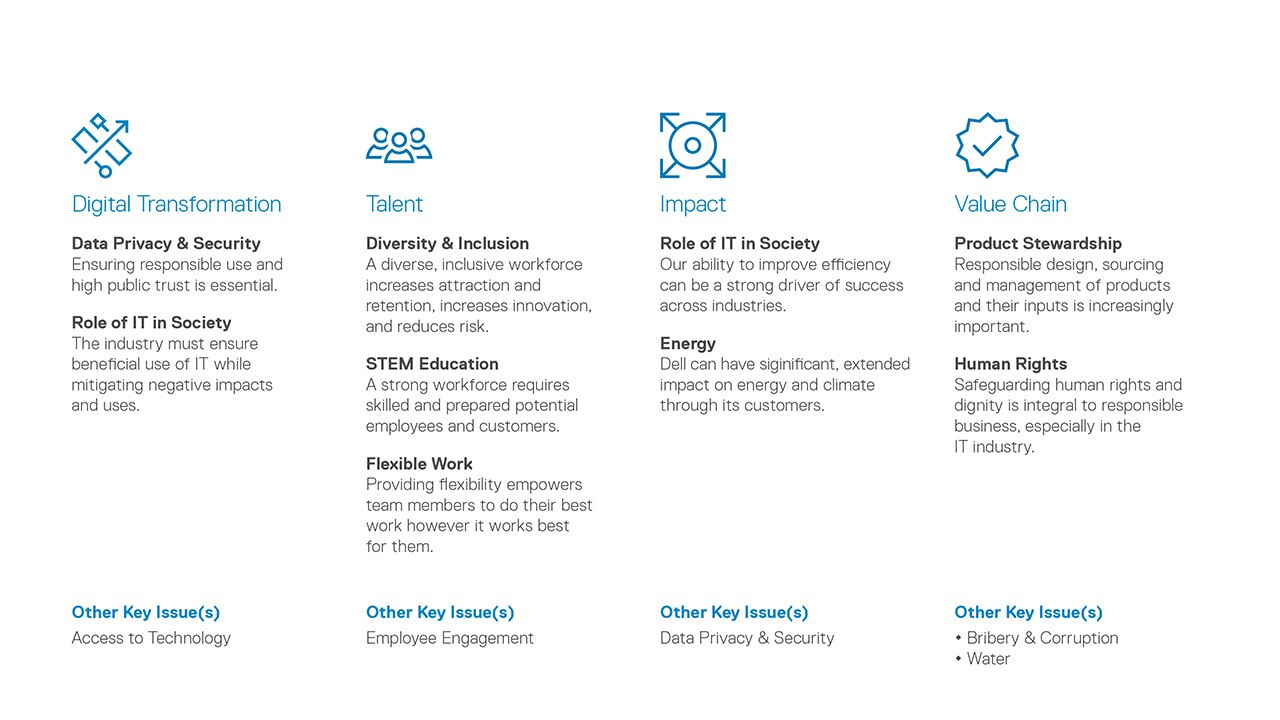 The principles behind our goals

These tenets helped guide the formulation of our 2020 Legacy of Good Plan and the goals we report against:
Focus on our customers: We will succeed if we keep the customer foremost in our mind, linking our goals back to providing them with value.
Innovate: Business as usual is not enough. We must reimagine what is possible.
Scale globally: From managing a complex supply chain to understanding and appreciating the different cultures in which we live and work, we must view our activities with a global lens.
Be transparent and accountable: Better and more strategic reporting will clarify our impacts and progress each year.
Lead by example: We will strengthen our work as an advocate and partner for social and environmental change, pushing sustainability more into the mainstream market.
Welcome collaboration: To achieve our aspirations at the necessary scale, we will need engaged, courageous collaborators.
Focus on what is material: Not only should we focus on business-as-usual improvements to our performance, but we should also embrace those material issues that go beyond our normal operations.
Our annual GRI content index

In addition to our annual corporate social responsibility report, each year we publish an online Global Reporting Initiative (GRI) content index, prepared in accordance with the GRI Standards: Comprehensive option.

Looking ahead

As we embark on setting Dell's 2030 goals, we will complete a full materiality assessment. Learn more about this work by visiting our FY18 Annual Update on our 2020 Legacy of Good Plan.