Power of One Mentor Challenge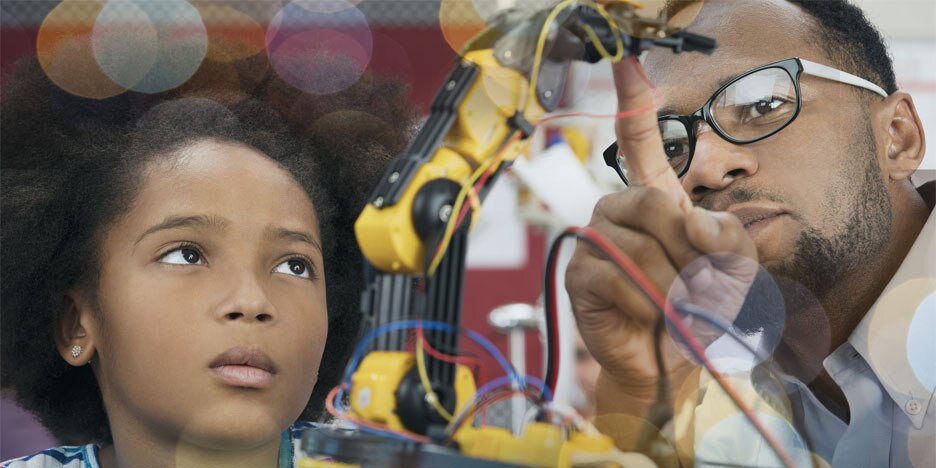 Power of One Mentor Challenge

Spark an interest in a STEM career

---
Did you know employment in STEM occupations grew by 10.5 percent in the U.S. between May 2009 and May 2015, compared with 5.2 percent in non-STEM occupations? Or that 93 out of 100 STEM jobs commanded above average wages? While these are U.S. numbers, the increased demand for employees trained in STEM fields is worldwide.

Just like our customers, young people have to be prepared for an increasingly digital world. When kids thrive, we all benefit. For the technology industry, which is experiencing rapid job growth, we'll need participation from everyone. It is critical all young people are prepared to fill the jobs of the future.

That's why we're launching the Power of One Mentor Challenge. Spend one hour with one young person and talk to them about what it's like to have a career in STEM (Science, Technology, Engineering, and Math) and why they should consider it. See what kind of spark you can ignite.
 
Find out more about Dell's efforts to involve girls and women in STEM fields.
---
---
Mentoring tips:

Wondering what you can do as a mentor? Here are some helpful tips from the United Way on how to be a good mentor. Also, remember that it's only one hour, so keep things simple and fun.

1. Be yourself:

Share your experiences and your failures. The more you are yourself, the stronger of a connection you will build with your mentee. Answer any questions as openly and truthfully as you can.

 

2. Be genuinely interested in your mentee as an individual:

Ask about their hopes and dreams, so you can help them in a way that meets their personal best interest. Be objective, be patient and a good listener.

 

3. Share your experiences and insights:

Choose stories and experiences that you feel are appropriate and helpful. Be open to sharing your mistakes and failures too, as these are often where our biggest lessons are learned. It will also help your mentee be aware that challenges will arise, and share how you dealt with a situation, choice or challenge.

 

4. Act as a sounding board:

Mentees benefit greatly from the opportunity of having a good mentor listen to them. Allow them to explore their thoughts and ideas openly with you. This will often help them unravel their thinking and gain insights about a situation as they share their concerns with you.

 

5. Provide a fresh perspective:

A good mentor will often provide their mentee with a fresh perspective on an issue. A good mentor will often have the clarity of distance from an issue or problem that's needed to provide objective feedback to their mentee.

 

6. Have fun:

Mentors often learn a great deal about themselves through the course of a mentorship relationship. Remember to make the experience a fun and engaging one for the mentee and for yourself!