Educators Embrace Student Empowered Learning through New Portfolio of Innovative Dell PCs and Monitors
Date : 1/25/2017
London, England
Three new mobile Dell PCs designed specifically to enhance the learning process
World's No.1 monitor brand1 introduces 55-inch and 86-inch interactive touch monitors
Dell EMC to showcase education portfolio at BETT Show in London
Dell EMC, the infrastructure solutions business of Dell Technologies, announces a new portfolio of education PCs and monitors designed to help teachers leverage the latest technology to improve learning opportunities for K-12 students worldwide. This newest line of products from Dell's client solutions portfolio helps educators improve teaching practices by introducing three new purpose-built laptops designed to withstand the rigors of the day-to-day classroom environment. New t o the education portfolio will be a 360-degree convertible notebook built for K-12 students.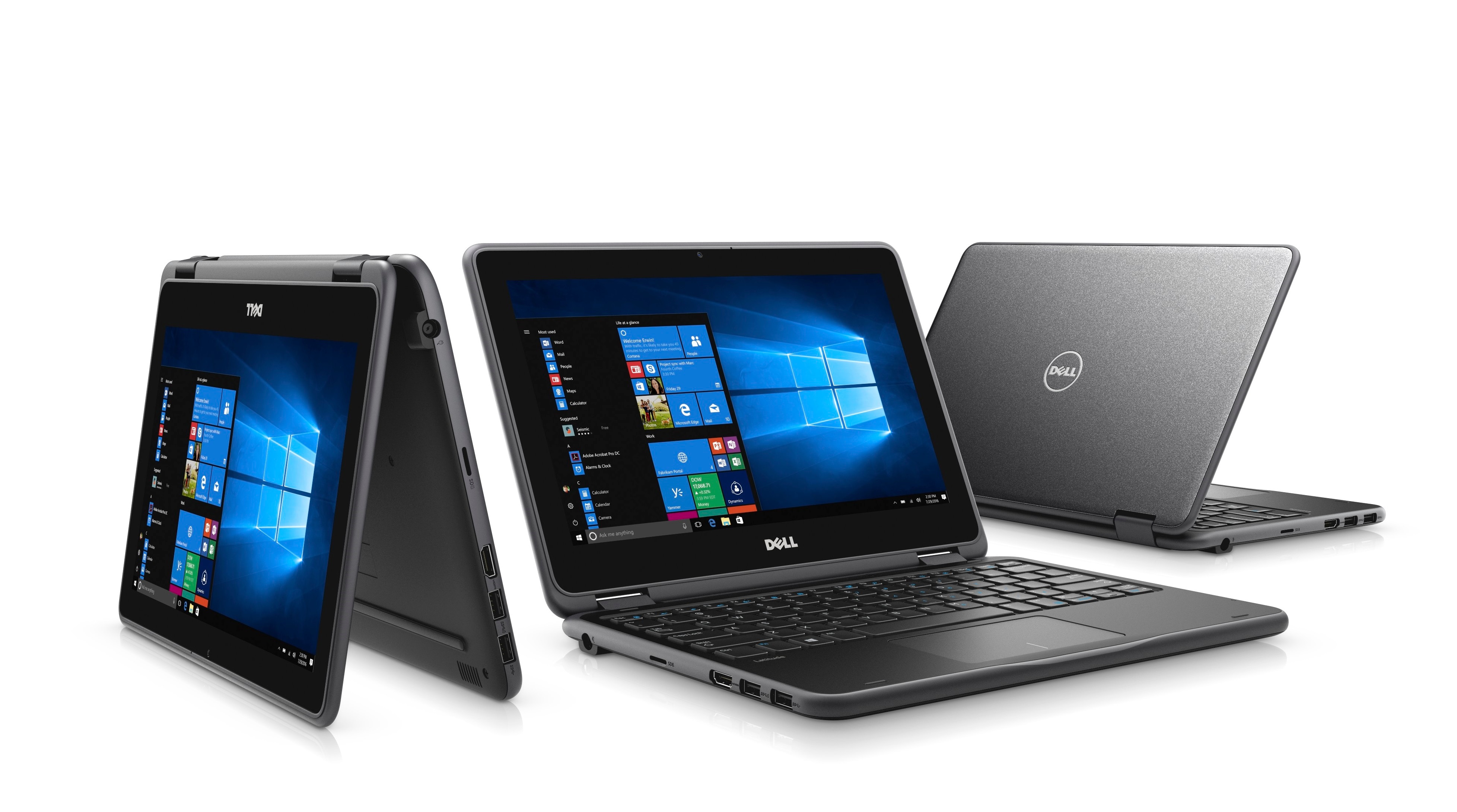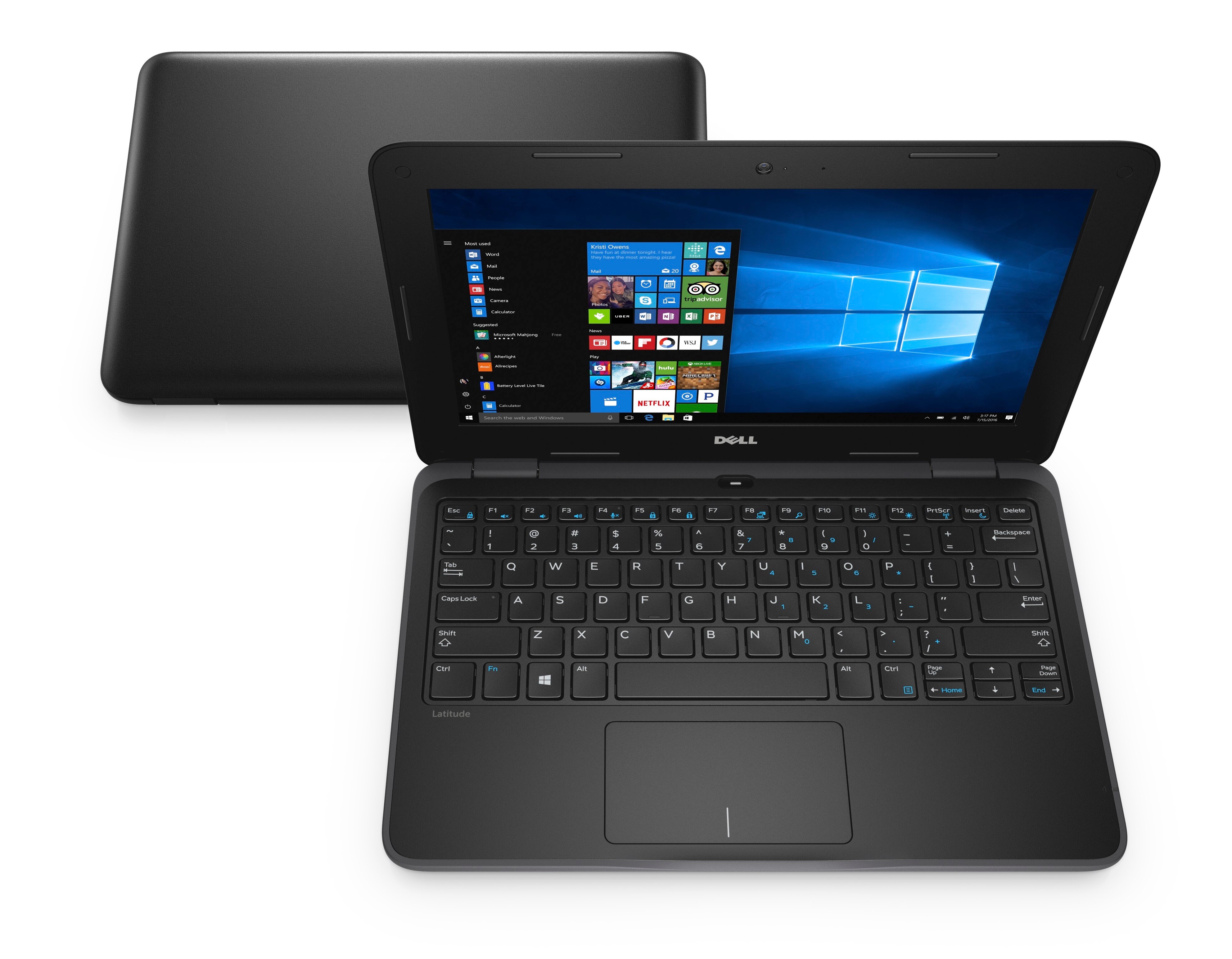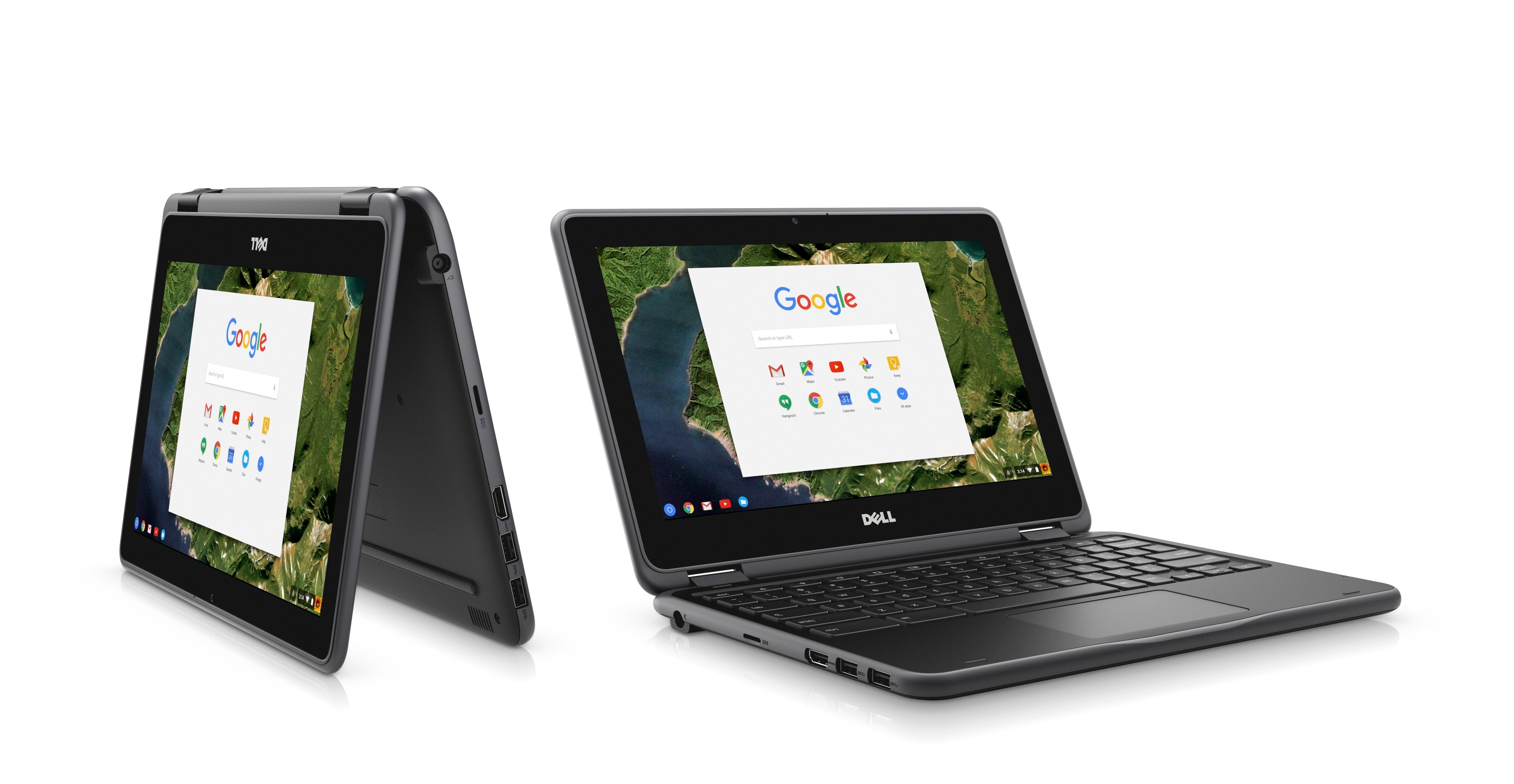 Dell created these new systems with flexibility and choice in the learning environment in mind. Each of the three new devices are fully compatible with either Windows or Chrome operating systems, designed to provide options to our customers as many schools have hybrid technology implementations and multiple technology needs. The new devices are also built for a full day of learning, delivering all-day battery life2. Each new product features 6th Gen and the latest 7th Gen Intel® processors for maximum performance without sacrificing battery life.
With the rising importance of visualization and creative learning in a digital age, the power of having multiple displays present in learning environments is paramount to helping teachers and students alike. With this in mind, Dell is also introducing two interactive displays built for classroom presentations and collaboration.
"Learning model best practices have evolved and today's education environment needs to be personalized and student-led, giving students the freedom to produce their best work both inside and outside the classroom," said Jon Phillips, managing director of worldwide education strategy, Dell EMC. "With this release of our best-ever portfolio of education devices, we want to empower student-led learning by providing the tools both educators and students need to inquire, create and collaborate, wherever that may take place."
Latitude 11 Convertible (3189) with Dell Productivity Active Pen (PN557W) and Chromebook 11 Convertible (3189)
The two 11-inch 2-in-1 convertible laptops are new additions to Dell's education product lineup and adjust to the needs of the lesson of the day by offering 360-degree flexibility with clamshell, tablet and tent modes. Corning® Concore Glass and Gorilla® Glass NBT™ add durability and scratch resistance to the touch-enabled display. The Latitude 11 Convertible is available with 7th Gen Intel® Celeron™ and Pentium™ processors, while the Chromebook 11 Convertible is available with 6th Gen Intel® Celeron™ processors.
While in tablet mode, the Windows-version has a "world-facing" camera available for creating videos on the go and opening up creative possibilities. The Windows-version also offers the optional Dell Productivity Active Pen so students can improve their understanding of conceptual applications by writing notes and making diagrams with natural pen-to-paper writing motion.
Latitude 11 and Chromebook 11 (3180)
These reliable and affordable 11-inch notebooks have an all new design that reduces the overall size so they're easy to move from desk to table for group assignments. They feature an ergonomically designed keyboard for natural, comfortable student use and all-day battery life2. The fully sealed keyboards and click pads provide protection against spills and the "secure" keys are 50 percent more tamper resistant than in previous generation products.
They also feature a 180-degree lay-flat, durable hinge to support collaboration, allowing students and educators to gather around a single device and view material together. The Latitude 11 is available with 7th Gen Intel® Celeron™ and Pentium™ processors, while the Chromebook 11 is available with 6th Gen Intel® Celeron™ processors.
Latitude 13 and Chromebook 13 (3380)
These 13-inch notebooks deliver a larger screen, more powerful processing performance and faster memory for students to create and excel using the latest STEM applications. The laptop's design will support advanced curriculums, content delivery methods and learning use cases, providing a powerful platform for students and teachers to create and explore.
Even with increased performance and reduced size, these laptops also deliver all-day battery life2, an improvement over previous generation products. Optional E-Rate mobile broadband (Windows only) allows educational institutions to support connected learning at a discounted rate wherever Wi-Fi isn't available. The Latitude 13 is available with 6th and 7th Gen Intel® Celeron™, Pentium™, and up to Core i5 processors, while the Chromebook 13 is available with 6th Gen Intel® Celeron™ or Core i3 processors.
Built to Survive the Classroom Environment
All three mobile devices have been designed to MIL-STD 810G specs to survive the daily rigor of the classroom environment. Each model includes fully sealed keyboards and touchpads, providing protection against spills on a student laptop, and a metal bracket adds torque-resistance to the power port.
Dell delivers fully rugged products for the harshest environments. Drawing from Dell's experience building mobile devices for field services, law enforcement, first responders and the military, the new education laptops are designed to ensure students and teachers have the most durable products to rely on, every day.
Dell 55 and 86 4K Interactive Touch Monitors
The release of Dell's 55-inch and 86-inch 4K Interactive Touch Monitors (C5518QT and C8618QT) follows the introduction of Dell's 70-inch Interactive Touch Monitor (C7017T) – the company's first interactive touch, 70-inch, Full HD (1080p) monitor, developed in response to increasing demand for Interactive Flat Panel Displays (IFPDs) as an easier to manage alternative to Interactive Whiteboards (IWBs).
As the newest additions to Dell's expanding portfolio of large displays, the Dell 55 and 86 4K Interactive Touch Monitors offer a touch display for collaboration with up to 20 touch points for classrooms and meeting rooms. New InGlassTM touch technology allows for a natural writing experience with two included passive styluses as well as anti-glare and anti-smudge coating on the cover glass for easy viewing. Both monitors feature 4K UHD resolution and utilize monitor technology for clear text and images.
To further support the needs of teachers, these monitors are also easy to connect and manage, with multiple ports for plug and play connectivity and optional wireless connectivity via the Dell Wireless Module. Both the C5518QT and C8618QT have a unique design that can integrate a Dell OptiPlex Micro desktop within the back panel and without a separate power cord. As a Dell display built on proven technology, it also offers reliability and world-class support, backed by Dell's three-year Advanced Exchange Service and Limited Hardware Warranty3.
New Dell Mobile Computing Carts
The open architecture Dell Mobile Computing carts are versatile ways to store, charge, manage and secure up to 30 select Dell computing devices. With horizontal shelves and vertical dividers, the footprint of the carts is the same whether the doors are open or closed, and separate storage areas ease device access by multiple users at one time. Large 360-degree caster wheels and a comfortable handle allow for ease in transporting.
Pricing and Availability
The Latitude 11 Convertible and Chromebook 11 Convertible (3189) will be available beginning Feb. 7, 2017, on Dell.com in the U.S. The Latitude 11 Convertible will be priced starting at $579 and the Chromebook 11 Convertible will start at $349.
The Latitude 11 and Dell Chromebook 11 (3180) will be available beginning Feb. 7, 2017, on Dell.com in the U.S. The Latitude 11 will be priced starting at $349 and the Chromebook 11 will start at $219.
The Latitude 13 and Dell Chromebook 13 (3380) will be available beginning Feb. 7, 2017, on Dell.com in the U.S. The Latitude 13 will be priced starting at $519 and the Chromebook 13 will start at $299.
The Dell 55 4K Interactive Touch Monitor ( C5518QT) and the Dell 86 4K Interactive Touch Monitor (C8618QT) will be available beginning March 30, 2017, on Dell.com.
The Dell 55 4K Interactive Touch Monitor ( C5518QT) will be priced below $5,000 USD and the Dell 86 4K Interactive Touch Monitor (C8618QT) will be priced below $11,000 USD.
Dell at #BETT2017
These announcements come as part of Dell EMC's participation as an exhibitor at the BETT Show, taking place Jan. 25-28. To learn more about how Dell EMC is transforming education, visit stand B330. Dell EMC specialists will be on hand to offer their technology expertise and will be hosting daily interactive presentations. There will also be immersive virtual reality experiences, hands-on opportunities with the latest technology, and a chance to win exclusive prizes through various competitions. Register for BETT here. Visit Dell.co.uk/education to learn more.
About Dell Inc.
Dell Inc., a part of
Dell Technologies
, provides customers of all sizes – including 98 percent of the Fortune 500 – with a broad, innovative portfolio from edge to core to cloud. Dell Inc. comprises Dell client as well as Dell EMC infrastructure offerings that enable organizations to modernize, automate and transform their data center while providing today's workforce and consumers what they need to securely connect, produce, and collaborate from anywhere at any time.

Dell, Dell EMC and Dell Inc. are trademarks of Dell Technologies in the United States and/or other jurisdictions. All other marks and names mentioned herein may be trademarks of their respective companies.

---
1
Source: IHS Global Inc. Desktop Monitor Market Tracker (2013 to 2015)

2
Based on testing using the MobileMark 2014 battery life benchmark test. For more information about this benchmark test, visit www.bapco.com. Actual battery life may be significantly less than the test results and varies depending on product configuration and use, software, usage, operating conditions, power management settings and other factors. Maximum battery life will decrease with time.

3
Limited Hardware Warranty available by writing Dell USA LP, Attn: Warranties, One Dell Way, Round Rock, TX 78682 or
see dell.com/warranty




Media Contacts
Amanda Engler
Dell | Public Relations
Round Rock, Texas
+1 512 723 7381
+1 512 584 0667