Optimize storage performance with automated monitoring and diagnostics
Storage uptime and availability play a crucial role in optimizing IT service effectiveness and organizational productivity. To help keep their Dell EqualLogic storage area networks (SANs) running optimally, administrators can take advantage of the robust analytical capabilities and comprehensive monitoring and management functionality of EqualLogic SAN Headquarters (SAN HQ). Part of the powerful EqualLogic portfolio of advanced storage management and data protection software, the SAN HQ monitoring and reporting tool is provided at no additional cost with EqualLogic PS Series storage arrays.1
The recently released version 2.6 of SAN HQ extends administrators' capabilities with Dell SupportAssist, an automated proactive support technology that helps identify faults and accelerate time to resolution. SAN HQ version 2.6 with SupportAssist technology helps simplify storage management, optimize performance and boost efficiency. Also, SAN HQ version 2.6 adds support for Microsoft® Windows Server® 2012 and Windows 8 operating systems.
Integrating multigroup monitoring
SAN HQ integrates the monitoring of EqualLogic PS Series storage deployments across multiple sites and geographies to enhance operational awareness and facilitate performance optimization and capacity planning. To support ongoing operations planning, trend analysis and troubleshooting, SAN HQ gathers and displays performance, utilization and event data across multiple groups of EqualLogic PS series arrays. Data is gathered at multiple levels, including groups, pools, members, disks, volumes and volume collections. This data is then aggregated into a centralized, easy-to-use console designed to provide administrators with a single-pane-of-glass view of their entire EqualLogic storage environment, including performance, capacity and alert information. This ready access to integrated system intelligence and storage operations information allows administrators to view system health at a glance.
The Live View feature captures and displays detailed, near-real-time diagnostics information to accelerate problem diagnosis and resolution. Administrators can run one or more Live View sessions, each of which can monitor either a single member or a single volume. A rapid polling rate enables Live View to establish a baseline and capture performance spikes that deliver an extremely detailed view of member or volume status. For a view of storage arrays during normal operations, Normalized View Reporting — also called 95th-percentile reporting — factors out data spikes; these spikes occur infrequently, often comprise the top 5 percent of data I/O and do not reflect most typical I/O patterns.
To help administrators assess current system performance and reliability, as well as plan for future capacity requirements, SAN HQ includes advanced analytical and predictive capabilities. For example, version 2.6 of SAN HQ enhances the utility's RAID Evaluator feature with RAID reliability reporting capabilities. The updated RAID Evaluator calculates a RAID policy reliability score that indicates the current configuration's resilience in case of a disk failure, enabling administrators to analyze the overall reliability and effectiveness of current RAID policies.
RAID Evaluator is also designed to forecast performance and reliability impacts from potential RAID policy changes. Using information from RAID Evaluator, administrators can apply different RAID policies to individual members in a group or pool and evaluate both the performance benefits and the impact on reliability for each choice. This capability helps administrators choose the RAID policies that are most appropriate for specific usage requirements.
In addition, SAN HQ version 2.6 includes the Experimental Analysis function, which estimates the maximum theoretical I/Os per second (IOPS) for a particular storage configuration. The function uses historical workload information to determine the potential performance headroom available for growth. These analyses help administrators obtain directional indications about how much additional workload their existing pool structures can handle. Based on these indications, administrators can determine if any changes are necessary to support new requirements, such as rebalancing workloads across pools or adding hardware to an existing pool.
To facilitate the analysis of performance metrics, SAN HQ can archive existing storage performance data to be accessed offline. Administrators can combine this storage performance data with server and application performance data collected by the Dell Performance Analysis Collection Kit (DPACK).2 Using SAN HQ in conjunction with DPACK enables administrators to compare server segments and storage segments within their environments. They can then use this comprehensive, systemwide view of performance to assess current usage, diagnose bottlenecks, identify trends and plan for future requirements. Administrators can share SAN HQ and DPACK archives with Dell service and sales support experts for additional analytical and planning expertise.
Automating problem resolution
Version 2.6 of SAN HQ introduces the implementation of the SupportAssist automated proactive support capability for EqualLogic storage. Available as part of the Dell ProSupport and ProSupport Plus service offerings, SupportAssist is designed to proactively identify issues and create support cases without manual intervention. (For more information about Dell ProSupport Plus, see the sidebar, "Stepping up to enterprise-class support.")
Stepping up to enterprise-class support
To maintain the performance and availability of Dell EqualLogic storage arrays, administrators need to stay ahead of problems that can put daily operations at risk. A feature of EqualLogic SAN Headquarters (SAN HQ) version 2.6, Dell SupportAssist provides problem identification and automatic case creation for EqualLogic arrays covered by the Dell ProSupport service offering. In addition, SupportAssist enables advanced reporting and recommendations for customer organizations as part of the Dell ProSupport Plus service.
ProSupport Plus offers levels of support and service beyond those already enjoyed by ProSupport customers. This comprehensive offering is designed to help organizations improve the performance and stability of their critical systems, as well as maximize their workload availability. Key additional features of ProSupport Plus include the following:
A dedicated technical account manager as a single point of contact for enterprise-class support

Immediate access to elite ProSupport Plus engineers for quick and efficient resolutions

Monthly contract and support-history reporting to aid in budgeting, planning and recommendations based on trends and best practices across the Dell customer base
For more information about ProSupport Plus, visit Dell.com/prosupportplus.
In a traditional support scenario, resolving technical problems often includes time-consuming, back-and-forth communication between the organization and the technology vendor. For example, if a component such as a hard disk should malfunction, the administrator typically notifies the vendor of the failure. After the vendor verifies support entitlement and creates a case, the administrator uploads configuration and diagnostic information and communicates with the vendor by phone or email to troubleshoot the issue until it is resolved. This process can involve considerable time and distract IT administrative resources from value-added initiatives.
To streamline problem resolution, SupportAssist helps remove the need for administrators to initiate certain support cases. When an administrator enables SupportAssist through SAN HQ for EqualLogic storage groups, SupportAssist automatically collects select configuration, diagnostic and capacity data and uploads that information to a secure Dell Support web server. SupportAssist has an intelligence engine that analyzes this data for critical events and conditions. When an issue arises, SupportAssist notifies both Dell Support teams and the customer organization. To minimize impact on performance and resources, SupportAssist is designed for fast deployment, rapid data collection and minimal data transmission.
In a proactive support scenario of a disk failure, SupportAssist would detect the fault automatically. SupportAssist then sends diagnostic and configuration information to Dell over a secure connection and creates a Dell Support case so that support engineers can review the data and proactively begin work on the case. SupportAssist also emails the customer's administrator with information about the newly opened case. This streamlined path to problem resolution helps eliminate time-consuming communication, improve system uptime and minimize burden on IT resources.
To help ensure security, SupportAssist, via SAN HQ, interacts with the EqualLogic arrays exclusively through a read-only administrator account. SupportAssist encrypts communications between the EqualLogic array and Dell and scrubs user passwords prior to upload; any transmissions to Dell are documented in the SAN HQ activity logs.
SupportAssist automated proactive technology is also available for a wide range of Dell enterprise devices, including Dell PowerEdge™ servers and Dell Networking offerings (see figure). In addition, SupportAssist integrates with management consoles such as Dell OpenManage™ Essentials to provide added remote monitoring capabilities.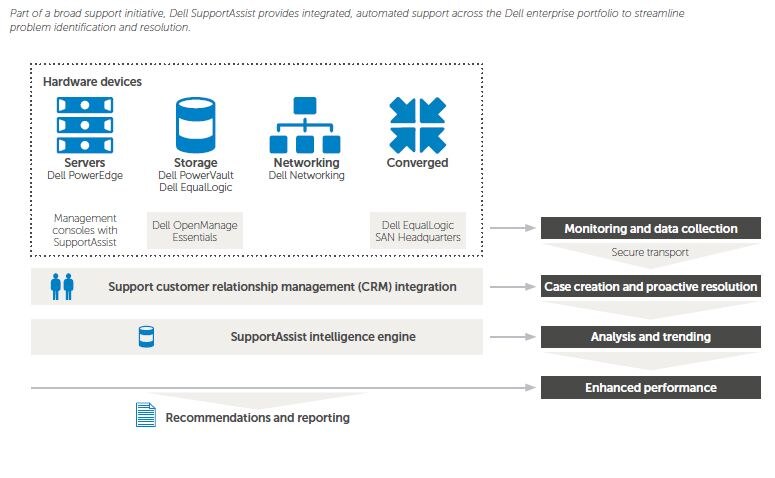 Boosting the bottom line
Manageability and ease of support can greatly affect IT service effectiveness and return on investment (ROI). The Dell vision is to enhance effectiveness through robust management capabilities combined with proactive technology and support service offerings. Dell EqualLogic SAN HQ and SupportAssist technology integrate storage management with automated problem resolution. By using SAN HQ in concert with the Dell ProSupport and ProSupport Plus service offerings, administrators can streamline storage management and boost the uptime and efficiency of their EqualLogic storage deployments — enhancing the bottom line.
Dylan Locsin is a product manager for Dell Storage, with more than 13 years of experience in marketing for enterprise storage, networking and software. Follow Dylan on Twitter @TechDylan.
Achmad Chadran is an infrastructure solution specialist in the Dell Enterprise Solution Group. Follow Achmad on Twitter @a_SAN_a.
Marc Keating is an enterprise technologist at Dell, with more than 15 years of experience working with storage, networking and virtualization technologies.
Learn more
Dell EqualLogic software:
Dell.com/equallogicsoftware
Dell SupportAssist:
Dell.com/supportassist
Dell ProSupport Plus:
Dell.com/prosupportplus
1 For arrays with valid support contracts, Dell EqualLogic SAN HQ can be downloaded at eqlsupport.dell.com.
2 For more information on DPACK, see "Fine-tuning IT infrastructure through rapid system assessment," by Sam Kirchoff and Joanna Norling, in Dell Power Solutions, 2011 Issue 4, qrs.ly/k33gwq3.