Dell Delivers Industry's Broadest Hyper-converged Infrastructure Portfolio for Flexible, Scalable and Streamlined IT
Date : 4/5/2016
Round Rock, Texas
Dell's hyper-converged infrastructure portfolio offers customers the industry's only single source for the broadest portfolio of the most trusted hyper-converged infrastructure solutions

Dell to resell EMC hyper-converged offerings including VCE VxRail™ Appliance Family, VCE VxRack™ Node and VCE VxRack™ System 1000 FLEX

Dell introduces flexible Dell VMware Virtual SAN Ready Nodes based on Dell PowerEdge servers

Dell XC Series improves performance as the industry's first Nutanix-powered systems with the latest Intel processors

Dell adds VMware Virtual SAN support for the Dell Hybrid Cloud Platform with VMware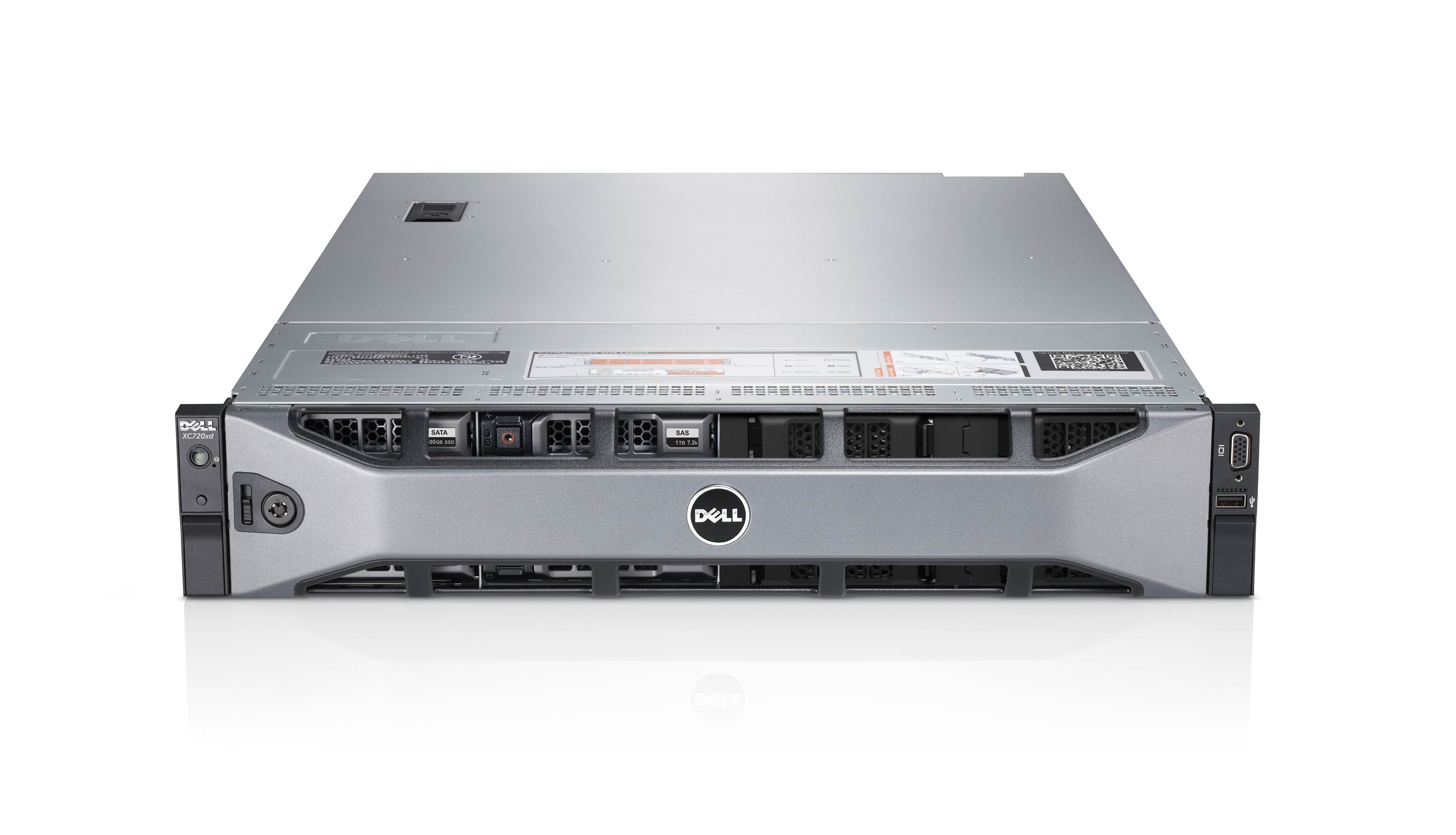 Dell today announced expansions to the industry's broadest hyper-converged infrastructure portfolio to help customers accelerate and simplify IT deployment and management to meet their goals now while also preparing for the future. New additions, from VCE® VxRail™ appliances and VxRack™ systems to flexible VMware Virtual SAN Ready Nodes and next generation Dell XC Series hyper-converged appliances, help Dell offer the widest variety of world class hyper-converged solutions from reference architectures to purpose-built engineered solutions.

                                                            

Hyper-converged infrastructures, which combine full-featured storage, compute and networking functions into a single solution or appliance, typically for virtualized environments, continue to gain momentum as organizations reap the benefits of faster time-to-value and more efficient operations from flexible, scalable, streamlined IT. According to research and analyst firm IDC, the worldwide hyper-converged systems market is expected to grow at a nearly 60 percent compound annual growth rate (CAGR) through 2019, reaching more than $3.9 billion in sales.1
"As businesses become more data-driven and workloads become increasingly diverse, we are seeing a strong increase in demand for hyper-converged solutions and expect the market to generate nearly $4 billion by 2019," said, Matt Eastwood, senior vice president of IDC's Enterprise Infrastructure and Datacenter Group. "Today we are seeing customers wanting a variety of entry points for hyper-converged infrastructure. Dell was early in this market, has strong growth, and has the right vision and broad approach for how this category of infrastructure continues to transform."
"Dell's hyper-converged infrastructure approach is consistent with our overall philosophy, which focuses on enabling customer outcomes versus pushing a one-size-fits-all agenda," said Marius Haas, chief commercial officer and president, Enterprise Solutions, Dell. "Our hyper-converged portfolio spans a broad range of the most trusted and differentiated purpose-built appliances, integrated systems, factory installed solutions and flexible reference architectures, allowing Dell to offer systems that can be deployed and scale in minutes or help customers flexibly build their own systems with existing IT. This expansion, added to our Blueprint program, enables Dell to offer customers prescriptive choices to meet their own particular demands and, ultimately, best support their desired business outcomes."
Extensive Dell Hyper-converged Infrastructure Portfolio Supports Customer Flexibility and Choice
Through Dell's focus on supporting customers with IT needs today while preparing for the future, the company has become the IT partner of choice for organizations of all sizes seeking the most appropriate IT solutions to achieve their own unique goals. Dell has built the industry's broadest hyper-converged infrastructure portfolio to address multiple customer criteria for solution deployment success. This includes options that offer customers the flexibility to prescriptively build their own solutions, start small with scalable appliances, or deploy full stack, pre-built engineered solutions. Dell's hyper-converged infrastructure portfolio enables precise alignment with an organization's unique IT environment, workloads, and performance and scalability requirements.
Starting today, new additions to Dell's hyper-converged portfolio include the resale of hyper-converged offerings from VCE, the Converged Platforms Division of EMC, now available from Dell:
VCE VxRail Appliance Family – These are the only hyper-converged infrastructure appliances jointly engineered with VMware and are fully integrated, preconfigured, and pre-tested for VMware environments. Combining EMC rich data services and leading systems management capabilities with VMware's leading hyper-converged software in a single product family, 

VCE VxRail Appliances

are available in a broad set of configurations for small to mid-sized deployments, starting with a list price of $60,000 (US) and scaling to match a variety of workloads with a range of configurations including all-flash options.
VCE VxRack Node and VxRack System 1000 FLEX–

VCE VxRack Systems

represent a transformational way for customers to move from physical Storage Area Networks (SANs) to hyper-converged engineered systems with the ability to scale up to thousands of nodes with multiple hypervisor support. The VxRack Node is a software-defined storage building block with EMC® ScaleIO® software, enabling quick deployment and flexible scalability. The VxRack System 1000 FLEX is a rack-scale, hyper-converged infrastructure offering that delivers high performance compute, software-defined storage and networking.
Dell also announced the Dell Reference Architecture for EMC Converged Infrastructure that provides customers flexibility in deploying a rack-scale architecture using Dell PowerEdge servers.
Other new additions to Dell's broadened hyper-converged infrastructure demonstrate the range of offerings from flexible building blocks to appliances and full stack solutions:
Dell VMware Virtual SAN Ready Nodes – Customers can innovate faster and reduce project risk by building their VMware-based hyper-converged solutions with

Virtual SAN Ready Nodes

from Dell. These building blocks are ready-to-order, validated configurations that can be factory integrated with Dell PowerEdge servers and VMware hyper-converged software. A wide range of configurations meet the demands of diverse workloads.

Dell XC Series of Hyper-Converged Appliances

–

Dell XC Series

appliances are now the industry's first Nutanix-powered hyper-converged infrastructure solutions to incorporate the latest Intel®Xeon®Processor E5-2600 v4 Broadwell Product Family. This provides faster performance to the portfolio of fully configurable 1U and 2U appliances, helping to speed customer access to data and applications in highly scalable deployments for use cases ranging from VDI to private cloud. The XC Series also now has certified integration with the SAP NetWeaver® technology platform running on Linux.

Dell Hybrid Cloud Platform for VMware adds Virtual SAN – This

reference architecture

integrates the best of Dell and VMware technology. Dell Active System Manager's integration with VMware vCenter, vRealize and Virtual SAN creates a full-featured and highly optimized private and hybrid cloud platform with end-to-end automation capabilities from private to public cloud. New VMware Virtual SAN support provides prescriptive guidance for building clouds using hyper-converged software with a system that connects VMware vRealize directly to a physical infrastructure.
Availability
VCE VxRail, VCE VxRack Node, Dell VMware Virtual SAN Ready Nodes (customer build), and the latest Dell XC Series appliances are available globally today from Dell and Dell PartnerDirect channel partners.

Dell Reference Architecture for EMC Converged Infrastructure, VMware Virtual SAN support with Dell Hybrid Cloud Platform for VMware, and Dell VMware Virtual SAN Ready Nodes (factory installed) have planned global availability in the second quarter of 2016.

The VCE VxRack System 1000 FLEX is available today direct from Dell in the US. Global and channel availability are planned for the second quarter of 2016.
Additional Links 
About Dell

Dell Inc. listens to customers and delivers innovative technology and services that give them the power to do more. For more information, visit www.dell.com.
Dell is a trademark of Dell Inc. Dell disclaims any proprietary interest in the marks and names of others.
EMC2, EMC, the EMC logo, and ScaleIO are registered trademarks or trademarks of EMC Corporation in the United States and other countries.
VCE, VxRack and VxRail are registered trademarks or trademarks of VCE Company LLC.
1 Source: IDC Worldwide Hyperconverged Systems 2015-2019 Forecast (IDC #255614, April 2015) 




Media Contacts
Lon Levitan
Dell Storage | Global Public Relations
Round Rock, Texas
+1 512-940-8157