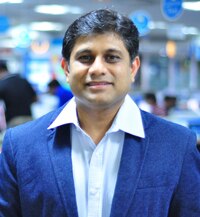 When did you join Dell and what roles have you held in your time here?
I joined Dell in 2003 and over the past decade I have worked in varied functions like planning, forecasting, analytics and support operations
What responsibilities are included in your current role?
Currently, I manage the client technical support teams based in Bangalore, the partner network for technical support in India and also have the additional responsibility of being the site lead for the Bangalore mid-town site.
How would you describe the Dell culture?
Transparent, action-oriented, vibrant and fun.
What do you think people interested in working here would need to know?
Dell is a fast-paced organization which rewards solution-focused people more than problem-stating ones. It is also an organization that believes in taking smart risks with our talent and presents enough opportunities for people to move across functions and roles.
What keeps you here at Dell?
A work culture where employees are valued and smart risk-taking is encouraged.
What are some projects that you have recently been involved with and some of your career highlights at Dell?
Two key projects I have recently been a part of were consumer client network restructuring and end-to-end client capability enhancement. There have been many other run-the-business projects which have delivered impacts ranging from cost-scaling to enhanced customer experience.
What positive effects have you seen as a result of Dell's strategy?
I feel the speed of decision-making has gone up and we seem to be collaborating across functions and with our partners a lot more after going private.
What role have you played in helping your customers grow and thrive?
As a leader of contact center business, customers are at the center of everything we do. Through better resolution tools, knowledge management systems and delivery capability enhancements, we have been able to deliver high levels of customer satisfaction across the various business segments that I manage.
How does Dell differentiate itself when it comes to being an employer of choice?
There is a very high level of interest across all management cadres when it comes to talent identification, grooming and development. We believe in taking smart risks with our talent and that opens up a plethora of opportunities for people to grow and learn in diverse functions.
Describe your Dell experience in five words.
A fun ride! (I saved two words in the spirit of optimization)