The world's first fully modular, most power-efficient blade solution
The M605 is an AMD processor-based 2-socket half-height blade server ideal for edge-of-network applications, HPCC nodes, and entry-level virtualization.
Sorry, this item is not available anymore for purchase online. Please see our recommended replacement product.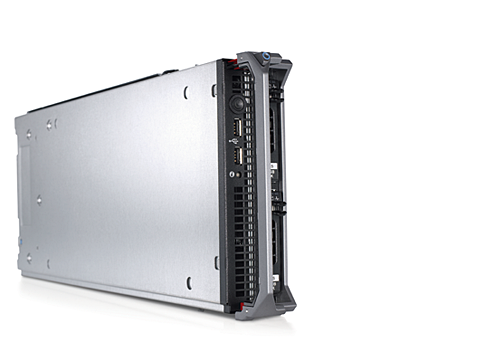 PowerEdge M605 Blade Server
PowerEdge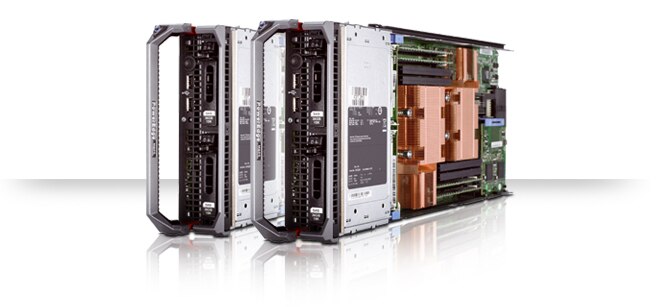 The Dell Blade Advantage
The Dell PowerEdge™ M605 blade server, featuring the latest six-core AMD Opteron processors, removes complexity to help your servers run better, use space smarter and cost less overtime. Dell PowerEdge blades address data center server sprawl and complexity by delivering one of the most energy-efficient, flexible and manageable blade servers on the market.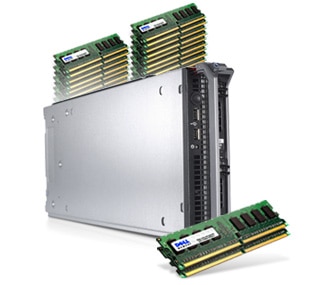 Streamlined Virtualization
Dell's most energy-efficient blade solution, the PowerEdge M605 offers outstanding virtualization performance in a two-socket blade server combined with factory-integrated virtualization capabilities. Dell continues to simplify virtualization by streamlining virtualization deployment and providing ease of use in virtual infrastructures. By factory-integrating VMware® ESXi 3.5, customers receive VMware capabilities and migration of virtual machines within a few clicks of a mouse.

Our virtualization-ready server configurations provide an easy path to virtualization through factory-integrated hypervisors and recommended hardware configurations that support an ideal virtual infrastructure.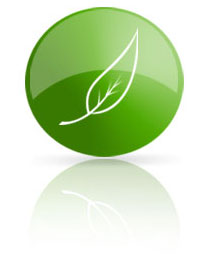 Energy Efficiency That Can't Be Beaten
Designed for energy efficiency and density, blade servers address the growing power and space constraints of your data center. The M605 blade server is one of the most energy efficient blade products on the market, and has a 60% greater density than traditional 1U servers. Energy efficiency and density that can't be beat.

Power-saving innovations are built into all AMD Opteron™ processors, from the ultra low-power AMD Opteron™ EE processors to the highest performing processors in the product family, the AMD Opteron™ SE processors.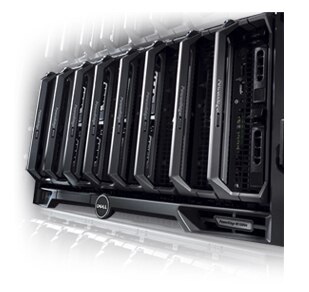 Easy Expandability and Manageability
With blade servers expanding your data center has never been easier. Once you have installed a blade enclosure, adding another server is as simple as sliding in a new blade and powering it up. Coupled with the Altiris® Deployment Solution for Dell servers and Dell Management Console, Dell blades are one of the easiest to deploy and manage in the industry.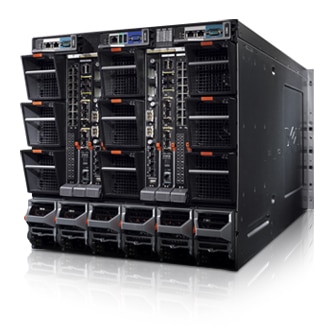 Optimized Solution
The M605 blade server is paired with the M1000e modular blade enclosure for an optimized blade solution. The M1000e is designed from the ground up to combat IT complexity and delivers one of the most energy-efficient, flexible and manageable blade server products in the industry. Designed to support future generations of Dell blade servers and technologies, your M1000e investment is protected for the future.

Learn more about the PowerEdge M1000e modular blade enclosure.
Flexibility Redefined
Only Dell M-Series provides complete, snap-in FlexIO scalability down to the switch interconnects. FlexIO technology is the foundation of the M1000e I/O subsystem that has the flexibility you need to design today's solution and the scalability you require to add or change data center options to meet future demands.



Ethernet

The M-Series enclosure supports a broad set of modular gigabit Ethernet (GbE), 10GbE and Enhanced Ethernet blade switches. 
    


Dell's fully modular Ethernet switches provide great flexibility, with choices of 1Gb to 10Gb speeds, flexible modular uplinks of varying media types, and many other valuable features. This portfolio offers a selection of switches that can meet even the most extreme networking demands.
Fibre Channel



Brocade 16Gb Fibre Channel Switches provide powerful connectivity to Fibre Channel SANs, such as those offered by Dell/EMC. The M6505 includes 16 internal and 8 external fabric port options as well as a performance pack for enhanced features and management.
         


For heterogeneous integration into any Fibre Channel network, the Brocade M5424 8Gb Fibre Channel switch can even be enabled in Access Gateway mode. Based on N_Port ID Virtualization (NPIV) functionality, Access Gateway mode delivers the cable aggregation benefits and cost savings offered by Dell's M-Series blade solutions without separate management or configuration requirements.
InfiniBand

For high-performance computing (HPC) or other environments requiring the highest bandwidth and lowest latency available, the M-Series offers InfiniBand™ switches and adapter cards. Dell offers chassis-integrated fourteen data rate (FDR) InfiniBand switches from Mellanox, with speeds of up to 56Gbps. Each switch features 16 internal ports and 8 external ports to ensure the availability and redundancy needed for the most demanding applications.
FlexIO for M-Series: Delivering the speed you need, when you need it.
Dell ProSupport - Designed to address the technology challenges you face today.

Dell™ ProSupport starts with the Dell ProSupport for IT service model designed for IT professionals like you. Dell ProSupport for IT provides:
7x24 Direct access to Dell Expert Centers
Fast-track dispatch for Dell-certified technicians
Escalation management through Dell's Global Command Centers
Next, Dell ProSupport Options align to the way you use technology – rapidly responding to your needs, protecting your investment, your productivity and your sensitive data, and providing enhanced proactive support services to help reduce the risk and complexity of managing your infrastructure.


SPEED OF RESPONSE 

PROTECTION 

PREMIUM PROACTIVE

 
Mission Critical  - Perfect for server and storage environments where avoiding unplanned downtime and reducing recovery time through priority response are a must. The package includes priority 4-hour on-site* service or optional 2-hour response with 6-hour hardware repair, Dell's proven Critical Situation process, and emergency dispatch.

Data Management and Protection




Keep Your Hard Drive

helps you retain control of sensitive data

Hard Drive Data Recovery provides unlimited attempts to recover data from a failed hard drive
Certified Data Destruction wipes your hard drive clean and destroys data

Enterprise-Wide Contract – Provides enhanced proactive capabilities through:


Designated Service Delivery Manager

Performance benchmarking and custom reporting

Planning and assessments


Proactive Maintenance - Maximizes the availability and stability of your infrastructure proactively. The package includes a detailed system assessment and implementation of driver or firmware updates and upgrades for your server or storage systems.

Remote Advisory Options - Provides telephone and Internet access to technical expertise for specialized applications and solutions such as Microsoft Exchange, Virtualization, and more.
Ideal for non-essential application environments. This service offers business-hour, phone-based support* for hardware-only issues with Next Business Day On-Site Service*
following completion of phone-based troubleshooting



Server Installation Services Go from factory to deployment with Dell server installation services. Our modular suite of installation services allows you to customize the right package of services needed to rapidly implement your new system.



Comprehensive Training 
Get the skills you need to keep pace in today's competitive IT environment with comprehensive training and certification courses. Dell offers a vast array of instructor-led classes and online training courses in a range of topics from server maintenance to in-depth technical overview of specific systems.

Dell OpenManage Systems Management portfolio

The Dell OpenManage systems management portfolio, including Dell PowerEdge server embedded management feature integrated Dell Remote Access Controller (iDRAC) with Lifecycle Controller, helps IT Administrators efficiently manage Dell servers in physical, virtual, local and remote environments, operating in band or out of band, with or without a systems management software agent. Irrespective of the operating system or hypervisor you deploy, iDRAC with Lifecycle Controller automates the most essential and frequently performed server management tasks to help your IT resources become more productive and your IT environment more cost-effective and well-maintained. Dell OpenManage also integrates and connects to leading third-party systems management solutions you may already own, so you can maintain your single point of control and capitalize on your existing investment.

Solutions and Systems Management

Dell Desktop Virtualization Solutions

You face an expanding set of challenges for provisioning, managing and supporting end-user computing across your enterprise. Your IT team is not growing, but support requirements are more complex as you plan how best to migrate and update client systems, and secure new "smart" mobile devices.

With Dell DVS you can create a centralized end-user computing environment that streamlines desktop management and reduces maintenance burden on your IT staff. Now you can focus on important projects to improve IT services. Dell DVS solutions are completely integrated and tested solutions that are powered by advanced Dell PowerEdge rack and blade servers.

Dell's purpose-built DVS solutions combine the performance, memory capacity and embedded hypervisor options in Dell PowerEdge servers with desktop virtualization software in optimized configurations. DVS solutions simplify deployments and accelerate your time-to-value. Dell DVS solutions deliver:

Storage Options

With Dell Compellent, Dell EqualLogic and Dell PowerVault, we have created a comprehensive and innovative portfolio of storage products, all of which are easy to deploy, manage and grow. Whether you use network attached storage (NAS), direct attached storage (DAS), internet SCSI (iSCSI) or Fibre Channel (FC), Dell has a product that can meet your business needs and reduce the cost and complexity of storage.


The Value of Dell Storage:

Dell's open, standards-based solutions let customers of all sizes integrate new technologies without sacrificing performance or their existing IT investments.
 
 
Direct-Attached Storage:

The Dell PowerVault MD storage family offers easy and economical expansion for Dell PowerEdge servers enabling high availability and scalability for demanding business applications.
 
 
 
Disk-to-Disk Backup

Due to expanding volumes of data that must be backed up and protected along with shrinking backup windows, many IT departments have moved to or added disk-based backups.
 
 
 
Network-Attached Storage

NAS is a specialized storage server with its own IP address that is made available to multiple clients and servers on a local area network (LAN) or wide area network (WAN). 
 
 
 
Object-Based Storage

The Dell DX Object Storage Platform is designed to intelligently access, store, protect and distribute fixed digital content.
 
 
 
Storage Area Network

A storage area network (SAN) is a network of shared storage devices, such as disk storage arrays and tape automation
 
 
 
Tape Backup

Considered the first and last line of defense against data loss, tape and removable disks can be used for long-term data storage and backup.
 
 
 
Unified Storage

Unified Storage is a term that describes the ability to manage both file- and block-level data.