Optimized for scale and flexibility.
Rack-scale, hyper-converged infrastructure for heterogeneous hypervisor/bare metal environments and high-performance applications and databases
Dell EMC VxRack System FLEX
VMWare
Server Virtualization
VMware vSphere, KVM, Hyper-V, Bare-metal
Data Protection Features
Options for Dell EMC Avamar, Dell EMC Data Domain, Dell EMC RecoverPoint for Virtual Machines
Environmental Operating Conditions
Intelligent Physical Infrastructure consisting of: Cabinet 2.0—fully welded and dynamically load-rated; Smart Power Distribution Units (PDU); Hid Reader and Thermal Sensors
Storage
DAS storage with Dell PowerEdge Servers
Management Infrastructure
vCenter Server, Vision Intelligent Operations
Hyper-converged, rack-scale software-defined server SAN
Transform your infrastructure with VxRack FLEX, a software-defined server-san that is optimized for a wide range of use cases including IaaS and PaaS. This turnkey HCI solution provides:

Flexibility with multi-hypervisor and bare metal options
High performance for applications and databases
Integrated network fabric designed to scale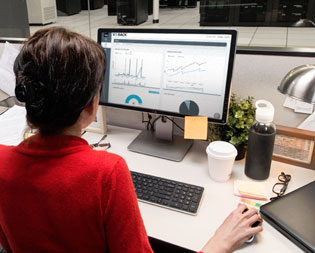 Extreme performance and compelling economics
Every node in the VxRack FLEX cluster is used to process I/O operations, making all I/O and throughput accessible to any application within the cluster. This massive I/O parallelism enables throughput and IOPS to scale in direct proportion to the number of nodes added, helping eliminate bottlenecks and improving cost/performance rates with growth. Dell EMC PowerEdge servers with all flash are 2.5x more dense than previous flash options, providing 50 percent more all-flash capacity for the same price or less while using a reduced amount of floor space.
Integrated network fabric
VxRack FLEX helps eliminate hyper-converged network restrictions by integrating top of rack and aggregation switches. This provides 25 GbE or 40GbE IP connectivity with the external network for low latency performance. The 25GbE network switches between the nodes eliminate bottlenecks that limit the scale of other hyper-converged infrastructure solutions and provide a path for future growth.
Customize your configuration
Choose node options based on either PowerEdge R630, R730xd, R640, R740xd servers, and select from different configurations for each node, depending on workload and application demands
Dell EMC offers complete end-to-end services
Optimizing the IT lifecycle is vital. Dell EMC has expert services
*
for all lifecycle phases that save you time and resources, reduce effort, and improve your IT experience.
ProSupport Enterprise Suite
Gain the freedom to focus on your business transformation with the support expertise and insights Dell EMC is known for across the globe. Choose the right support based on the criticality of specific systems with available automated predictive analysis, collaborative third-party assistance and service account management.
ProDeploy
ProDeploy Enterprise Suite helps you get more out of technology starting on day one. Trust Dell EMC experts to lead deployments from basic hardware installations through planning, configuration and complex integrations. Our complete suite of deployment services and professional certifications helps you achieve business outcomes today and tomorrow.
Training
Education Services offers an expansive suite of training services with multiple delivery methods, including instructor-led, self-paced online and virtual instructor-led training. With comprehensive and flexible training programs, we make it easy to ensure your staff has the skills they need to successfully manage and utilize your new technology to its full potential.
Consulting
Consulting services give expert guidance to help you grow, optimize and transform your IT environment at your own pace and budget. We employ a broad range of certified consultants and engineers, backed by program management teams, who can deliver deep technical expertise. We give you the confidence that your project will be done right and on time.