Ordinateur de bureau OptiPlex 960
Entreprises et administrateurs informatiques à la recherche de la solution de bureau Dell OptiPlex la plus puissante et la plus avancée.
Sélectionner
OptiPlex 960 Ordinateur de bureau
OptiPlex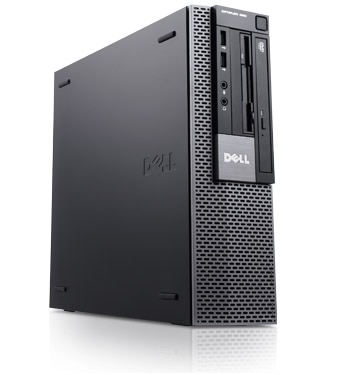 OptiPlex Means Business
Demanding applications require serious performance. And the OptiPlex 960 delivers advanced technologies to tackle any challenge without missing a beat.
Users can achieve peak productivity with top-of-the-line Intel® Core™ 2 Quad processors, generous high-speed memory options and support for up to four simultaneous displays.
Advanced manageability tools like the next generation of Intel® vPro™ technology help simplify systems management and allow IT to focus on more strategic challenges.
The ultimate in expandability, the OptiPlex 960 offers a smaller redesigned chassis, including two space-saving, all-in-one monitor options.
Discover today how the high-performance technologies in the OptiPlex 960 can help increase productivity of both IT and users to help move your business forward.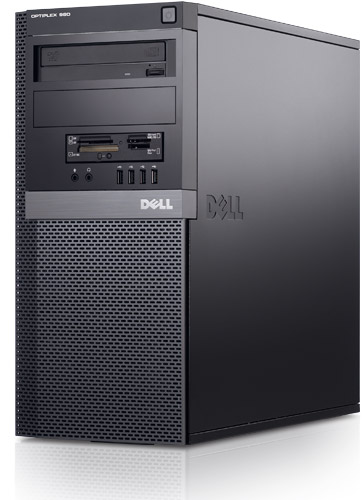 OptiPlex Provides Security
The OptiPlex 960 takes advantage of continuously evolving security technologies to deliver numerous defense-in-depth options. Protect your critical data and network with a range of Enterprise Class options including:
Intel® vPro™ technology, designed to isolate system threats for excellent protection for your network infrastructure.
Full disk encryption hard drives.
Built-in TPM 1.2 to help protect the network from unauthorised access
Multi-factor authentication with optional smart card keyboard and biometric readers.
The OptiPlex 960 gives you the power to choose your level of security, from hardware to software, local or remote. Go on the offense with security, and let the OptiPlex 960 help you secure your data, before problems strike.

OptiPlex is Easy To Own

Built for users and IT professionals, the OptiPlex 960 mainstream desktops help you meet the changing needs of your organisation. These highly customisable desktops include:

New support for optional integrated wireless networking for maximum flexibility and productivity.
Industry leading Intel® vPro™ out-of-band technology which helps reduce costly desk-side visits for IT.
A suite of highly customisable global service and support offerings throughout the PC lifecycle.
Smart designs to fit your business and users' needs with a choice of three expandable chassis sizes and a time-saving tool-less design.
For users and IT professionals alike, the OptiPlex 960 is easy to own.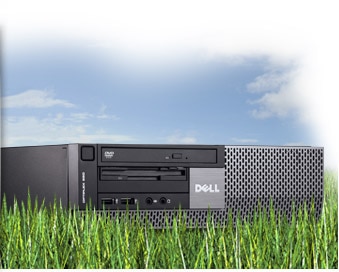 OptiPlex Gets Green
Built with post-consumer recycled content, the OptiPlex 960 delivers on Dell's commitment to being the greenest PC company on the Planet. The OptiPlex 960 is designed to help minimise power usage and lower environmental impacts benefiting not only our IT budget but the environment as well. Utilizing technologies such as Dell's Energy Smart power management settings, Energy Star compliant higher efficiency power supplies and Dell's ultra-silent QuietKit noise-reduction solution. The Dell OptiPlex 960 reflects Dell's true understanding of the importance of green technologies to your company and your company's bottom line.
Carte vidéo
512MB NVIDIA NVS 420 Quad Monitor (4 DVI and/or 4 Display Port)
256MB NVIDIA GeForce 9300GE Dual Monitor (DVI or VGA, TV-out) Coming Soon!
256MB ATI Radeon HD 3470 Dual Monitor (2 Display Port and/or 2 DVI)
256MB ATI Radeon HD 3450 Dual Monitor (2 DVI and/or 2 VGA, TV-out)
DVI Adapter card
Intel® Graphics Media Accelerator 4500
Alimentation
Mini-Tower:

305W Standard Power Supply
255W 88% Efficient Power Supply, ENERGY STAR 5.0 compliant, Active PFC

Desktop:

255W Standard Power Supply
255W 88% Efficient Power Supply, ENERGY STAR 5.0 compliant, Active PFC

Small Form Factor:

235W Standard Power Supply
235W 88% Efficient Power Supply, ENERGY STAR 5.0 compliant, Active PFC
235W 90% Efficient Power Supply, ENERGY STAR 5.0 compliant, Active PFC
Dell ProSupport
Faster, more reliable support services designed to address the technology challenges you face today. This new support portfolio is focused on your needs, time demands and budgets.

Need professional support services that take care of both you and your employees' IT needs 7x24? Choose Dell™ ProSupport™ to get access to a certified technician in two minutes or less.

Got an IT staff? Choose Dell ProSupport for IT and get tech-to-tech support with Fast-track dispatch, along with 7x24 access to Dell-certified technicians.


 
Dell ProSupport Service Model

Dell ProSupport

Dell ProSupport for IT

Designed for organisations with limited or no dedicated IT staff.

Includes:


7x24 direct break-fix hardware support for your employees

"How-to" support on popular software applications such as Norton™ AntiVirus, Microsoft® Office, Microsoft® Small Business Server, Intuit® QuickBooks®, Adobe® Photoshop and Adobe® Acrobat™.

Access to a certified technician in two minutes or less

Designed to provide tech-to-tech support for IT Professionals, Database Administrators and internal Service Desks or helpdesks.

Includes:


7x24 Direct access to Dell Expert Centers

Fast-track dispatch for Dell-certified technicians

Escalation management through Dell's Global Command Centers

Next, further customise your support solution by taking advantage of the Dell ProSupport options below that align to how you use your technology.


SPEED OF RESPONSE

PROTECTION

Mission Critical 4-Hour On-site Service — Priority on-site service to get you back up and running fast

Specialised On-site Options — Allows you to augment your daily IT management or tap into specific technical expertise for critical projects when needed. Recommended options for laptops include:


On-site Parts Management to help minimise downtime by having parts at your fingertips.
On-site Personnel to augment your IT staff.
On-site Diagnosis for accelerated troubleshooting.

Asset Management and Protection


Accidental Damage Protection* repairs or replaces accidentally damaged systems


Data Management and Protection


Keep Your Hard Drive*

helps you retain control of sensitive data

Hard Drive Data Recovery provides data recovery from a failed hard drive
Certified Data Destruction wipes your hard drive clean and destroys data



<><>>

Customisation and Set Up


Deployment Services
Our end-to-end deployment services are designed to simplify and accelerate the customisation and utilisation of your new systems. Dell Deployment Services include everything from order consolidation to coordination of deployment resources.
Learn More

Managed Deployment
Dell Managed Deployment Services are for customers who need a complete, end-to-end deployment solution. Managed deployments are useful within complex logistical environments that require a single point of accountability.
Learn More

Custom Factory Integration
Dell offers custom factory integration services to help accelerate your system deployments. We can perform a range of services, such as custom configuration, consolidation and integration, in our factory.
Learn More

ImageDirect™
ImageDirect is a web-based, hosted image management service that enables customers to easily create, manage and load custom images for Dell commercial client systems.

Intel® AMT and Intel® vPro™ Support
For Intel AMT and Intel vPro customers, new deployment service options, such as unique password prepopulation, preconfigured management settings and no-touch deployment, can help ease deployment concerns while saving time and money.

Advanced Configuration Services
With Advanced Configuration Services (ACS), you can save time and resources by selecting various settings during the purchase process. You can choose to partition your hard drive, select boot order, change BIOS settings and modify various standard software configuration settings.


Asset Recovery Services
Asset Recovery Services offers safe and environmentally appropriate disposal solutions for outdated or end-of-life IT assets. This service includes transportation, flexible logistics, equipment processing, detailed data security and environmental reports at an affordable price.