Routeur Ethernet avancé à 16 emplacements pour les entreprises
Évolutivité et simplicité des infrastructures, continuité des opérations des entreprises distribuées et virtualisation des datacenters
Sélectionner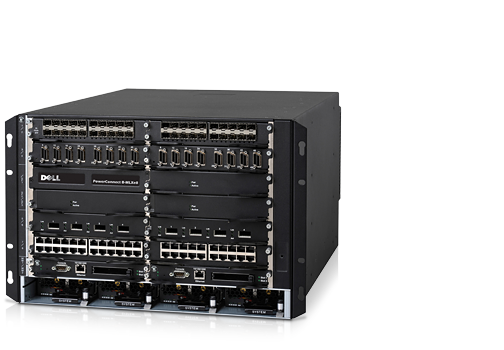 PowerConnect B-MLXe16 routeurs de commutation
PowerConnect
Mission-critical, wire-speed, unified fabric switch for virtualized data centers
Help simplify your infrastructure and improve operational efficiency with the Dell PowerConnect B-MLXe16 enterprise router:

Massive scalability non-blocking performance in a flexible chassis design enables converged data and storage networks, including iSCSI and FCoE SANs in next-generation virtualized data centers.
Built with a state-of-the-art architecture and terabit-scale switch fabrics, the PowerConnect B-MLXe16 provides wire-speed performance with up to 128 10GbE or 768 GbE ports in a single system.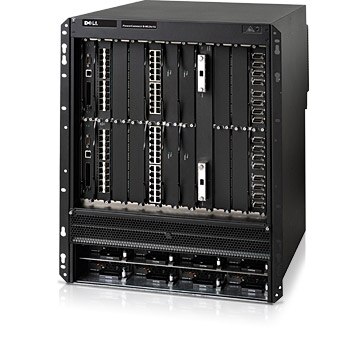 Scalability and high availability for mission-critical applications
Designed to help support your mission-critical applications, PowerConnect B-MLXe16 offers advanced routing features:

Multi-Chassis Trunking (MCT) technology, which helps deliver full utilization of all links for network operation and instantaneous link or node failover.
Fully redundant hardware components, along with hitless failover and in-service software upgrades, can help ensure continuous network operation.
Energy conscious operations
Helps consume less energy per port while increasing throughput driving down power and cooling costs.
Outstanding performance for a broad range of applications
With up to 2.4Bpps routing and up to 7.68Tbps fabric capacity, the PowerConnect B-MLXe16 enables advanced network features, such as:
IPv6
Multiprotocol Label Switching (MPLS)
Multi-VRF capabilities
VPLS based data center connectivity
With capacity up to 768 GbE ports at full wire speed, the router collapses network access and aggregation layers, which can simplify network configuration and management and can help lower costs.

In addition, the Dell PowerConnect B-MLXe16 router is Data Center Bridging-ready (DCB) helping to support converged storage and data deployments with the same level of performance delivered by separate storage and data networks.

Supporting Your Unique Environment
The right support is not one-size-fits-all, it's what fits your environment. The Dell ProSupport portfolio of support services provides a flexible, reliable and easy support model that empowers you to customize services to meet your unique business needs. Choose support based on how you use technology and where you want to allocate resources.


If you don't have an IT staff, Dell ProSupport for End Users is the way to go. You'll receive:
24x7x365 direct break-fix hardware and software support for your employees
"How-to" support on popular software applications such as Norton Anti-Virus, Microsoft Office, Microsoft Small Business Server, Intuit QuickBooks, Adobe Photoshop and Adobe Acrobat.
Remote set up assistance for simple networks (wired & wireless)
Award winning support from Global Command Centers for dispatch monitoring and end-to-end case management for critical situations or natural disasters
If you have an IT team, Dell ProSupport for IT is right for you. You'll receive:

24x7x365 direct access to Dell Expert Centers via email, chat & phone support
Mission Critical Response Options, including ability to self-designate Severity level 1
Hardware & software diagnostics & troubleshooting, including direct Dell OEM support & 3rd party collaborative support
Skip the script and save time with tech to tech support
Fast-Track Dispatch for Dell-certified technicians, enabling you to self-dispatch parts & Labor
Award winning support from Global Command Centers for dispatch monitoring and end-to-end case management for critical situations or natural disasters
Further maximize the availability and stability of your infrastructure through Dell ProSupport Options such as asset and data protection, speed of response, specialized onsite services, proactive maintenance and remote advisory services. Streamline patch management and get detailed reporting. Get advice via telephone access to technical expertise on applications and solutions such as Microsoft Exchange, Virtualization and more. And for more complex IT environments, choose the Enterprise-Wide Contract option which provides a designated Service Delivery Manager, performance benchmarking, proactive planning and custom reporting.

To learn more about Dell ProSupport visit www.dell.com/prosupport.
Simplify Your IT Infrastructure
Dell ProConsult global infrastructure consulting services can help integrate your new enterprise hardware into an existing or evolving IT infrastructure. We can provide guidance whether you're adding single or multiple servers, a storage area network or virtualizing your environment. We can also help you enhance the overall performance of your IT infrastructure and data center by consolidating software and hardware, reviewing data usage to optimize the environment, developing a business continuity plan and by helping you migrate to standards-based technologies.

We utilize skilled solution architects, innovative tools, automated analysis and our own intellectual property to give customers rapid insight into the root causes of unnecessary complexity. We seek better answers than traditional service models, based on our belief that solving problems should not need armies of people. Our strategy is to help customers quickly identify high-impact, short-duration projects that deliver ROI and free up resources to obtain competitive advantage. The result is practical, action-oriented plans with specific, predictable, measurable outcomes. From Data Center Optimization to Server Virtualization to Systems Management, our consulting services help you build a more efficient enterprise.
Accelerating Deployment
Dell helps simplify implementation with deployment services that speed time to production of new hardware and IT solutions. During the initial system-build of your server, we can customize software and hardware to match your specific requirements. By helping you rapidly deploy new capabilities while minimizing disruptions, we can contribute to improved efficiencies and lower costs.
Empowering Your Team
Our education services provide training and certification courses to help you and your team better manage and use your new hardware so you can reap the full benefits of standards-based technologies.

For more information, please visit www.dell.com/services.