Mettez les dernières technologies de stockage à votre service
Solution de stockage NAS ultra dense dont les performances, les logiciels, les capacités et l'évolutivité permettront à votre entreprise de rester efficace et toujours à flot.
Sélectionner
Stockage PowerVault NX3100
PowerVault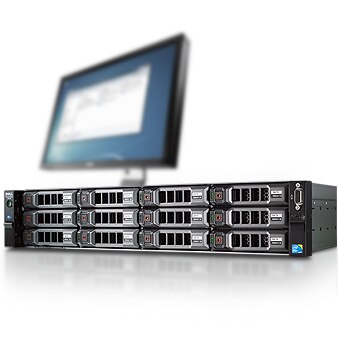 Partagez jusqu'à 576 To de fichiers et de données d'applications.
Augmentez la capacité interne jusqu'à 36 To, en utilisant 12 lecteurs de données au sein d'un châssis compact 2U. Choisissez entre un disque SAS 450 Go/600 Go ou SAS Near-line 1 To/2 To/3 To Le système NX3100 s'étend selon les besoins d'entreprise.
Étendez la capacité externe avec une large sélection de baies Dell PowerVault pour une capacité maximum de 576 To maximum.
Gérez vos données avec le logiciel de gestion des données intégré. Créez des actions basées sur des stratégies pour déplacer, sauvegarder ou gérer le cycle de vie de vos données.
Profitez d'une gestion des services de fichiers optimale grâce au protocole SMB (Server Message Block) et au système NFS avec l'interface de gestion File Services Resource Manager (FSRM).
En associant des serveurs de fichiers et un stockage par blocs dans un seul système PowerVault NX3100, vous pouvez gérer plus de données avec moins d'effort. Cela vous permet d'exploiter les protocoles, les technologies et l'infrastructure IP existants, en réduisant le déploiement général du système et en diminuant les coûts de gestion pour un partage de l'information des données par fichiers et par blocs.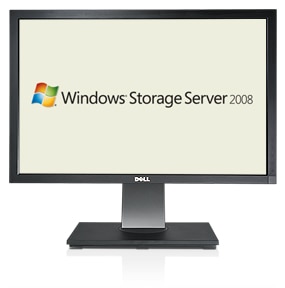 Une technologie de stockage à votre service
Le modèle NX3100 offre un équilibre idéal entre haute capacité de stockage et logiciel nécessaire pour permettre à votre réseau de stockage de rester très efficace. Le système d'exploitation Windows® Storage Server 2008 R2 x64 installé en usine condense les fonctionnalités principales de distribution de fichiers de Windows® Server 2008 et ajoute des fonctionnalités de gestion de stockage avancées conçues pour un partage de fichiers plus rapide, plus efficace et plus fiable.


Choisissez une plus grande capacité ou de meilleures performances avec une sélection de disques durs SAS, SAS Near-line et SATA.
Réduisez la quantité de doublons de fichiers (déduplication transparente au niveau du fichier) grâce au service Single Instance Storage (SIS).
Accédez aux informations plus rapidement grâce aux espaces de noms du système de fichiers distribués (DFS).
Partagez des fichiers avec des clients Windows et non Windows grâce aux protocoles CIFS (SMB 2.0) et NFS.
Prise en charge du stockage basé sur des blocs et des fichiers, du stockage d'instance unique et de l'extension de la capacité interne aussi bien qu'externe. L'intégration intelligente de ces fonctionnalités critiques SMB garantit la protection de vos investissements en matière de stockage pour les années à venir.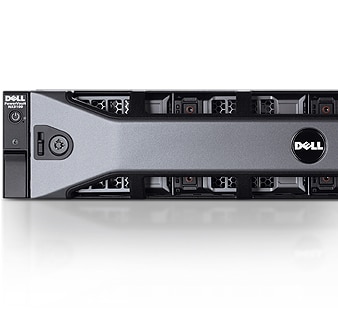 Installation et gestion en toute simplicité
Le modèle PowerVault NX3100 inclut tout dont vous avez besoin et il est prêt à l'emploi pour partager des informations efficacement et en toute sécurité, sans perdre de temps, d'argent ni de ressources pour construire un serveur de fichiers à partir de zéro.


Automatise l'installation et la configuration grâce à l'outil « tâche de configuration initiale ».
Prend en charge un nombre illimité d'utilisateurs grâce aux licences d'accès client (CAL).
Gérez vos informations à distance via un navigateur Web en utilisant le Bureau à distance et Microsoft Management Console.
La solution de stockage NAS NX3100, en ce qu'elle utilise les outils de protection et de gestion que vous avez déjà déployés, s'intègrera parfaitement dans votre environnement Windows®. L'intégration avec les clients non Windows® s'effectue également en toute simplicité et transparence.

Le fonctionnement et l'administration à distance sont possibles grâce au contrôleur d'accès à distance intégré Dell (iDRAC) et au protocole RDP (Remote Desktop Protocol) Java. De plus, le Bureau à distance pour la fonctionnalité d'administration de Windows® Storage Server 2008 R2 assure l'administration à distance des tâches de gestion récurrentes, ce qui permet d'économiser du temps et des ressources.
Dell Services
Dell offers services across the storage lifecycle that can help you plan a storage solution aligned with your IT objectives, efficiently implement the technology into your business and help maintain your storage solution at peak performance to support your critical business operations.
Plan - Design and Assess

Whether you're consolidating disparate data stores onto a SAN platform for the first time, or adding platforms to support growing storage requirements, Dell's experienced SAN professionals can help you choose the right technology to meet the demands of your scalable enterprise.

Storage Consolidation Services
Infrastructure Consolidation Readiness Assessment Analyses existing infrastructure, operational practices and technical readiness to develop a roadmap for conducting a server or storage consolidation.
Consolidation Planning and Validation Develops a detailed consolidation deployment plan as well as a validated and refined solution design.
Implement - Deploy, Train and Recover

Dell provides a choice of deployment service offerings ranging from as needed, over-the-phone consultation and remote assistance to on-site project management and deployment services for complex storage migration and consolidation initiatives.
On-site or remote installation of your complete Dell storage system is highly recommended. By allowing Dell to provide installation, you can help reduce the time required to get your system up and running, while making efficient use of your employees' time.
Remote Installation for the Dell NX4 provides customers with an alternative to on-site installation for direct attach or Dell NX4 configurations. By using a combination of Phone and Remote support, Dell technicians can assist customers with all aspects of configuring Windows hosts to access the Dell NX4. This service is only available for those configurations deemed "customer installable" and applies only to Windows configurations.
Getting your IT resources quickly up-to-speed on any new technology is essential in today's fast-past business environment. Dell's comprehensive on-line or on-site training courses will arm your IT staff with the skills they need to proficiently manage your new Dell NX4.

Maintain - Support and Optimize

After your Dell NX4 is fully operational, Dell can help keep it running smoothly. Dell ProSupport services can help you maximize your SAN's availability and performance.
Operations Performance Benchmarking Innovative management tools and processes, providing customers with unprecedented visibility into their IT operations and a mechanism for continuous improvement.
ECC Real-time Tracking Window A real-time web based tool that allows customers to track the real-time position and status of every open incident they are experiencing around the world, without picking up the phone.
SAN Maintenance Service is designed to provide periodic health checks, updates and upgrades for your SAN system throughout your Limited Warranty period. We can analyse your system for overall health and provide software and system updates and upgrades. We can also provide how-to assistance for configuring or installing SAN components through our Enterprise Assistance program. For ongoing performance, dependability, changing demands and challenges, the SAN Maintenance service is the smart choice for your SAN system maintenance.
1 Technician, replacement part or unit (depending on service contract) will be dispatched if necessary following phone-based troubleshooting. Subject to parts availability, geographical restrictions (on site and/or next business day service not available in some locations) and terms of service contract. Service timing dependent upon time of day call placed to Dell. Defective unit must be returned or paid for. Replacements may be refurbished.
2 Technician, replacement part or unit (depending on service contract) will be dispatched if necessary following phone-based troubleshooting.
3 The defective hard drive must still be covered by the hardware limited warranty.
4 Limited Warranty coverage for the Dell NX4 is available for up to three (3) years with initial purchase of the product and may be extended for up to one (1) additional year with purchase of a separate warranty extension plan prior to the expiration of the original limited warranty2 purchased for the product. The exact length of the Limited Warranty coverage period will be reflected on your packing slip or invoice.

Dell ProSupport
– Designed to address the technology challenges you face today.
 
Dell ProSupport starts with the Dell ProSupport for IT service model designed for IT professionals like you. Dell ProSupport for IT provides:
7x24 Direct access to Dell Expert Centers
Fast-track dispatch for Dell-certified technicians
Escalation management through Dell's Global Command Centers
Next, Dell ProSupport Options align to the way you use technology – rapidly responding to your needs, protecting your investment, your productivity and your sensitive data, and providing enhanced proactive support services to help reduce the risk and complexity of managing your infrastructure.


SPEED OF RESPONSE
PROTECTION
PREMIUM PROACTIVE
Mission Critical  - Perfect for server and storage environments where avoiding unplanned downtime and reducing recovery time through priority response are a must. The package includes priority 4-hour on-site service or optional 2-hour response with 6-hour hardware repair, Dell's proven Critical Situation process, and emergency dispatch.
Data Management and Protection


Keep Your Hard Drive helps you retain control of sensitive data
Hard Drive Data Recovery provides unlimited attempts to recover data from a failed hard drive
Certified Data Destruction wipes your hard drive clean and destroys data

Enterprise-Wide Contract – Provides enhanced proactive capabilities through:


Designated Service Delivery Manager
Performance benchmarking and custom reporting
Planning and assessments

Proactive Maintenance - Maximizes the availability and stability of your infrastructure proactively. The package includes a detailed system assessment and implementation of driver or firmware updates and upgrades for your server or storage systems.

Remote Advisory Options - Provides telephone and Internet access to technical expertise for specialized applications and solutions such as Microsoft Exchange, Virtualization, and more.
Additional Service Offerings
Comprehensive Storage Training and Certification
Through comprehensive storage training courses, Dell provides expertise in implementing Dell storage into an existing IT infrastructure. If you are interested in validating or maintaining your skill sets for company compliance, the Dell Certified Network Storage Networking Professional Certification path is available.
To sustain the continued operation of your storage solution, you should engineer availability, security and reliability into every process from the outset. Dell can provide backup and recovery solutions that help ensure adequate procedures are in place to minimize or avoid data loss.