Puissante station de travail montée en rack standardisée et certifiée ISV.
Station de travail montée en rack Dell Precision R5500 : performances, flexibilité et évolutivité dignes d'une station de travail, dans un format rack sécurisable doté d'une fonctionnalité d'accès distant haut de gamme.
Sélectionner
Dell Precision R5500 Station de travail
Precision

Why a rack? Because your work demands it.
When the job calls for more security and flexibility than a standard tower or mobile workstation can provide, the Dell™ Precision™ R5500 rack workstation delivers.
For organizations where security is top priority, you need more than a lock and key. The Dell Precision R5500 can help safely house your intellectual property by keeping it contained in the data center.

Does your work involve inhospitable, hazardous or extremely remote environments? The Dell Precision R5500 can provide workstation-class performance remotely while your employees stay productive and comfortable at their own workspaces using the Dell Wyse P25 zero client.

For end users who work in space-constrained areas or temperature- or noise-sensitive environments, the Wyse P25 is small, cool and quiet.

Boost productivity and help improve ROI among offsite contractors, rotating workforces and geographically diverse employees with 1:1 remote access via the Wyse P25 zero client and Tera 2 host card.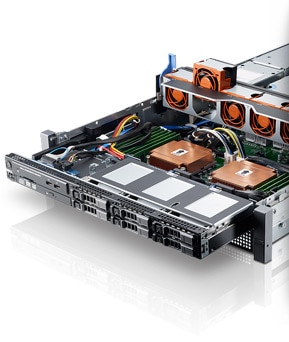 Get true workstation performance, minus the workstation.
Never compromise your productivity. Dell Precision R5500 offers true workstation-class components, giving you the tireless performance you need to get the job done.
Technology features include:
Powerful Intel® Xeon® processor options with up to six cores to help boost your work output
Windows® 7 Professional.
Top-level performance with optional dual graphics cards or dual GPGPU cards and up to 450W of available graphics power
Superb flexibility with options for up to five standard, full-length, full-height PCIe x16 cards
Up to 192GB* of system memory, enabling high productivity on even the largest data sets
Up to five SATA drives and up to six SAS drives to provide ample storage capacity for your large projects
Independent software vendor (ISV)-certification on the applications that matter most to you, helping to ensure that you can deliver mission-critical projects without delay
Optional dual redundant power supplies to help keep you up and running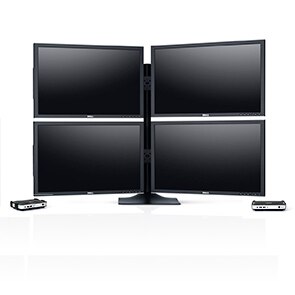 Work powerfully from virtually anywhere.
The Wyse P25 is designed to give your workforce seamless remote access to the R5500
1:1 access via the P25 zero client and Tera 2 host card provides the highest level of performance and a superb remote user experience.
PC-over-IP hardware-based compression transfers only the rendered graphics pixel data over the network, ensuring a fast and responsive user experience.

Help improve ROI with workstation virtualization
Enable up to two concurrent users to access a single R5500 from virtually anywhere
The combination of the Citrix® XenServer™ with HDX 3D Pro enables the virtualized workstation environment with a dedicated discrete graphics card per user or virtual machine.
Support for two NVIDIA® Quadro® 2000 mid-range graphics cards up to the Quadro 6000
Get service and support beyond your expectations.
Exceptional work requires exceptional hardware. While your Dell Precision R5500 is designed for peak performance from day one, Dell's advanced service and support options can help you get up and running quickly and reduce downtime in the event of an unexpected issue.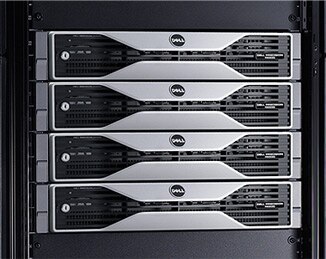 Optional Custom Factory Integration (CFI) incorporates hardware, images, applications, peripherals and documents with your system as it's being built to help simplify and accelerate deployment while improving hardware consistency and compatibility.
Choose Dell's premium support service, ProSupport
*
, for 24/7 direct telephone access to advanced-level technicians based in your region.
ProSupport's Collaborative Support feature provides assistance even if you have a problem with non-Dell hardware or software. We will leverage our relationships with over 75 top third-party vendors to act as your single point of contact to help resolve your issue.
Processeur
Intel® Xeon® 6-Core (X5690, X5675, X5650, E5645)
Intel® Xeon® Quad Core (X5687, X5647, E5620, E5507, E5606, E5603)
Système d'exploitation (Dell recommande Windows 10 Professionnel pour les entreprises.)
Windows 7 Professional, No Media, 64-bit, English
Windows 7 Ultimate, No Media, 64-bit, English
Windows 7 Professional, w XP Mode, No Media, 64-bit, English
Windows 7 Ultimate, w XP Mode, No Media, 64-bit, English
Red Hat® Enterprise Linux® version 6 (v5.5 supported) (Please contact your Dell Sales Representative to customize the product with Linux operating system option)
Carte vidéo
Une ou deux cartes graphiques séparées PCI Express® x16 Gen 2 prenant en charge une puissance combinée maximale de 450 W.

3D haut de gamme :
NVIDIA® Quadro® 6000
NVIDIA® Quadro® 5000

3D de milieu de gamme :
NVIDIA Quadro 4000
NVIDIA Quadro 2000

3D d'entrée de gamme :
NVIDIA Quadro 600

2D de qualité professionnelle :
NVIDIA Quadro NVS 300



---


Processeur graphique (processeur graphique pour le calcul hautes performances) :

NVIDIA Tesla C2075 : prise en charge de la technologie NVIDIA Maximus™
NVIDIA Tesla C2050

Up to 192GB of 1066MHz or 96GB2 of 1333MHz ECC Registered DIMM memory (maximum memory requires dual processors installed and Red Hat Enterprise Linux or Windows 7 64-bit). Three-channel memory architecture. 6 DIMM slots available per processor for a maximum of 12 DIMM slots for dual processor configurations. The 2nd processor has an integrated memory controller, which provides an additional 3 channels of memory bandwidth.

Alimentation
Un ou deux blocs d'alimentation redondants de 1 100 watts, enfichables à chaud et efficaces à 88 % (certifié 80 Plus® Gold)