Surpuissant. Ultrasécurisé.
Une solution Cloud ultra sécurisée et puissante conçue pour répondre aux besoins des entreprises les plus exigeantes.
Sélectionner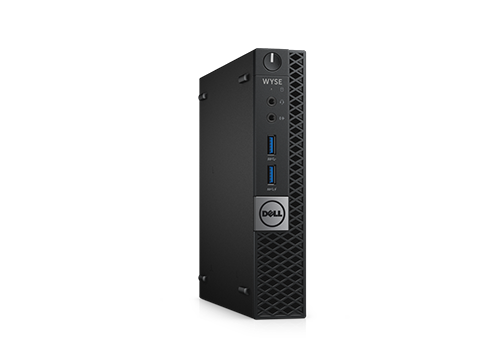 Client léger Dell Wyse 7040
Wyse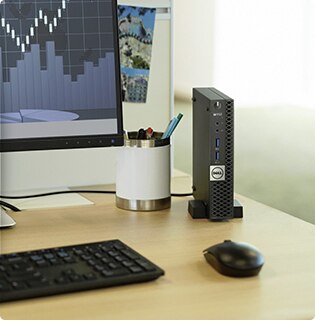 Improve the way you work in the cloud.
Impressive power: Combined Intel 6th Gen Intel® Core i5 or i7 processors and up to 16GB RAM offer high functioning productivity and performance, so you can do compute-intensive tasks while your files stay safely in the cloud.

Certified security: The Wyse 7040 thin client is federal market ready, featuring OPAL-compliant hard-drive options, TPM chip, NIST-compliant BIOS and is Energy-Star, EPEAT and VPAT / Section 508 certified.

Confident connectivity: With dual copper and SFP connectivity, you can rely on the Wyse 7040 for consistently secure connection to your network. The Wyse 7040's six built-in USB 3.0 ports easily allow you to link to a multitude of devices.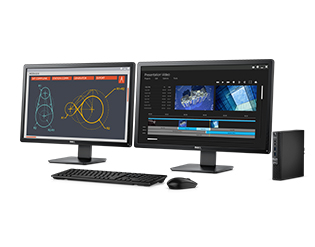 Gestion plus efficace.
Gérabilité simplifiée : la technologie Intel vPro, les solutions Microsoft System Center Configuration Manager (SCCM), Wyse Device Manager (WDM) et Wyse Configuration Manager (WCM) permettent un diagnostic simple du système et une extensibilité exceptionnelle, même pour les grandes entreprises.

Configuration du BIOS centralisée : la solution Dell Command Configure (DCC) permet un déploiement facile des paramètres de configuration du BIOS à plusieurs systèmes clients depuis un emplacement central, notamment des activités stratégiques liées à la sécurité telles que la restriction des ports USB et modification du mot de passe du BIOS.

Options d'affichage aux couleurs éclatantes : le modèle Wyse 7040 prend en charge jusqu'à trois écrans via la connexion DisplayPort en série, et propose une résolution 4K sur un écran.

Ready to work with you.

Whatever your configuration, the Wyse 7040 thin client is designed to work well with your organization. It's ready to support a broad range of network attachments and peripherals, including a fiber interface. Additionally, the carefully selected feature set and configuration options allow you to pay only for the features you require.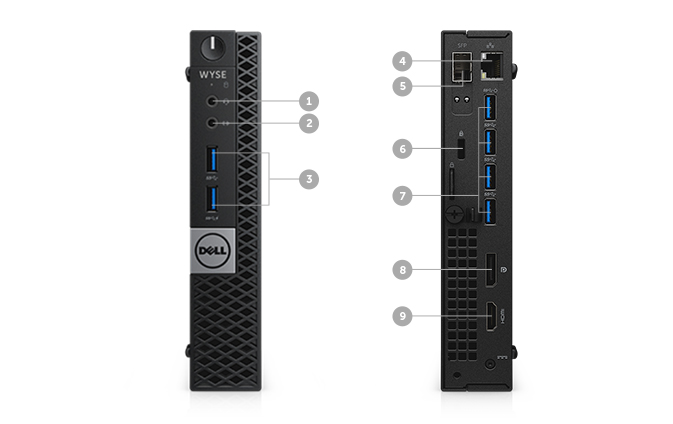 Ports & Slots
1. Universal Audio Jack | 2. Audio out | 3. USB 3.0 | 4. Ethernet port | 5. Optional SFP Fiber/ Copper Port | 6. Industry standard security slot | 7. USB 3.0 | 8. Display Port | 9. HDMI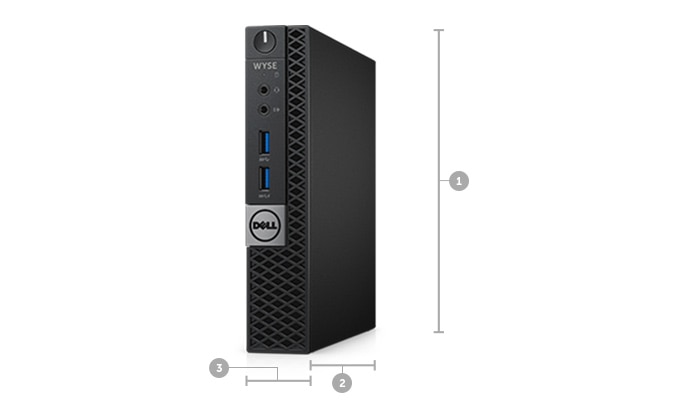 Dimensions & Weight
1. Height: 7.2" (182mm) | 2. Width: 7.0" (178.2mm) | 3. Depth: 1.41"(36mm) | Weight: 3.12lbs (1.41kg)
Mounting Options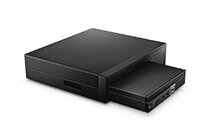 Dell Console with DVD-RW
Designed to optimize open environments and provide optical drive access, cable security and management.
Dell Vertical Stand
Vertically position your system on your desktop with confidence and stability.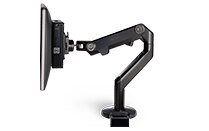 Dell Dual VESA Mount
Completely open your workspace with a cleanly designed behind-the-monitor mounting solution.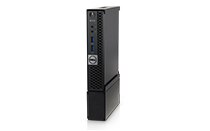 Dell VESA Mount
Mount your system on a wall or under a surface with an adapter bracket to manage power cables with ease.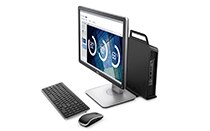 Dell All-in-One Mount
Built to replace traditional all-in-one mounts for flexible screen sizes.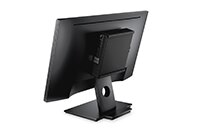 Dell All-in-One Mount for E-Series Displays
Created so your thin client can be VESA-mounted to select Dell E-Series displays easily and securely.
Essential accessories for your Wyse 7040 thin client
Maximize the performance of your Wyse 7040 thin client with Dell-recommended essential accessories.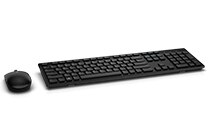 Dell Wireless Keyboard and Mouse – KM636
Designed with sleek lines, a compact size and chiclet keys, the keyboard/mouse combo offers a contemporary and comfortable design with the convenience of wireless performance.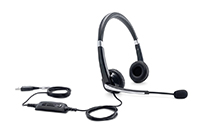 Dell Professional Stereo Headset – UC300
A comfortable and easy-to-use communication solution with crystal-clear audio quality, the Dell Pro Stereo Headset is designed to improve communication quality on conference calls, presentations, sales calls and more.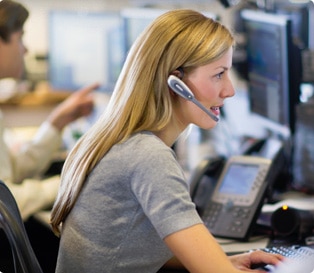 Bénéficiez d'un support de bout en bout 24 h/24, 7 j/7.
Les clients légers Dell Wyse proposent une gamme complète de services, dont des services de déploiement, le service ProSupport et la garantie Dommage Accidentel. Vous pouvez ainsi bénéficier d'un support de bout en bout tout au long du cycle de vie du produit. La gamme des services Dell pour les clients légers Wyse vous permet de rationaliser le déploiement et le support afin de vous concentrer sur l'innovation.