More performance, less investment.
Provide all-flash or hybrid storage at an exceptional value, and support up to 10,000 MS-Exchange mailboxes in just 2U of rack space.
Sorry, this item is not available anymore for purchase online. Please see our recommended replacement product.
Dell Storage SC4020 All-In-One Array
Dell Compellent
High performance that fits your budget, including all-flash
Turn your valuable data into a true enterprise-class business advantage. The Dell Storage SC4020's high IOPS and low latency accelerate any application, and the flexible platform lets you start small — with an affordable all-flash, hybrid or all-HDD solution — and expand and adapt cost-effectively to meet changing workload needs. Features include:
Lowest effective $/GB on all-flash and hybrid arrays*
Self-optimizing architecture, which responds to real-time data use
Multi-array federation capability included with base product
Native auto-failover for business continuity
Intelligent deduplication and compression
Enhanced virtualization and encryption
Cross-platform replication and shared management with PS Series arrays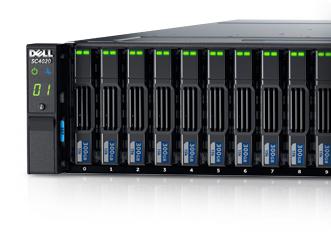 Enterprise storage features right from the start
Ideal for stand-alone SANs or departmental/branch office deployments, the SC4020 is fully-integrated with the SC Series enterprise-class portfolio. Designed to support distributed large-scale growth, the SC Series portfolio ensures that as your organization grows, so will your ability to manage and access your data.

Virtualized architecture eliminates need to pre-allocate RAID groups, increases overall flexibility
Automated tiering among diverse media types* lets you buy fewer and less-expensive drives to meet your performance and capacity needs
Space-efficient snapshots, remote synchronous/asynchronous replication and Fast Track disk optimization maximize every drive investment
Industry-leading TCO and investment protection
The space-saving 2U SC4020 chassis includes dual controllers, 24 internal drive slots and high-performance Fibre Channel or iSCSI network ports, helping you lower data center energy costs.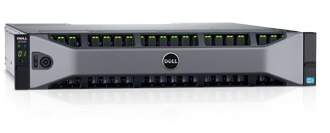 Grow to 192 drives (over 1PB raw capacity) per array with optional expansion enclosures
Included Live Migrate "storage hypervisor" feature lets you move volumes non-disruptively between arrays without remapping hosts
Simultaneous NAS support with optional FS8600 gateway
Coexists in PS Series environments under common management
Protects data with optional FIPS-certified self-encrypting SSDs and HDDs
Maps resources to business priorities with QoS and VMware Virtual Volumes (VVol) support
End-to-end services
Dell offers a wide range of professional services to simplify the assessment, design, implementation, management and maintenance of your SC Series environment, including 24x7 Dell Copilot support with over 94 percent customer satisfaction
*
. Dell Services storage experts go beyond everyday administration to help you improve the performance and utilization of your Dell Storage Center system. The SC Series Services portfolio provides system installation and implementation as well as training. From disaster recovery planning to physical relocation, the Dell Services team is available to provide professional assistance when you need it.
Comprehensive, integrated support
Operating out of state-of-the-art global call centers, Dell Copilot engineers continuously monitor system performance and alert customers of potential issues. Dell Copilot Support provides:
24x7 access to highly trained Dell Copilot Support engineers
Priority or next business day on-site response by certified technicians
Priority, next business day or UPS ground delivery of replacement parts
Storage system monitoring via integrated SupportAssist technology
Support Type
Dell Copilot Support enables you to choose the right level of phone support, on-site
*
support and parts delivery for your unique business needs.
Call center: Perfect for enterprise storage environments that need immediate phone assistance. Every call is answered by a highly trained Copilot engineer who takes ownership of the entire storage infrastructure, including third-party technology partner products. 
On-site: Choose from priority (4/8/24-hour, depending on location) or next business day on-site* response by a certified technician.
Parts delivery: Choose from priority (4/8/24-hour, depending on location) or next business day parts delivery. UPS ground shipping also available.
Protection
For your data management and protection, Dell Copilot Support offers warranty* protection for hardware components. The Software Subscription includes perpetual software licensing for patches, updates and releases, so the only additional fees you incur are when adding new functionality or more capacity.
Premium Support
Additionally, Dell Copilot SupportAssist provides enhanced proactive support capabilities through:
Remote monitoring of system capacity and performance
Automatic capacity threshold alerts
Proactive calls from Copilot engineer to notify customer of possible issues
Optimize your storage performance
Through the personal assistance of a dedicated support expert, Dell Copilot Optimize can help you improve system utilization and performance with proactive reviews, health checks and evaluations. It includes proactive IT planning to ensure your Storage Center systems evolve with your changing data center requirements. Daily system performance monitoring helps ensure a highly available and optimal performing storage area network (SAN). Ongoing best practice guidance from your storage expert helps minimize diagnostic troubleshooting and reduce service calls. Should an issue arise, your support expert will work with Copilot to ensure a timely resolution.
Implement fast. Implement correctly. Implement once.
Dell ProDeploy Enteprise Suite
*
can reduce costs and relieve your IT department of time-consuming implementation tasks that otherwise divert valuable IT resources from business-critical activities. We bring two unmatched values to every implementation: deep knowledge of our products and broad experience from performing thousands of deployments every year, in just about every type of customer environment. You can be confident that your new SC Series storage system is installed properly, configured per the design specifications and that your data is migrated safely from your legacy storage system without disruption.
Start on the right path
Decrease downtime, improve utilization and ensure business continuity with storage training from Dell Education Services. With SC Series training from Dell, SC Series Administrators will learn to perform key administrative tasks for Storage Center and effectively manage all tools associated with Storage Center operations.
Transform your data center
Dell Storage Consulting Services can help you develop transformational strategies to meet your complex data management business needs while freeing up valuable resources, budget and time. Consulting services can help with:
Storage infrastructure consolidation within one/multiple data centers
Storage infrastructure optimization for virtual environments
Data protection process development or improvement of backup operational processes
Classification and categorization of data for storage tiering
IT Disaster Recovery planning, design and implementation or simply Data Disaster Recovery

Award-winning Copilot Services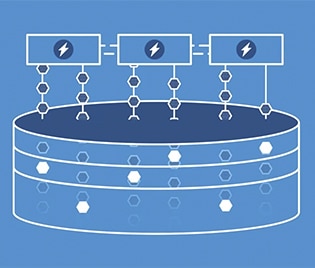 A new level of Storage Center OS efficiency
SCOS 7 is a ground-breaking leap forward in the evolution of Dell's SC platform, offering diverse environments the ideal access point to deploy uniquely adaptable, future-ready storage solutions. New capabilities include:


Over 10:1 capacity savings with intelligent deduplication and compression*
Federated data control with Live Migrate
Seamless business continuity with Live Volume auto-failover between arrays
Unified management and cross-platform replication between SC and PS Series arrays
Quality-of-Service (QoS), VMware Virtual Volumes (VVols) support, iSCSI Datacenter Bridging (DCB)* and more…

Key SC Series OS and software advantages are summarized below. See individual spec sheets and product documentation for additional features and specific platform support.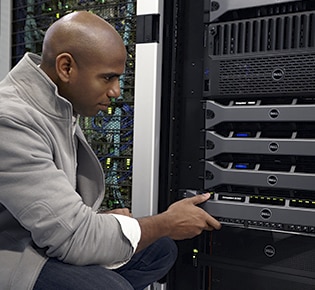 Self-optimizing, automated storage
Based on actual use and application performance requirements, SC Series Data Progression automatically optimizes your drive tiers and RAID levels for performance and cost savings. By default, all new data is written to fastest Tier 1 drives at RAID 10 performance levels, then converted to economical RAID 5/6 for subsequent reads.

As data ages, it's moved to less expensive storage until it becomes more active again. All-flash and hybrid arrays can leverage the unique attributes of write- and read-intensive SSDs in combination. Data is precisely where it's needed, when it's needed – the perfect combination of high IOPs and cost savings.
Space savings in the data center
SC Series delivers unprecedented levels of platform efficiency, plus the most comprehensive data reduction.
*
Intelligent deduplication and compression for all storage tiers and drive types
Dynamic Capacity (thin provisioning) completely separates storage allocation from utilization, enabling you to allocate any size volume up front yet only consume physical capacity on write
Thin snapshots solve tradeoff issues between granularity and capacity cost savings
Remote Instant Replay ("thin replication") offers a cost-effective disaster recovery solution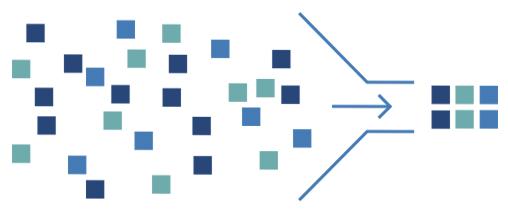 Advanced data mobility, business continuity and security
The SC Series Live Migrate "storage hypervisor" feature, included with the base product, allows you to move data seamlessly between arrays without remapping your hosts, optimizing utilization of available capacity and cache across federated multi-array systems.

Live Volume auto-failover offers a native business continuity solution, providing volume-level protection from unplanned outages with no need for additional hardware or software.

And, to avoid data loss or compromise from physical security breaches, the SC Series offers a complete range of FIPS 140-2 certified self-encrypting drives (SEDs) in both SSD and HDD formats, plus support for leading third-party key managers.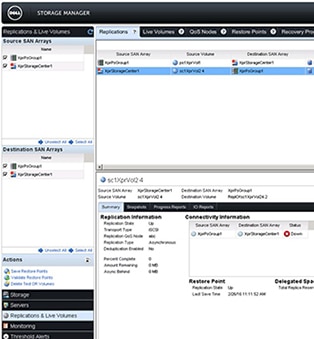 Intuitive management at your fingertips
Dell Storage Manager (DSM, formerly known as Enterprise Manager) provides comprehensive monitoring and management of all local and remote SC Series arrays. With DSM you can streamline administration and reduce operating costs with advanced features like volume-level QoS, VVols support and departmental "charge-back" reporting, allowing instant visibility and control of a multi-terabyte, multi-location environment.

DSM also allows you to perform day-to-day tasks across SC and PS Series arrays from a single management interface. Easy-to-use data replication and migration between platforms gives PS customers flexibility to add SC arrays to their environment, if and when they choose.
Data center automation with leading technology partner integrations
SC Series features a vast array of integration points with VMware, Microsoft, Oracle, OpenStack, IBM, CommVault, Symantec, VERITAS, Veeam and more. VMware® vSphere™ plug-in, vCenter™ SRM adapter and VAAI support help you manage storage and virtual machines together.

With the introduction of Application Protection Manager for Oracle and now enhanced for the Linux environment, you can create application-consistent Replays for Oracle databases. Combined with Storage Center Data Instant Replay (DIR), it will ensure reliable application, consistent backup and recovery of Oracle and Microsoft Volume Shadow Copy (VSS) enabled applications (Exchange, SQL and Hyper-V) and VMware virtual machines (VMs).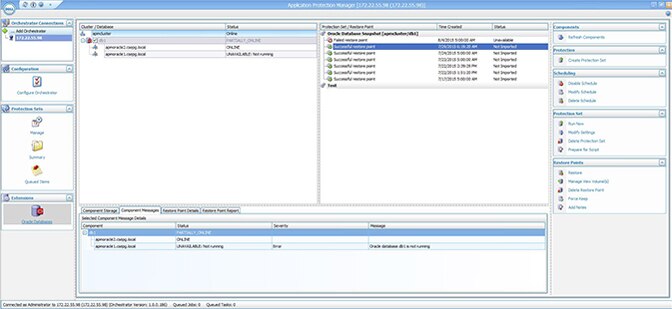 Dell Storage SC Series expansion enclosures
In addition to its 24 internal drive slots, SC4020 supports non-disruptive expansion to 192 total drives (over 1PB raw capacity) per array, with even larger capacities available in federated multi-array configurations. Flash and/or HDD tiers are supported to meet specific performance, cost or density needs using any combination of the following expansion enclosures.

Dell Storage SC200
(12) 3.5" drive slots
2U rack size
72TB max capacity per enclosure
6Gb SAS (dual modules) controller-enclosure connection
Supports intermixed drives
SSDs: 400GB/1.6TB
HDDs: 2TB/3TB/4TB/6TB 7.2K
Compatible with SC9000, SC8000, SC7020 and SC4020 controllers

Dell Storage SC220
(24) 2.5" drive slots
2U rack size
368.64TB max capacity per enclosure
6Gb SAS (dual modules) controller-enclosure connection
Supports intermixed drives
SSDs: 200GB/400GB/480GB/800GB/960GB /1.6TB /1.92TB/ 3.84TB/15.36TB
HDDs: 300GB/600GB 15K, 900GB/1.2TB/1.8TB 10K and 1TB 7.2K
Compatible with SC9000, SC8000, SC7020 and SC4020 controllers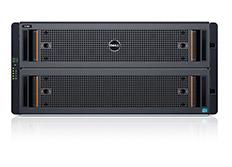 Dell Storage SC280
(42 or 84) 3.5" drive slots
5U rack size
504TB max capacity per enclosure
6Gb SAS (dual modules) controller-enclosure connection
Supports HDDs: 4TB/6TB 7.2K
Compatible with SC9000, SC8000, SC7020 and SC4020 controllers
Dell EMC offers complete end-to-end services
Optimizing the IT lifecycle is vital. Dell EMC has expert services
*
for all lifecycle phases that save you time and resources, reduce effort, and improve your IT experience.
ProSupport Enterprise Suite
Gain the freedom to focus on your business transformation with the support expertise and insights Dell EMC is known for across the globe. Choose the right support based on the criticality of specific systems with available automated predictive analysis, collaborative third-party assistance and service account management.
ProDeploy
ProDeploy Enterprise Suite helps you get more out of technology starting on day one. Trust Dell EMC experts to lead deployments from basic hardware installations through planning, configuration and complex integrations. Our complete suite of deployment services and professional certifications helps you achieve business outcomes today and tomorrow.
Training
Education Services offers an expansive suite of training services with multiple delivery methods, including instructor-led, self-paced online and virtual instructor-led training. With comprehensive and flexible training programs, we make it easy to ensure your staff has the skills they need to successfully manage and utilize your new technology to its full potential.
Consulting
Consulting services give expert guidance to help you grow, optimize and transform your IT environment at your own pace and budget. We employ a broad range of certified consultants and engineers, backed by program management teams, who can deliver deep technical expertise. We give you the confidence that your project will be done right and on time.
Environmental Operating Conditions
Operating temperature: 50 - 95°F (10 - 35°C)
Non-operating temperature: -40 - 149°F (-40 - 65°C)
Operating humidity ranges (non-condensing): 10% to 80% with 29°C (84.2°F) maximum dew point
Non-operating humidity (non-condensing): 5% to 95% with 33°C (91°F) maximum dew point
Inlet type: NEMA 5-15/CS22.2, n°42
Management
Management interface
Dell Storage Manager, formerly Enterprise Manager
Multi-array, multi-site, cross-platform management from single interface*

Workload management
QoS
VVOLs

Scripting support
SMI-S
Microsoft PowerShell API
RESTful API

Host OS support
Microsoft® Windows Server®, Oracle® Solaris, HP®-UX, Oracle Linux, IBM® AIX®, Novell® NetWare, SLES, Apple, HPTru64, VMware®, Citrix® XenServer®, RedHat®

Third-party application integration
VMware, Oracle, Microsoft, IBM, OpenStack, Symantec, Commvault, Foglight, Docker (see SC Series Management spec sheet for more details)

Certifications
VMware Metro Stretch Clusters
VMware SRM
IBM VIOS Recognized

Reporting/alerts
Support assist (phone home), remote diagnostics and performance monitoring, automated alerts, reports and notifications, departmental chargeback
Power
Power/wattage: 2 hot-swappable 580W power supplies; 580W maximum power
Heat dissipation: 1,978 BTU/hr maximum
Voltage: 100-240 VAC
Frequency: 50/60 Hz
Amperage: 7.6-3.0 A