Store, share and protect.
Ideal for small office/home office collaboration, file storage and sharing, and data protection.
PowerEdge T30 Mini Tower Server
PowerEdge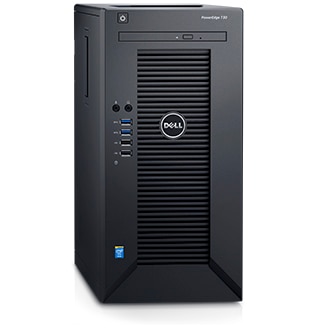 Get organized
The PowerEdge T30 server, by storing and sharing information, helps you improve access to information, simplify processes and get more done in less time. 

Eliminate misplaced and lost data, images and videos due to "sneaker-net" file sharing. Users can share files and collaborate with central file storage to eliminate the headaches of having multiple copies and versions of files spread out among users.
Consolidate data, images and videos stored on multiple media and media types in multiple locations. With the storage capacity of a server, you can centrally store user data and organize your stacks of DVDs, USB drives and external hard drives.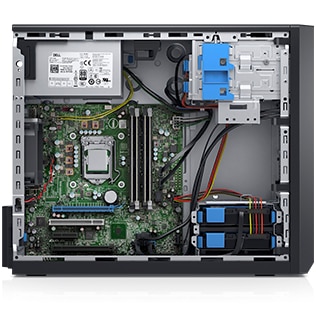 Enhance productivity
The PowerEdge T30 server packs large internal storage capacity and capable performance into a mini-tower chassis designed to deliver efficient and worry-free operation. With the T30, data and applications from multiple desktops, workstations and mobile devices can be consolidated onto a single server to boost collaboration and productivity.

Depending on your needs, you can take advantage of the processing power and storage density of the T30 to attain greater efficiency and productivity for your home or office.

Save time when moving or copying files between locations. A server offers faster data transfers compared to external storage, cloud storage or email.
Attain better business-transaction response times.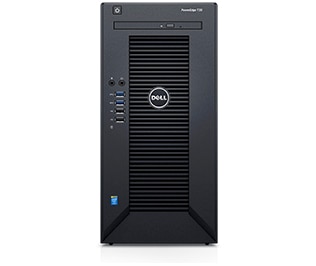 Compact and affordable design
With its compact size and low sound levels, the T30 easily installs in your small office/home office environment and operates non-disruptively.

Unobtrusive home- and office-level acoustics: The small form factor and deskside acoustics allow you to install it virtually anywhere.
Reduce storage and software costs: Help reduce expenses by loading your data onto the T30 and letting users share applications, avoiding the extra costs of additional external storage devices, cloud storage space and copies of software.
.
Secure and manageable
With or without an IT staff, the T30 makes it easy to secure your data and files with software RAID and optional backup restore solutions.
Backup and restore: Easily implement automatic data backup with Microsoft Windows Server.
Easy management: Update software applications in one place instead of on multiple PCs to simplify tasks and save time.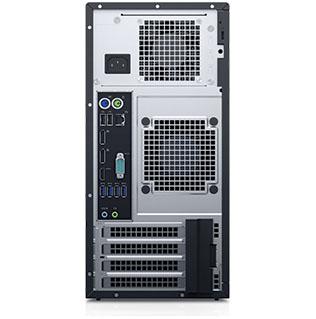 Control your destiny
Move your business to the next level with built-in expandability for growth. The PowerEdge T30 can help you:

Easily attach additional devices with up to 10 external USB ( six USB 3.0) ports
Expand flexibly with four PCI/PCIe slots that allow you to grow at your own pace
Consolidate data and media files with six internal hard drive bays supporting large storage capacity
Drive applications and media quickly with your choice of a powerful Intel® multi-core processor
Support large memory capacity with up to four DDR4 DIMMs to experience enhanced application response times and crisp video performance
Dell EMC offers complete end-to-end services
Optimizing the IT lifecycle is vital. We have expert services
*
for all lifecycle phases that save you time and resources, reduce effort, and improve your IT experience.
ProSupport Enterprise Suite
Gain the freedom to focus on your business transformation with the support expertise and insights Dell EMC is known for across the globe. Choose the right support based on the criticality of specific systems with available automated predictive analysis, collaborative third-party assistance and service account management.
ProDeploy
ProDeploy Enterprise Suite helps you get more out of technology starting on day one. Trust our experts to lead deployments from basic hardware installations through planning, configuration and complex integrations. Our complete suite of deployment services and professional certifications helps you achieve business outcomes today and tomorrow.
Training & Certification
Education Services offers an expansive suite of training services with multiple delivery methods, including instructor-led, self-paced online and virtual instructor-led training. With comprehensive and flexible training programs, we make it easy to ensure your staff has the skills they need to successfully manage and utilize your new technology to its full potential.
Consulting
Consulting services give expert guidance to help you grow, optimize and transform your IT environment at your own pace and budget. We employ a broad range of certified consultants and engineers, backed by program management teams, who can deliver deep technical expertise. We give you the confidence that your project will be done right and on time.
Processor
1 processor from the following product families:

Intel® Xeon® processor E3-1225 v5
Operating System
Microsoft® Windows Server® 2012
Microsoft Windows Server 2012 R2
Red Hat® Enterprise Linux®
Ubuntu 14.04 / 16.04
Architecture: 4 DIMM slots
Maximum RAM: up to 64GB DDR4 2133MT/s
Dimensions & Weight
Height: 14.17 inch / 359.9mm
Width : 6.89 inch / 175mm
Depth : 17.12 inch / 434.85mm
Ports
10x USB, 1 microphone, 1x headphone, PS2, Displayport, HDMI, RJ45, serial, audio in, audio out
Availability
Error Correction Code (ECC) memory
Software RAID

RAID Controllers
Software RAID: Intel Rapid Storage Controller 12.0 (supports SATA 6Gb/s or SATA 3Gb/s)
Storage
Up to 6 total SATA HDDs (4 x 3.5" SATA HDD come standard. Purchase optional expansion kit adding 2 x 2.5" SATA HDD and optional controller card.)

Optical bay: Internal DVD+/-RW (standard on Intel Xeon configuration)
Slots
4 slots:
1 PCIe x16 3.0
1 PCIe x16 3.0 (x4 speed)
1 PCIe x4 3.0

1 PCI
Network Controller
Intel I219-LM Gigabit Ethernet LAN 10/100/1000 1-port
Management
Intel AMT 11.0 (supported on Intel Xeon config)
Intel Standard Manageability.