Ultra-Compact, entry 1-Socket rack server
Sorry, this item is not available anymore for purchase online. Please see our recommended replacement product.
PowerEdge R210 Rack Server
PowerEdge
Processor
Quad-Core Intel® Xeon® 3400 series processor
One Dual-core Intel® Core i3 500 series processors
Dual-core Intel® Celeron® G1101
Dual-core Intel® Pentium® G6950
Drive Bays
Cabled options available:
Up to two 6 cm (2.5")/ 9 cm (3.5") SAS, SATA Or SSD drives
Chassis
Rack Chassis
42.6 H x 431 W x 393.7 D (mm)
4 cm (1.67") H x 43 cm (17.1") W x 39 cm (15.5") D
Availability
Quad-pack LED diagnostic, ECC Memory, add-in RAID, TPM/C-TPM
Power
Single cabled power supply (250W)
RAID Controllers
Internal Controllers:

PERC H200 (6Gb/s)

External Controllers:

PERC H800 (6Gb/s) with 512MB of battery-backed cache; 512MB, 1G Non-Volatile battery-backed cache
PERC 6/E with 256MB or 512MB of battery-backed cache

External HBAs (non-RAID):

6Gbps SAS HBA
SAS 5/E HBA
LSI2032 PCIe SCSI HBA
Chipset
Intel® 3420
Intel X3400 processor

Storage
Cabled Hard Drive Options:
2.5" SATA SSD, SAS (10K), nearline SAS (7.2K)
3.5" SAS (15K, 10K), nearline SAS (7.2K), SATA (5.4K, 7.2K)

Maximum Internal Storage:
Up to 6TB*

External Storage:
For information about Dell external storage options, visit Dell.com/Storage.
Network Controller
One dual-port Broadcom BCM 5716
Management
BMC, IPMI 2.0 compliant
Dell™ OpenManage™
Unified Server Configurator
LifeCycle Controller enabled via optional: iDRAC6 Express, iDRAC6 Enterprise and vFlash
Communications
Broadcom® NetXtreme™ 5709 Dual Port Gigabit Ethernet NIC, Copper, w/TOE PCIe x4
Broadcom® NetXtreme™ 5709 Dual Port Gigabit Ethernet NIC, Copper, TOE/iSCI PCIe x4
Intel PRO/1000PT Single Port Adapter, Gigabit Ethernet NIC, PCIe x1
Intel Gigabit ET Dual Port Adapter, Gigabit Ethernet NIC, PCIe x4
Intel Gigabit ET Quad Port Adapter, Gigabit Ethernet NIC, PCIe x4
Intel Single Port 1GbE NIC
Intel Dual Port 1GbE NIC
Intel Quad Port 1GbE NIC
Broadcom Dual Port 1GbE NIC
Video Card
Matrox G200eW w/ 8GB memory
Environmental Operating Conditions

Right sized, flexible technology and enhanced business value
The PowerEdge™ R210 was designed to meet the needs of many IT environments. With the optional advanced systems management capabilities of Lifecycle Controller, Dell™ is bringing comprehensive enterprise-class manageability into the 1-socket space.

In addition, the R210 features a short 15.5 inch chassis to allow for flexible deployment almost anywhere. Built with cost effective RAID options to further protect your valuable data, the PowerEdge™ R210 is the ideal entry 1-socket 1U rack for small businesses and larger offices needing flexibility and manageability in a very small chassis.

Dell aims to add value to your business by including the features you need without a lot of the unnecessary extras. Our goal is to deliver value through tailored solutions based on industry standards, as well as purposeful, innovative design.
Purposeful Design
The PowerEgde R210 follows the 11th Generation portfolio behavioral specifications and features the same system design commonality and reliability true to the entire portfolio. All 11th Generation servers are built to make the user experience easier.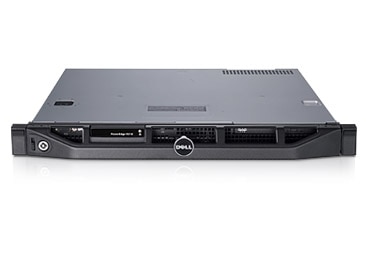 We put all external ports, power supplies and LED lights in the same location for familiar user experience, as well as, easy installation and deployment.


Robust, metal hard drive carriers and organized cabling are designed to improve component access and airflow across the server.

The PowerEdge R210's purposeful design also provides quiet acoustics and a LED light display positioned on the front of the server for ease of monitoring.

Energy Optimised Technology

Energy Smart design is a key part of the PowerEdge R210's purposeful design. Utilising a low 250 watt power supply, the PowerEdge R210 provides the smallest power footprint within the 11th Generation PowerEdge server portfolio.

Also included in the R210 are low-flow fans, designed to spin faster in accordance with server workload demands and help reduce unnecessary noise when possible. In addition, the logical component layout aids with air flow direction, helping to keep the server cool.
Simplified Systems Management
The Lifecycle Controller is the engine for advanced embedded management and is delivered as part of the optional iDRAC Express or iDRAC Enterprise in the PowerEdge R210.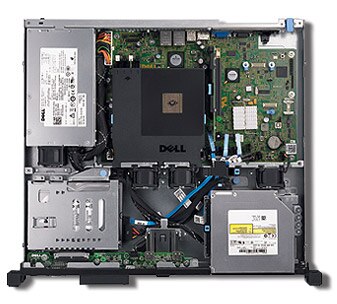 The Lifecycle Controller is a chip that is integrated on the server. It helps to simplify administrator tasks by performing a complete set of provisioning functions such as system deployment, system updates, hardware configuration and diagnostics from a single intuitive interface called Unified Server Configurator(USC) in a pre-OS environment. This eliminates the need to use and maintain multiple pieces of disparate CD/DVD media.

Also part of Dell's Open Manage™ portfolio is the Dell Management Console which is included with every Dell server and provides IT administrators with a consolidated console view of their IT infrastructure.
Dell Global Services include a wide, customisable range of choices to simplify the assessment, design, implementation, management and maintenance of your IT environment, and to help you transition from platform to platform. Depending on your current business requirements and the level of service you want, we can provide you with factory, onsite, remote, modular and specialised services that fit your needs, and budget. We'll help you with a little or a lot—your choice—and provide you with access to our global resources like our global command centers.

Dell IT Consulting Services
Dell global infrastructure consulting services utilise skilled solution architects, innovative tools, automated analysis and our own intellectual property to give customers rapid insight into the root causes of unnecessary complexity. We seek better answers than traditional service models, based on our belief that solving problems should not need armies of people. Our strategy is to help customers quickly identify high-impact, short-duration projects that deliver ROI and free up resources to obtain competitive advantage. The result is practical, action-oriented plans with specific, predictable, measurable outcomes. From Data Center Optimisation to Server Virtualisation to Systems Management, our consulting services help you build a more efficient enterprise.
Dell Managed Services
Dell Managed Services is a modular set of lifecycle services designed to help customers automate and centrally configure, deploy, and manage their day-to-day data center operations. These services extend a customer's existing on-premise IT infrastructure with off-premise cloud services designed to better address challenges with mobility, highly distributed organisations, security, compliance, business continuity and disaster preparedness.

Deploy: Our factory, remote and onsite installation services for servers make efficient use of your employees' time by helping to speed up activities like configuration, customisation and deployment, enabling delivery of systems that are ready to work right out of the box.
Operate: Dell can help optimise your data center operations, including storage, backup and virtual environments by focusing on remote monitoring, reporting and alerts, along with full remote management for storage and backup environments, freeing up IT resources.
Protect: Dell Data Center Backup Management services are available to assist you with reporting to help refine SLA requirements, to provide monitoring to improve process efficiency or for the full management of your backup environment.
Recovery and Recycling: Dell Asset Recovery and Recycling Services help you recover and dispose of owned or leased computer equipment, in a manner that follows EPA guidelines. 

Dell ProSupport
Dell ProSupport is a suite of support services that enable you to build the solution that's right for your organization. Choose support models based on how you use technology and where you want to allocate resources. From the desktop to the datacenter, address everyday IT challenges such as unplanned downtime, mission critical needs, data and asset protection, support planning, resource allocation, software application management and more. From basic support to remote support servicesOptimize your IT resources by prescribing the right support model.