Designed for efficiency and performance.
High-performance thin clients with quad core processors, designed for secure and easy-to-manage virtual desktop environments.

Wyse 5000 Series Thin Clients
Wyse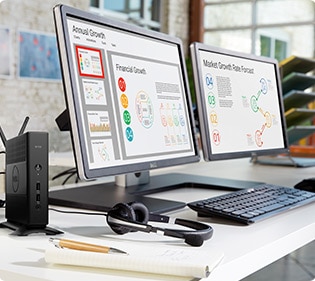 High performance. Higher productivity.
Outstanding multimedia performance: With a choice of powerful, energy-saving dual or quad core AMD G Series APUs in a compact chassis with dual-HD monitor support, the 5000 series thin client delivers a fast experience across 2D, 3D and HD video applications.

Productivity unleashed: The high performing AMD CPU of the Wyse 5060 thin client delivers the most power in its class with dual 4K displays and optional PCoIP support.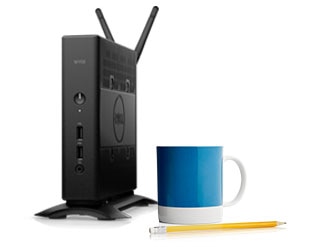 Flexible OS. Wide variety of environments.
An excess of options: Available as a zero client or a thin client with Windows Embedded Standard®, Wyse Thin Linux, or virus-resistant Wyse ThinOS. An available PCoIP option enables direct high-performance access to VMware and Amazon WorkSpaces virtual desktops and applications.

Convenience comes standard: Customers can connect to a variety of virtual desktop environments including Citrix XenDesktop, Microsoft RDS, and VMware Horizon.

Secure. Easy to manage. Dependable.
Work in peace: A TPM chipset provides embedded, enhanced security so you can focus on your work, not on data breaches.

Simple centralized management: Microsoft SCCM, Wyse Device Manager (WDM) and Cloud Client Manager (CCM) ensure high manageability. With WDM and CCM, it has never been easier to scale your enterprise-level solutions to tens of thousands of devices from a single, intuitive console and web-based browser.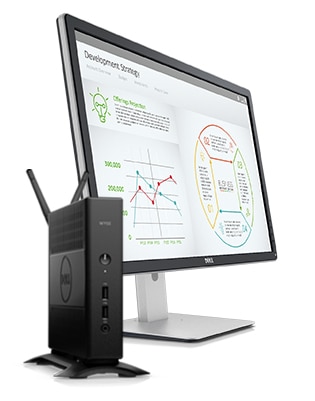 Complete VDI protection.
Proactively protect WES-based thin clients, traditional PCs and servers running Microsoft Windows against virus and cyber-attacks with Dell Data Protection | Threat Defense.

Advanced Threat Prevention: Threat Defense prevents 99% of executable malware, far above the average 50% of threats identified by the top anti-virus solutions*.

Low impact on end users: Get high threat prevention with a low effect on end user productivity due to only 1-3% CPU and 40MB RAM impact.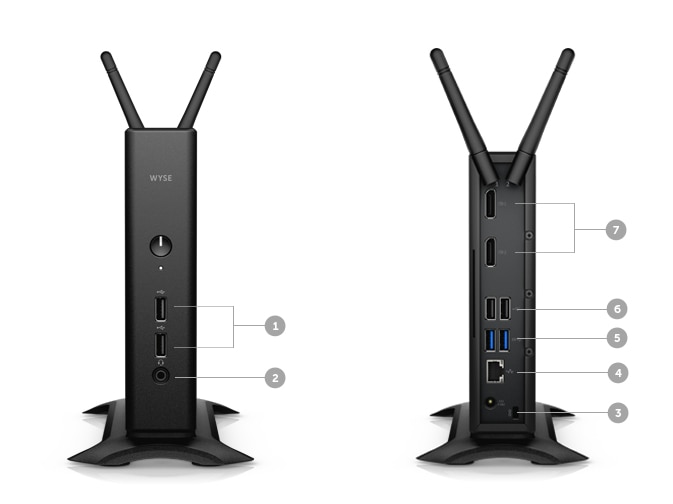 Ports & Slots – Wyse 5060
1. USB 2.0 | 2. Universal headset jack | 3. Kensington lock slot | 4. RJ45 (Copper w/Optional Fiber) | 5. USB 3.0 | 6. USB 2.0 | 7. Display Port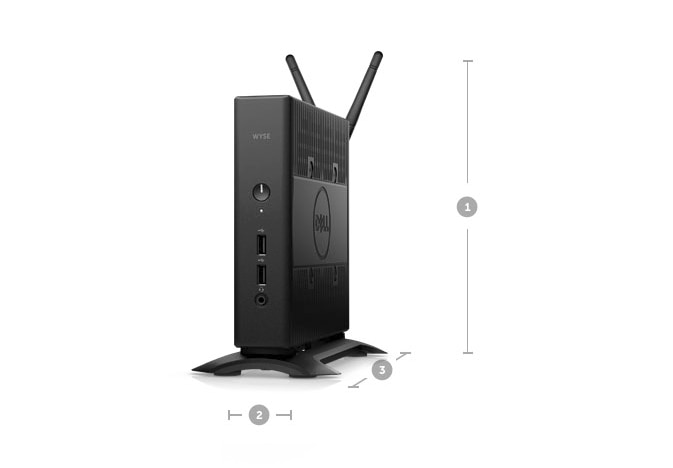 Dimensions & Weight – Wyse 5060
1. Height: 6.7" (170 mm) | 2. Width: 1.6" (40 mm) | 3. Depth: 7.3" (185 mm) | Weight: 2.05 lbs (0.93 kg)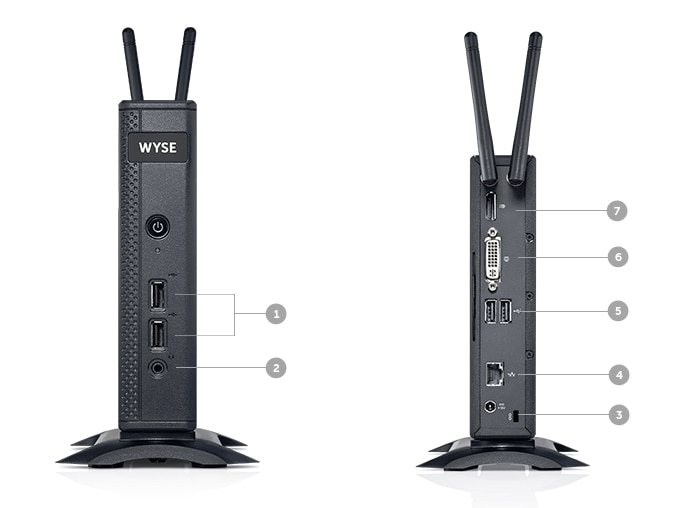 Ports & Slots – Wyse 5010 & 5020
1. USB 2.0 | 2. Universal headset jack | 3. Kensington lock slot | 4. RJ45 | 5. USB 2.0 | 6. DVI port | 7. Display port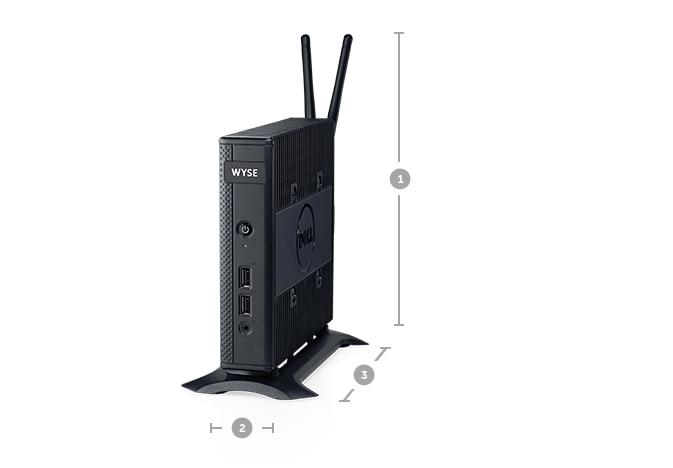 Dimensions & Weight – Wyse 5010 & 5020
1. Height: 6.7" (170 mm) | 2. Width: 1.6" (40 mm) | 3. Depth: 7.3" (185 mm) | Weight: 2.05 lbs (0.93 kg)
Essential accessories for your Wyse 5000 series thin client
Complete your 5000 series thin client with award-winning Dell Monitors, dual monitor stands and wireless keyboard and mouse. Look for these great products and more at checkout.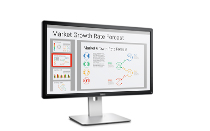 Dell 24 Ultra HD 4K Monitor | P2415Q
Bring your work to life with color clarity and a variety of adjustability features.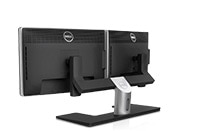 Dell Dual Monitor Stand | MDS14A
Optimize your dual monitor setup to improve productivity and reduce desktop clutter.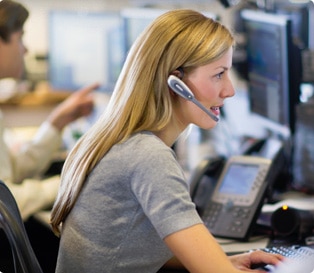 Get end-to-end support 24x7.
Dell Wyse thin clients feature a complete services portfolio including Deployment Services, ProSupport and Accidental Damage Service giving you end-to-end support throughout the product lifecycle. Dell services portfolio for Wyse thin clients helps you streamline deployment and support so you can focus on innovation.
Operating System (Dell recommends Windows 10 Pro for business.)
5010:
Wyse ThinOS & ThinOS with PCoIP
Windows Embedded Standard 7
Windows Embedded Standard 8

5020:
Windows Embedded Standard 7
Windows Embedded Standard 8
Windows 10 IoT

5060:
Wyse ThinOS
Wyse ThinLinux
Windows Embedded 7 Pro (64bit)
Windows IoT 10 Enterprise downgrade to Windows Embedded 7 Pro (64bit)
Display
5010 & 5020:

VESA monitor support with Display Data Control (DDC) for automatic setting of resolution and refresh rate
DisplayPort: 2560 x 1600@32bpp
DVI-I: 1920 x 1200@32bpp
Dual display: 1920 x 1200@32bpp

5060:
Dual display up to 3840x2160 @ 30Hz or 2560x1600 @ 60Hz
Processor
5010:
Dual Core AMD G-Series T48E Dual Core 1.4GHz

5020:
Quad core AMD G-Series SoC 1.5GHz

5060:
AMD Steppe Eagle SOC (Quad Core 2.4 GHz)
Power
Under 25 Watts power consumption
Ports
5010:

4 USB 2.0
1 DisplayPort
1 DVI-I port
1 DVI to VGA (DB-15) adapter included
1 Optional DisplayPort to DVI-D adapter (Sold separately)
1 Serial and parallel connectivity supported through USB 2.0 adapters
1 1Gb/s RJ45
1 Optional SFP Module support for Fiber NIC network connectivity (mutually exclusive with RJ45)

5020:

4 USB 2.0
2 USB 3.0
1 DisplayPort
1 DVI-I port
1 DVI to VGA (DB-15) adapter included
1 Optional DisplayPort to DVI-D adapter (Sold separately)
1 Serial and parallel connectivity supported through USB 2.0 adapters
1 1Gb/s RJ45
1 Optional SFP Module support for Fiber NIC network connectivity (mutually exclusive with RJ45)

5060:

4 USB 2.0
2 USB 3.0
1 Universal headset jack
1 Bluetooth (only with WiFi)
1 1Gb/s RJ45
2 DisplayPort
2 Dual Band 802.11a/b/g/n/ac wireless antenna
Connectivity
5010 & 5020:

10/100/1000 Gigabit Ethernet (RJ45)
Optional Single and dual band 802.11 a/b/g/n/ac integrated wireless with external dual antenna
Optional SFP Module support for Fiber NIC network connectivity (mutually exclusive with RJ45)
Optional Bluetooth® connectivity

5060:

10/100/1000Mbps Ethernet (RJ45)
Optional 802.11 a/b/g/n/ac dual band, PCIe M.2 Module with Bluetooth v 4.0
Multimedia
5010 & 5020:

Composite audio jack: 1/8-inch mini, 16-bit stereo
Internal mono speaker

5060:

Integrated Speakers
Universal headset jack
Combined stereo output port and mono microphone input
Chipset
Integrated with the Processor
5010 & 5020:
16GB Flash, up to 64GB Flash / 4GB RAM DDR3-1600MHz
32GB Flash, up to 64GB Flash / 4GB RAM DDR3-1600MHz

5060:
8GB SATA Flash (ThinOS & ThinLinux) or 64GB SATA Flash (Windows) / 4GB DDR3L RAM
Video Card
5010:
Radeon HD 6250

5020:
Radeon HD 8330E graphics (integrated with APU)

5060:
Built-in Graphics controller supporting dual display up to 3840x2160 @ 30Hz or 2560x1600 @ 60Hz
Dimensions & Weight
Height: 6.69" (170 mm) x Width: 1.57" (40 mm) x Depth: 7.28" (185 mm)
Weight: 2.05 lbs. (0.93 kg)
Security
5010 & 5020:
Trusted Platform Module (TPM) supported on configurations with WE8S and Win10 IoT

 

5060:
Trusted Platform Module 1.2 (TPM) supported on configurations with WES7P
Trusted Platform Module 2.0 (TPM) supported on configurations with Win10 IoT
Systems Management
Software Management support – Wyse Device Manager (WDM), Cloud Client Manager (CCM)
Slots
Built-in Kensington Security Slot (cable sold separately)