The entertainment you crave.
Enjoy intense 3D gaming by connecting to a compatible 3D TV1 via HDMI 1.4 or Mini DisplayPort.Complete the experience by tuning in to the THX 3D Surround for full entertainment immersion.
Or take advantage of the Alienware M18x's brilliant LCD screen and Klipsch® speakers by using the HDMI-IN port to display media imported from your HDMI-enabled game console, Blu-ray player or other device. When you're finished playing, share your victory with your friends face-to-face on your webcam.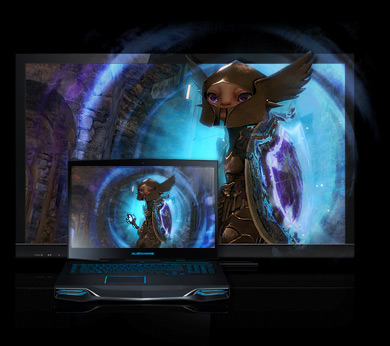 1 3D viewing requires NVIDIA graphics card, plus NVIDIA 3DTV Play software, a NVIDIA compliant 3D TV with 3D glasses, compatible media and HDMI cable, all sold separately. For a list of compatible devices, visit http://www.nvidia.com/object/3d-tv-play.html.