Industry-leading 16 Gbps Fibre Channel connectivity
Add 16 Gbps Fibre Channel connectivity across servers, storage and SAN as needed, without increasing your data center footprint.
Brocade M6505 Fibre Channel Switch
Brocade

Blazing fast, scalable Fibre Channel connectivity
Open the door to blazing-fast 16 Gbps Fibre Channel bandwidth end-to-end across servers, storage and SAN networking with the Brocade M6505 Fibre Channel Blade.


Enable flatter, faster and simpler fabrics with fewer cables, increasing consolidation while reducing network complexity and costs.
Manage explosive physical and virtual server growth with pay-as-you-grow scalability. Buy only what you need now and add more blade switches down the road.
Meet the uncompromising I/O demands of enterprise-class storage.
Maximize performance and protect your SAN and server investments with flexible 16/8/4 Gbps speed options and scalable growth.
Protect your SAN and Server investments with flexible speed options and scalable growth.
Help ensure uptime with up to four switches per chassis for complete redundancy.

Simplified, flexible deployment

Deploy the M6505 as a Brocade Access Gateway or as a full-fabric switch.


Access Gateway mode utilizes N_Port ID Virtualization (NPIV) switch standards to present physical and virtual servers directly to the core of SAN fabrics. This makes the Access Gateway transparent to the SAN fabric, greatly reducing management of the network edge. The Brocade M6505 in Access Gateway mode can connect servers to NPIV-enabled Brocade B-Series, Brocade M-Series and other SAN fabrics.
Dynamic Ports on Demand (POD) provides a flexible mechanism for allocating port licenses that you can purchase to extend the base functionality of your Brocade switches. These additional ports are enabled after you install the appropriate license keys. The Dynamic POD feature assigns port licenses based on your connectivity choices. Any port on the switch can claim a free assignment from the pool of available POD licenses.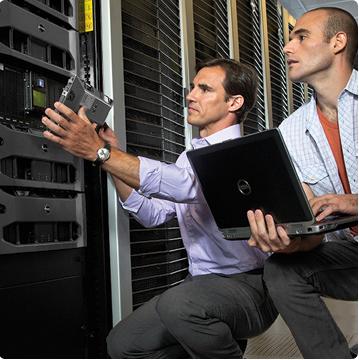 Easy integration and control
The Brocade M6505 is ideal for today's space constrained data centers that demand greater density and streamlined control.


Zero-footprint design: The Brocade M6505 features a hot-pluggable blade design that integrates into your existing chassis without taking up additional space or requiring the cooling, power and cabling requirements of traditional external switches.
Consolidated I/O: Integrate I/O from all blade servers in up to eight shared switch ports.
Easy control: A centralized user interface allows you to manage disparate fabrics with a simple point and click.
Fast troubleshooting: Diagnostic ports (D ports) allow you to quickly identify and isolate optics and cable problems.
Navigate network complexity with Dell EMC Services
Our global team of network experts understands the complexities of IT ecosystems, including multi-vendor environments. We have the skillset and experience to not only quickly resolve performance issues but also transform your network to meet the demands of your business.
Consulting
Dell EMC network consultants provide expert guidance to help you optimize and transform the network environment for the demands of today's multi-cloud infrastructures. Our deep infrastructure and application expertise combined with sophisticated network analysis toolsets address a wide range of network technology and process challenges.
Deployment
Leverage the Dell EMC ProDeploy Enterprise Suite to get your network installed and configured. Our experts can free your IT staff to focus on your core business, minimize downtime and give you the confidence that the job will be done right, the first time.
Support
Gain access to ProSupport technical experts who can assist with your most complex networking challenges. The Dell EMC ProSupport Enterprise Suite provides networking support around the clock and around the globe, helping your team maintain a high level of productivity.
Education
Dell EMC offers flexible training programs so your staff can build the right skills to successfully manage and utilize your network to its full potential. Through our personalized approach, your staff gets the exact training they need to improve productivity and adoption, decrease downtime, and reduce end-user support calls.
Fibre Channel ports
Switch mode: 12- and 24-port configurations (12-port increment through Ports on Demand [PoD] license); universal (E, F, M, D) ports
Scalability
Full fabric architecture with 239 switches maximum
Certified maximum
6000 active nodes; 56 switches, 19 hops in Brocade Fabric OS® fabrics; 31 switches, three hops in Brocade M-EOS fabrics; larger fabrics certified as required
Brocade 3XXX, 4XXX, 5XXX, and 6XXX switches; Brocade DCX® and Brocade DCX 8510 Backbones Access Gateway mode supports Brocade, McDATA, and Cisco fabrics
Performance
Auto-sensing of 2, 4, 8, and 16 Gbps port speeds
Up to eight 16 Gbps ports per ISL trunk; up to 128 Gbps per ISL trunk. There is no limit to how many trunk groups can be configured in the switch
Aggregate bandwidth
384 Gbps end-to-end, full duplex
Fabric latency
Latency for locally switched ports is 700 ns; Forward Error Correction (FEC) adds 400 ns between E_Ports (enabled by default)
Maximum frame size: 2112 byte payload
Classes of Service
Class 2, Class 3, Class F (inter-switch frames)
Scaling from 12 to 24 ports using Ports on Demand (PoD) capabilities
Data Traffic Types
Fabric switches supporting unicast
Media Types
Requires Brocade hot-pluggable, Small Form-Factor Pluggable (SFP+), LC connector; Short-Wavelength (SWL), Long-Wavelength (LWL); Extended Long-Wavelength (ELWL); distance depends on fiber optic cable and port speed. Supports SFP+ (8 and 16 Gbps) optical transceivers.
Fabric Services
Brocade Advanced Performance Monitoring (including Top Talkers for E_Ports, F_Ports, and Fabric mode); Brocade Adaptive Networking (Ingress Rate Limiting, Traffic Isolation, QoS); Bottleneck Detection; Brocade Advanced Zoning (default zoning, port/WWN zoning, broadcast zoning); Dynamic Fabric Provisioning (DFP); Dynamic Path Selection (DPS); Brocade Extended Fabrics; Enhanced BB credit recovery; Brocade Fabric Watch; FDMI; Frame Redirection; Frame-based Trunking; FSPF; IPoFC; Brocade ISL Trunking; Management Server; NPIV; NTP v3; Port Fencing; Registered State Change Notification (RSCN); Reliable Commit Service (RCS); Server Application Optimization (SAO); Simple Name Server (SNS)
Options
SFP media, Ports on Demand (12-port upgrade)Enterprise Performance Pack: ISL Trunking, Adaptive Networking, Advanced Performance Monitoring,Fabric Watch, and Extended Fabrics
Management
HTTP, SNMP v1/v3 (FE MIB, FC Management MIB), SSH; Auditing, Syslog; Brocade Advanced Web Tools, Advanced Performance Monitoring, Brocade Fabric Watch; Brocade Network Advisor SAN Enterprise or Brocade Network Advisor SAN Professional/Professional Plus; Command Line Interface (CLI); SMI-S compliant; Administrative Domains; trial licenses for add-on capabilities
Diagnostics
D_Port offline diagnostics, including electrical/optical loopback, link traffic/latency/distance; POST and embedded online/offline diagnostics, including environmental monitoring, FCping and Pathinfo (FC traceroute), frame viewer, non-disruptive daemon restart, port mirroring, optics health monitoring, power monitoring, RAStrace logging, and Rolling Reboot Detection (RRD)
Chassis
272.75 x 272.75 x 307.24 mm (10.74 x 10.74 x 12.09 in.)
Environmental Operating Conditions
Operating temperature:
0ºC to 40ºC (32ºF to 104ºF)

Nonoperating temperature:
-20ºC to 70ºC (-4ºF to 158ºF)

Operating altitude:
Up to 3,048 m (10,000 ft)

Storage altitude:
Up to 10.668 km (35,000 ft)

Operating relative humidity:
10% to 90% noncondensing

Nonoperating relative humidity:
5% to 95% noncondensing
Power
DC input:
12V and 3.3V FOM chassis

Power consumption:
30W to 40W