The Dell Networking C9010 is a centrally managed, highly scalable modular switch for enterprise campus and mid-market data center networks.
Dell Networking C9000 Series Switches
Force10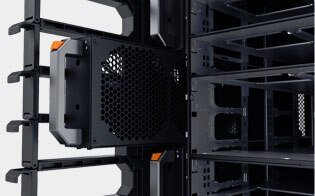 Next-generation modular chassis switch
Manage your network with Dell's next-generation, multi-rate, modular switching platform. You can support campus, mid-market and large-enterprise networks with the Dell Networking C9010. Use the C9010 as the network director, together with C1048P rapid access nodes, to usher in a new way to manage your network.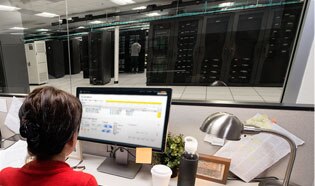 Reduce complexity with a single point of control
Simplify management by merging core and access layers into a single unified network layer. Build, manage and maintain your entire network from a single console — and enable comprehensive network visibility and control. You can dramatically reduce the risk of manual error with this streamlined network configuration.
Built on open standards for future-ready deployments
Enable future capacity with the unique multi-rate backplane and tool-free C9010 modular switch design. The intelligently designed C9010 8RU platform has slots for up to 10 line card modules, two route processor modules (RPM), three fan modules and four power supply modules. This chassis comes equipped with an integrated, 100GbE multi-rate capable backplane to deliver long-term investment protection.
Next-generation access
Extend C9010 capabilities to the access layer with the Dell Networking C1048P rapid access node. The C1048P provides 48 10/100/1000BASE-T PoE+ ports for user/server access and two SFP+ uplinks for connectivity back to the C9010.


Deploy the C1048P individually or in a stacked configuration up to eight units high — depending on the required density and deployment model. The C1048P rapid access nodes receive their configuration and software updates from the C9010 Network Director, which simplifies initial deployment, maintenance and operational activities.
Dell Networking C9000 Series Route Processor Module (RPM)
2.56Tbps Route Processor Module with 4 integrated SFP+ ports

Dell Networking C9000 Series 6-port 10/40GbE QSFP+ line card
6-port QSFP+ line card that supports 10 or 40GbE connectivity

Dell Networking C9000 Series 24-port 1/10GbE SFP+ line card
24-port SFP+ line card that supports 1 or 10GbE connectivity

Dell Networking C9000 Series 24-port 1/10GBASE-T line card
24-port 10GBASE-T line card that supports 1 or 10GbE connectivity

Dell Networking C1048P rapid access node
48-port 1GbE PoE+ capable rapid access node
Navigate network complexity with Dell EMC Services
Our global team of network experts understands the complexities of IT ecosystems, including multi-vendor environments. We have the skillset and experience to not only quickly resolve performance issues but also transform your network to meet the demands of your business.
Consulting
Dell EMC network consultants provide expert guidance to help you optimize and transform the network environment for the demands of today's multi-cloud infrastructures. Our deep infrastructure and application expertise combined with sophisticated network analysis toolsets address a wide range of network technology and process challenges.
Deployment
Leverage the Dell EMC ProDeploy Enterprise Suite to get your network installed and configured. Our experts can free your IT staff to focus on your core business, minimize downtime and give you the confidence that the job will be done right, the first time.
Support
Gain access to ProSupport technical experts who can assist with your most complex networking challenges. The Dell EMC ProSupport Enterprise Suite provides networking support around the clock and around the globe, helping your team maintain a high level of productivity.
Education
Dell EMC offers flexible training programs so your staff can build the right skills to successfully manage and utilize your network to its full potential. Through our personalized approach, your staff gets the exact training they need to improve productivity and adoption, decrease downtime, and reduce end-user support calls.
Port Attributes
Up to 60 40GbE QSFP+ ports

Up to 248 10GbE ports (240 SFP+ or 10GBASE-T ports plus eight SFP+ ports on two RPMs)

Support for 2,000 virtual ports (via rapid access nodes), and concurrent support for traditional Ethernet switches/devices

C9010 network director:
10 slot, includes 1x RPM, 1x AC PSU, 3x Fan

Modules:
C9010 Modular Switch, 10 slot, includes 1x RPM, 1x AC PSU, 3x Fan Modules, TAA

Redundant RPM:
C9000 RPM 2.56T, Redundant RPM

Line cards:
C9000 24-port 10GbE 10GBASE-T Line Card
C9000 24-port 10GbE SFP+ Line Card
C9000 6-port 40GbE QSFP+ Line Card

Redundant power supplies:

C9000 2,900W Power Supply

Fans:
C9000 Hot Swappable Fan Module

C1048P rapid access node:
48x 10/100/1000BASE-T PoE+ ports, 2x SFP+ ports, 2x stacking ports, 1 integrated 1000W power supply (requires C15 plug)
Performance
MAC addresses: 160K
IPv4 routes: 128K in scaled mode (16K in default mode)
IPv6 routes: 32K (shared CAM space with IPv4)
RPM switch fabric capacity: 2.56Tbps (full-duplex), 1.28Tbps (half-duplex)
RPM throughput: 1,462 Mpps
Line Card switch fabric capacity: 1.44Tbps (fullduplex), 720Gbps (half-duplex)
Line Card throughput: 714 Mpps
Link aggregation: 16 links per group, 128 groups per stack
Queues per port: 8 queues
Layer 2 VLANs: 4K
MSTP : 64 instances
VRF-lite: 32 instances (64 in future release)
Line-rate Layer 2 switching: all protocols, including IPv4 and IPv6
Line-rate Layer 3 routing: IPv4 and IPv6
IPv4 host table size 32K
IPv6 host table size 16K
IPv4 Multicast table size 4K
LAG load balancing: based on Layer 2, IPv4 or IPv6 headers
Hardware
C9010:
Up to 240 line-rate1 1/10GBASE-T ports
Up to 248 line-rate1 1/10GbE SFP+ ports
Up to 60 line-rate1 40GbE QSFP+ ports
3 fan modules
4 2,900W power supplies
Up to 2 RPMs
1 RJ45 console/management port with RS232 signaling and 1 USB-B port (per RPM)
Size: 8 RU, 13.9"h x 17.4" w x 18.0" d (35.26 cm h x 44.20 cm w x 45.70 cm d)
Weight: 55.4 lbs (25.2 kg) empty, 151.3 to 165.3 lbs (68.8 to 75.1 kg) fully loaded, depending on line cards installed

C1048P:
48 10/100/1000BASE-T RJ45 PoE+
2 integrated SFP+ uplink ports
2 integrated 21Gbps stack ports
1 RJ45 Console/management port with RS232 signaling
1 USB-A Port
Size: 1 RU, 1.7"h x 17.3" w x 10.1" d (4.4 cm h x 44.0 cm w x 38.7 cm d)
Weight: 15.0 lbs (6.8 kg)
Environmental Operating Conditions
C9010P:
Max. operating specifications:
Operating temperature: 32° to 113°F (0° to 45°C)
Operating humidity: 5 to 85% (RH), noncondensing
Operating altitude: 0ft to 10,000ft above sea level
Max. non-operating specifications:
Storage temperature: –40° to 158°F (–40° to 70°C)
Storage humidity: 5 to 95% (RH), non-condensing

C1048P:
Max. operating specifications:
Operating temperature: 32° to 113°F (0° to 45°C)
Operating humidity: 5 to 95% (RH), noncondensing
Operating altitude: 0ft to 10,000ft above sea level
Max. non-operating specifications:
Storage temperature: –40° to 149°F (–40° to 65°C)
Storage humidity: 5 to 95% (RH), non-condensing
PoE/PoE+ Power Budget: 850W using integrated
power supply. 1,700W when used in conjunction with MPS1000
Power
Nominal Input Voltage: 100/120 VAC 50/60 Hz and 200/240 VAC 50/60 Hz
Max input current per power supply @ 1,450W (100/120V): 16A at 100V, 14A at 120V
Max input current per power supply @ 2,900W (200/240V): 16A at 200V, 14A at 240V
Max system power input (using 4 power supplies): 2,950 VA
Max. power consumption: 2,950W
Max. thermal output: 10,066 BTU/hr
Typ. power consumption: 1410-2400 Watts fully loaded, depending on line cards installed
Regulatory
Safety
UL/CSA 60950-1, Second Edition
EN 60950-1, Second Edition
IEC 60950-1, Second Edition Including All
National Deviations and Group Differences
EN 60825-1 Safety of Laser Products
Part 1: Equipment Classification Requirements and User's Guide
EN 60825-2 Safety of Laser Products
Part 2: Safety of Optical Fibre Communication Systems
FDA Regulation 21 CFR 1040.10 and 1040.11

Emissions
Australia/New Zealand: AS/NZS CISPR 22: Class A
Canada: ICES-003, Issue-4, Class A
Europe: EN 55022: (CISPR 22:), Class A
Japan: VCCI Class A
USA: FCC CFR 47 Part 15, Subpart B: Class A

Immunity
EN 300 386 EMC for Network Equipment
EN 55024
EN 61000-3-2: Harmonic Current Emissions
EN 61000-3-3: Voltage Fluctuations and Flicker
EN 61000-4-2: ESD
EN 61000-4-3: Radiated Immunity
EN 61000-4-4: EFT
EN 61000-4-5: Surge
EN 61000-4-6: Low Frequency Conducted Immunity

RoHS
All C Series components are EU RoHS compliant.

Certifications
Available with US Trade Agreements Act (TAA) compliance
USGv6 Host and Router Certified on Dell Networking OS 9.5 and greater*
IPv6 Ready for both Host and Router*
UCR DoD APL (core and distribution ALSAN switch)*

*USGv6, IPv6 Ready, and UC APL certifications contingent upon successful test completion[DS1]

Product Safety, EMC and Environmental Datasheets
Dell Regulatory Compliance Home Page
Dell and the Environment