Protect yourself from the unexpected.
Deploy comprehensive data and application backup and recovery for the physical and virtual servers that power your business with PowerVault™ DL4000.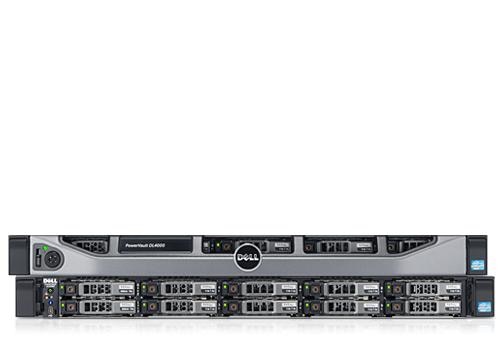 Dell PowerVault DL4000
PowerVault
Fast, effective data recovery

Safeguard the data in your growing business with confidence, knowing that in the event of an equipment or software failure, you'll be back to business as usual in minutes, not hours or days.
Find Out More
Designed for business resiliency

Go beyond backup to integrated disaster recovery with the leading-edge technologies in AppAssure software for Microsoft® Windows® and Linux®.
Find Out More

Easily deployed and highly scalable

Deploy quickly with custom tools and efficiently expand with scalability options designed to provide continuous protection for a growing business-intelligence environment.
Find Out More

Global services and support
Dell™ Services can help reduce IT complexity, lower costs and eliminate inefficiencies by making IT and business solutions work harder for you. The Dell Services team delivers distinctive capabilities, including full data migration solutions to facilitate consolidation from multiple file systems. Dell takes a holistic view of your needs and designs solutions for your environment and business objectives, and uses established delivery methods, local talent and in-depth domain knowledge to help lower your total cost of ownership.
Processor
Standard Edition : Two Intel Xeon E5-2640 6-core 2.5Ghz processors
High Capacity Edition: Two Intel Xeon E5-2665 8-core 2.4Ghz processors
Operating System
Windows Server 2012 Standard (factory installed)
Connectivity
Network Connectivity

Standard edition: Intel (4 x 1GbE); Broadcom (4x1GbE) NIC
High Capacity edition: 2x10GbE Intel NIC; 4x1GbE Intel NIC
Software
Licensing
The DL4000 Disk Backup Appliances are licensed based on the back-end compressed and deduplicated stored data capacity.



AppAssure Software Protection



Operating Systems Supported Distributions

All versions of Microsoft Windows Server 2012 using NTFS
Microsoft® Windows® XP, Vista, and 7 
Red Hat® Enterprise Linux® (RHEL) 6.3 (32- and 64-bit)
CentOS® 6.3 (32 and 64 bit)
Ubuntu® 12.04 LTS (32 and 64 bit)
SuSE Linux® Enterprise Server 11 SP2 (32 and 64 bit)

Virtualization Platforms

VMware® ESX® and VMware ESXi®
Microsoft® Hyper-V®

Application Support

Microsoft® Exchange®:
Microsoft Exchange 2007 SP1 Rollup 5 or later
Microsoft Exchange 2010
Database Availability Group, Single Copy Clusters, and Cluster Continuous Replication
Microsoft SQL:
SQL Server 2005 or higher
SQL Clusters

Features

Live Recovery
Recovery Assure
Universal Recovery
Inline Global Deduplication and Compression
Built-in Replication, WAN Optimized
Block-Level Incremental Forever Snapshots
Local Virtualization Rights on Appliance for Standby Virtual Machines. Standard Edition: 2 Virtual Machines, High Capacity Edition: 4 Virtual Machines
Granular Backup Retention Policies
First Time Boot Utility (FTBU) for Rapid Configuration and Deployment
Web-Based Appliance Management and much more
Management
AppAssure Appliance Configuration Wizard, iDRAC7 Enterprise for remote management, AppAssure Central Management Console
Power
Redundant Auto-ranging, Platinum efficiency 750W