Low latency for high-performing networks
Enable multiple subnets with Mellanox InfiniBand switch devices that provide up to 56Gb/s full bidirectional bandwidth per port.
Mellanox InfiniBand FDR Switches
Mellanox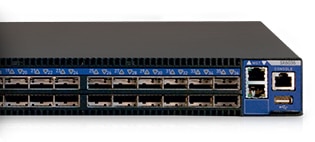 Speed up server interconnects
The Mellanox SX6000 family of top-of-rack InfiniBand switches delivers high performance, low latency, port density and complete fabric management solutions. The SX6000 series is designed to enable compute clusters and converged data centers to operate at any scale while reducing operational costs and infrastructure complexity.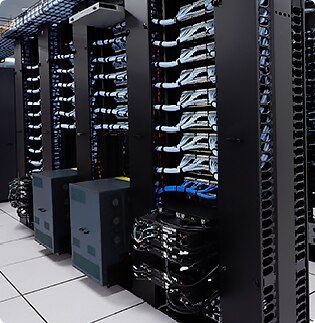 Scalable, compatible high-bandwidth performance
Mellanox SX6000 14 data rate (FDR) switches carry converged traffic with assured bandwidth and granular quality of service (QoS). They enable you to build scalable, cost-effective switch fabrics, ranging from small clusters to hundreds of nodes.
Fit into industry-standard racks to scale-out leading computing solutions.
Ensure maximum effective fabric bandwidth by eliminating congestion hot spots through static and adaptive routing and advanced congestion management.
Enable multiple subnets with 12 or 36 ports.
Provide high-performance connectivity with support for 56Gb/s port speeds.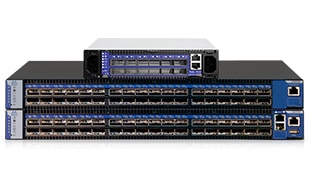 Key benefits include:
Software defined network (SDN) support
Industry-leading switch platform for performance, power and density
Energy- and cost-saving design
Quick and easy setup and management
Fabric congestion removal for maximized performance
Fabric management for cluster and converged I/O applications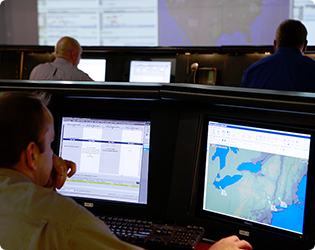 Ultimate performance and flexibility
High bandwidth with ultra-low latency for extreme server efficiency and application productivity, especially high-performance computing (HPC) applications
12 and 36-port configurations running at 56Gb/s per port, with the ability to build clusters that scale to hundreds of nodes
Optimal cluster and data center performance with high availability and reliability via Mellanox Unified Fabric Manager (UFM)
Error-free fabrics
Granular QoS for cluster, LAN and SAN traffic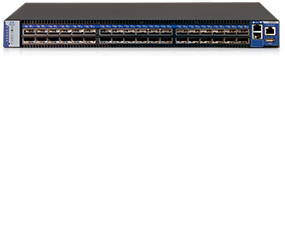 SX6036 36-port Managed 56Gb/s InfiniBand/VPI Switch
The SX6036 is an ideal choice for top-of-rack leaf connectivity or for building small- to medium-sized clusters.

Key features include:


Delivers low port-to-port latency and up to 4Tb/s of non-blocking bandwidth for high-performance computing (HPC) environments and enterprise data centers (EDC)
Virtual protocol interconnect (VPI) that simplifies systems by serving multiple fabrics
Enhanced Ethernet connectivity for Dell PowerEdge PCIe Gen3 servers
SX6025 36-port 56Gb/s InfiniBand/VPI Switch
The SX6025 is an ideal choice for top-of-rack leaf connectivity or for building small- to extremely large-sized clusters.

Key features include:

Increased computing efficiency via static routing, adaptive routing and congestion control
Reversible airflow for data centers with different thermal designs
Cost-efficiency for building high-performance clusters and data centers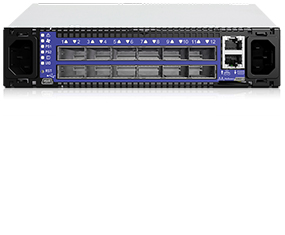 SX6012 12-port 56Gb/s InfiniBand/VPI Switch
The SX6012 is an ideal choice for high performance in smaller departmental or back-end clustering, such as storage, database and GPGPU clusters.

Key features include:

FDR-10 link speed supporting 20% more bandwidth than QDR
Onboard subnet manager for out-of-the-box fabric bring-up for up to 648 nodes
Virtual protocol interconnect (VPI) to simplify data center I/O design
Navigate network complexity with Dell EMC Services
Our global team of network experts understands the complexities of IT ecosystems, including multi-vendor environments. We have the skillset and experience to not only quickly resolve performance issues but also transform your network to meet the demands of your business.
Consulting
Dell EMC network consultants provide expert guidance to help you optimize and transform the network environment for the demands of today's multi-cloud infrastructures. Our deep infrastructure and application expertise combined with sophisticated network analysis toolsets address a wide range of network technology and process challenges.
Deployment
Leverage the Dell EMC ProDeploy Enterprise Suite to get your network installed and configured. Our experts can free your IT staff to focus on your core business, minimize downtime and give you the confidence that the job will be done right, the first time.
Support
Gain access to ProSupport technical experts who can assist with your most complex networking challenges. The Dell EMC ProSupport Enterprise Suite provides networking support around the clock and around the globe, helping your team maintain a high level of productivity.
Education
Dell EMC offers flexible training programs so your staff can build the right skills to successfully manage and utilize your network to its full potential. Through our personalized approach, your staff gets the exact training they need to improve productivity and adoption, decrease downtime, and reduce end-user support calls.