The ideal first server for small business
Excellent first server for small businesses, the PowerEdge T110 II Intel® Xeon® processor excels at productivity and collaboration applications, file sharing and data protection.
Sorry, this item is not available anymore for purchase online. Please see our recommended replacement product.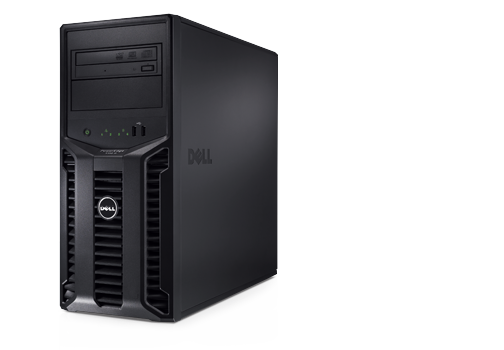 PowerEdge T110 II Tower Server
PowerEdge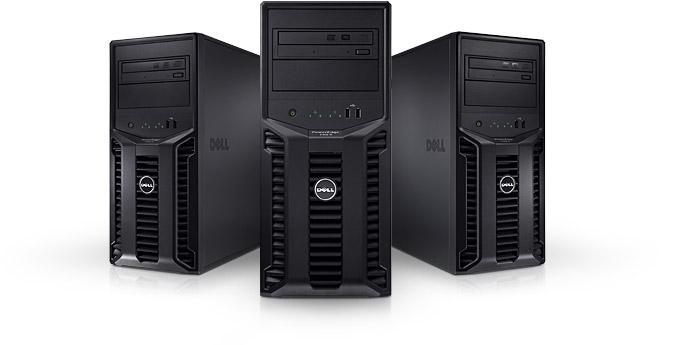 The PowerEdge™ T110 II is an ideal first server for small business with the right combination of value, reliability, collaboration and data protection features to improve your business continuity and productivity.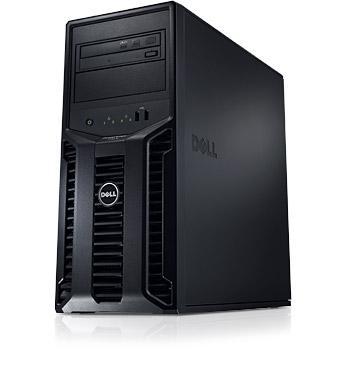 Easy Access
Run applications, share information and access your data from any workstation in the office.

 

Let employees work simultaneously by moving to a server-based network. Adding a server to your business better enables you to work more effectively while out of the office and to employ IP-based collaboration suites, which means you can:

Allow employees to access their business email from any Internet connected computer.
Share documents over the Internet in a secure environment.
Share desktops for conference calls and remote meetings.
PowerEdge T110 II is ideally suited to give your business the flexibility and access you and your employees need to get more done, all without adding an IT staff.
Secure technology
Keep data secure and control file access with built-in encryption, security and data protection options. With the PowerEdge™ T110 II, you can: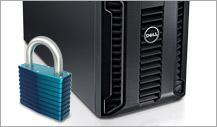 Avoid costly business interruptions and potentially catastrophic security breaches with hardware-enabled advanced security and encryption features.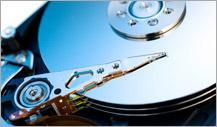 Make copies of data automatically to prevent downtime in the event of a hard drive failure on Dell™ PowerEdge™ servers using a redundant array of independent disks (RAID).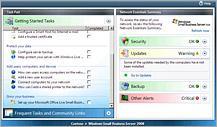 Protect your files with the Microsoft® Windows® Small Business Server 2011 standard backup features that let you restore files and recover data, including automatic backups on PowerEdge™ servers.
Business Friendly
Scalable, adaptable and ready to use, PowerEdge T110 II is the ideal server for the small office setting and is poised to grow along with your business.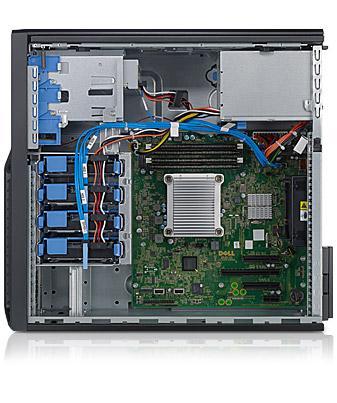 Meet the needs of noise-sensitive environments, thanks to a design that gives you business-class performance with similar sound levels as a standard desktop computer.

Get the processing power your business demands with options from the Intel® Xeon® E3-1200 V2 processor family, Intel Pentium® G600 and G800 series or Intel® Celeron® G400 and G500 series.
Choose processor options and memory configurations that are balanced to file and print, and to run typical business applications, including SQL Workgroup/Standard, Active Directory and SharePoint® server.
Processor
Intel® Xeon® processor E3-1200 product family
Intel® Xeon® processor E3-1200 V2 product family
Intel® Pentium® G600 and G800 series
Intel® Celeron® G400 and G500 series
Operating System
Microsoft® Windows Server® 2012
Microsoft Windows Server 2012 Essentials
Microsoft Windows Server 2008 R2 SP1, x64 (includes Hyper-V®) 
Novell® SUSE® Linux Enterprise Server
Red Hat® Enterprise Linux®
Virtualization options:
Citrix® XenServer®
VMware® vSphere® ESXi™
Red Hat Enterprise Virtualization®
Up to 32GB (4 DIMM slots): 1GB/2GB/4GB/8GB DDR3 up to 1600MHz
Drive Bays
Cabled options available:
Up to six 2.5" SATA SSD or SAS drives or
Up to four 3.5" SAS, nearline SAS, or SATA drives



Chassis
463.82 H x 189.35 W x 420.3 D (mm)
18.26 H x 7.45" W x 16.55" D (in)
Availability
Quad-pack LED diagnostics, ECC Memory, add-in RAID, TPM/TCM
Power
Single cabled power supply (305W)
RAID Controllers
Internal Controllers:
PERC H200 (6Gb/s)
PERC S100 (software based)
PERC S300 (software based)
External HBAs (non-RAID):
6GB/s SAS HBA
Storage
Cabled hard drive options:
3.5" SAS (15K, 10K), nearline SAS (7.2K), SATA (7.2K)

Maximum Internal Storage:
Up to 12TB*

External Storage:

For information about Dell external storage options, visit Dell.com/Storage.
Slots
4 PCIe G2 slots:
Two x8 slots (one with x16 connectors)
One x4 slot (with x8 connector)
One x1 slot
Network Controller
One single port Broadcom BCM 5722
Management
BMC, IPMI 2.0 compliant
Dell OpenManage
Unified Server Configurator
Communications
Broadcom® NetXtreme® 5709 Dual Port Gigabit Ethernet NIC, Copper, w/TOE PCIe x4
Broadcom® NetXtreme® 5709 Dual Port Gigabit Ethernet NIC, Copper, TOE/iSCI PCIe x4
Broadcom® NetXtreme® II 5722 Single Port Gigabit Ethernet NIC
Intel® PRO/1000PT Single Port Adapter, Gigabit Ethernet NIC, PCIe x1
Intel® Gigabit ET Dual Port Adapter, Gigabit Ethernet NIC, PCIe x4
Video Card
Matrox G200eW w/8MB memory
Environmental Operating Conditions
Dell offers a wide range of professional services to simplify the assessment, design, implementation, management and maintenance of your IT environment and to help you transition from platform to platform.

Dell ProSupport
Dell ProSupport offers a suite of support services that enable you to choose support models based on how you use technology and where you want to allocate resources. We recommend Dell ProSupport Plus withSupportAssist for mission-critical systems or Dell ProSupport for premium hardware and software support for your PowerEdge solution. For hyper-scale data centers, we also offer ProSupport Flex for Data Center. Contact your Dell representative today for more information*.

Dell Enterprise Deployment Services
Our end-to-end deployment services ensure your Dell PowerEdge installation, configuration and implementation is completed accurately and quickly - anytime, anywhere - with proven processes based on best practices acquired from thousands of deployments by our highly skilled experts.

Dell Training Services
Dell Education Services offers PowerEdge Server training courses designed to help you achieve more with your hardware investment. The curriculum is designed in conjunction with the server development team, as well as Dell's technical support team, to ensure that the training delivers the information and practical, hands-on skills you and your team need to confidently deploy, manage and maintain your Dell Server solution. To learn more or register for a class today, click here.
Dell OpenManage Systems Management portfolio

The Dell OpenManage systems management portfolio, including Dell PowerEdge server embedded management feature integrated Dell Remote Access Controller (iDRAC) with Lifecycle Controller, helps IT Administrators efficiently manage Dell servers in physical, virtual, local and remote environments, operating in band or out of band, with or without a systems management software agent. Irrespective of the operating system or hypervisor you deploy, iDRAC with Lifecycle Controller automates the most essential and frequently performed server management tasks to help your IT resources become more productive and your IT environment more cost-effective and well-maintained. Dell OpenManage also integrates and connects to leading third-party systems management solutions you may already own, so you can maintain your single point of control and capitalize on your existing investment.

Solutions and Systems Management

Dell Desktop Virtualization Solutions

You face an expanding set of challenges for provisioning, managing and supporting end-user computing across your enterprise. Your IT team is not growing, but support requirements are more complex as you plan how best to migrate and update client systems, and secure new "smart" mobile devices.

With Dell DVS you can create a centralized end-user computing environment that streamlines desktop management and reduces maintenance burden on your IT staff. Now you can focus on important projects to improve IT services. Dell DVS solutions are completely integrated and tested solutions that are powered by advanced Dell PowerEdge rack and blade servers.

Dell's purpose-built DVS solutions combine the performance, memory capacity and embedded hypervisor options in Dell PowerEdge servers with desktop virtualization software in optimized configurations. DVS solutions simplify deployments and accelerate your time-to-value. Dell DVS solutions deliver:

Storage Options

With Dell Compellent, Dell EqualLogic and Dell PowerVault, we have created a comprehensive and innovative portfolio of storage products, all of which are easy to deploy, manage and grow. Whether you use network attached storage (NAS), direct attached storage (DAS), internet SCSI (iSCSI) or Fibre Channel (FC), Dell has a product that can meet your business needs and reduce the cost and complexity of storage.


The Value of Dell Storage:

Dell's open, standards-based solutions let customers of all sizes integrate new technologies without sacrificing performance or their existing IT investments.
 
 
Direct-Attached Storage:

The Dell PowerVault MD storage family offers easy and economical expansion for Dell PowerEdge servers enabling high availability and scalability for demanding business applications.
 
 
 
Disk-to-Disk Backup

Due to expanding volumes of data that must be backed up and protected along with shrinking backup windows, many IT departments have moved to or added disk-based backups.
 
 
 
Network-Attached Storage

NAS is a specialized storage server with its own IP address that is made available to multiple clients and servers on a local area network (LAN) or wide area network (WAN). 
 
 
 
Object-Based Storage

The Dell DX Object Storage Platform is designed to intelligently access, store, protect and distribute fixed digital content.
 
 
 
Storage Area Network

A storage area network (SAN) is a network of shared storage devices, such as disk storage arrays and tape automation
 
 
 
Tape Backup

Considered the first and last line of defense against data loss, tape and removable disks can be used for long-term data storage and backup.
 
 
 
Unified Storage

Unified Storage is a term that describes the ability to manage both file- and block-level data.