Alienware 17 Gaming Laptop
---
Product niet beschikbaar
Onze excuses dat dit product momenteel niet beschikbaar is. We hebben echter geweldige opties op voorraad om vandaag nog aan uw behoeften te kunnen voldoen.
Engineered to wreak havoc.
Alienware's most powerful 17-inch gaming laptop is designed for VR with NVIDIA GeForce® GTX 10-Series graphics and Tobii Aware software, taking you deeper into the game.
Engineered to wreak havoc.
Alienware's most powerful 17-inch gaming laptop is designed for VR with NVIDIA GeForce® GTX 10-Series graphics and Tobii Aware software, taking you deeper into the game.
Kenmerken en Design
Met Windows 10 Home : doorbreek grenzen en ga helemaal op in de game met graphics die realistischer zijn dan ooit dankzij multithreaded scaling van de nieuwe Alienware 17.


Designed for VR.
Dive into mind-bending virtual reality experiences with a VR-ready system that passes the Oculus Ready and Vive Optimized certifications.

Powered by NVIDIA® VRWorks technology, a new level of presence is achieved by bringing physically realistic visuals, sound, touch interactions, and simulated environments to virtual reality. And with NVIDIA® GeForce® 10-series graphics, the Alienware 17 goes beyond what's expected.

Higher performance inside and out.
Built with premium materials and up to 7th Gen Intel® Core™ i7 and i7k-Series processors, the Alienware 17 is the ultimate evolution in high-performance gaming technology. Utilizing magnesium alloy for rigidity, copper for better performance, anodized aluminum for extra protection and steel for tactile comfort, it features a high-quality design for high-performance gaming. And with support for up to NVIDIA® GeForce GTX 1080Ti or AMD Radeon RX 470 graphics, overclocked CPUs at 4.4GHz, and high-speed DDR4 system memory capable of up to 2667 MHz, you can experience gaming on a whole new level.

A revolutionary new way to use your PC.
Tobii Aware software enables new gameplay functions for a completely unique user experience. Let your eyes be the controller and lose yourself in the game.


Realistic gaming functions:
Armed with knowledge about your presence, eye movement and corresponding head movement, Tobii eye tracking enhances your games, including Tom Clancy's The Division, Watch Dogs 2 and Assassin's Creed Syndicate, so you can input commands that are more in tune to real life. Aim where you look, signal teammates with a glance and navigate a cockpit freely. See the full library at
www.tobii.com/apps
.
System intelligence:
Armed with more information about you, including your attention and position in front of the laptop, your machine can now optimize power usage and even trigger more advanced security profiles. A groundbreaking new feature exclusive to Alienware machines.
Game coaching:
With new exclusive Overwolf apps, replay your gaze pattern and see where you went wrong. Learn from your mistakes, find new opportunities and crush the competition.
Windows Hello:
A revolutionary HD resolution camera with an IR sensor and facial recognition technology allows you to log in with just a look.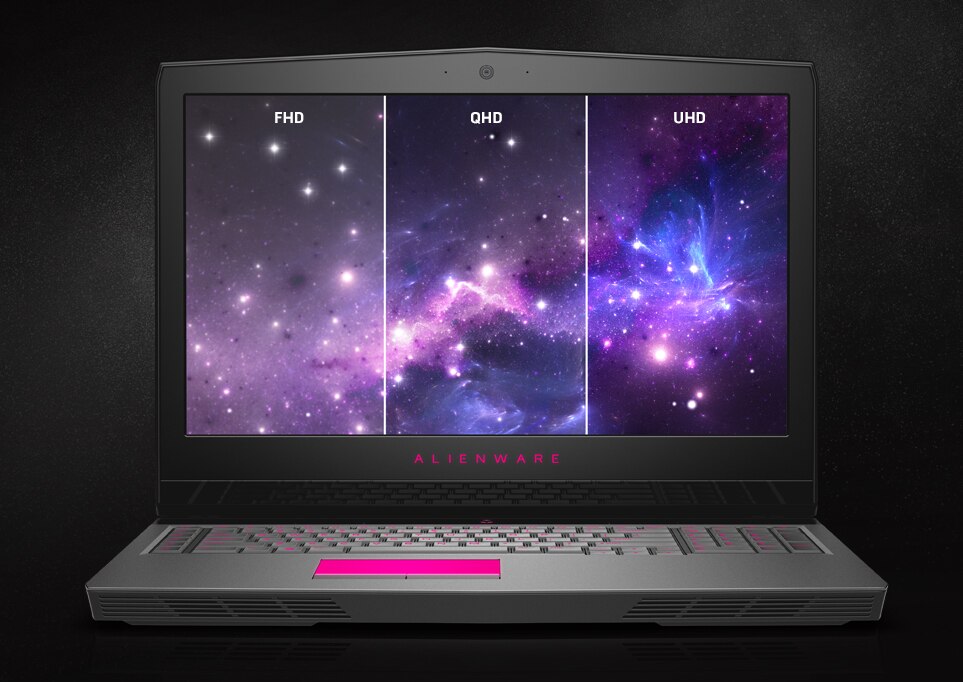 Nothing between you and gaming.
Witness the difference an expansive 17-inch LCD screen can make with supported FHD, QHD 120Hz and UHD resolution options – all with anti-glare finish.

The 17" QHD 120Hz display is designed to deliver the smoothest gaming experience with a 4-millisecond response time​, wide viewing angles and 400 nits of brightness. The UHD panel offers a 100% color gamut for an incredible, saturated range of reds, greens and blues (compared to the 72% offered by QHD and FHD).

NVIDIA® G-Sync technology, available on select models, delivers the smoothest, fastest experience ever thanks to synchronized display refresh rates to the GPU in your GeForce® GTX-powered PC, eliminating screen tearing and minimizing display stutter and input lag.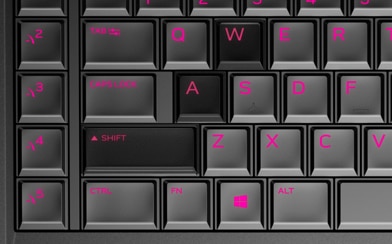 A keyboard like no other.
With an upgraded Alienware TactX keyboard, n-key rollover is now supported, enabling over 108-key commands for maximum actions per minute. It's the only keyboard on a laptop with 2.2mm of key travel allowing for rapid response for any keystroke. Reinforced with a steel back plate for rigidity and uniform feedback with a guarantee to stay functional for up to 10 million keystrokes.

Create a more personalized look for your machine with new and improved AlienFX. Designed with optimized RGB-LED enabled AlienFX lighting and now supported on over 130 games, with the option to create and download unique themes.
Meticulously designed to deliver a knockout performance.
An innovative hinge-forward design brings the thermal shelf to the rear, enabling a variety of improved benefits – like a thinner design, better ventilation, higher quality sound and external ports organization – to stand out for an incredible gaming experience.

Designed to keep cool.
Higher maximum thermal design power (TDP) support means that your system can handle a higher total wattage for internal components, enabling a higher level of performance. With the entire ventilation system upgraded, your system can stay cool even under extreme graphics pressure.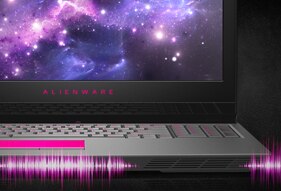 Hear every battle cry.
Due to the upgraded design, a larger and more effective speaker box has been installed, improving audio output for a clearer and more dramatic gaming experience.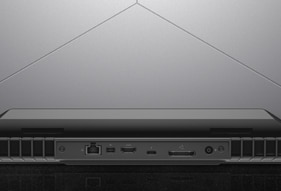 Clear the desktop & the board.
Avoid excess cables and embrace the "desktop mode" design, where most of your critical connections and ports are in the back and out of the way.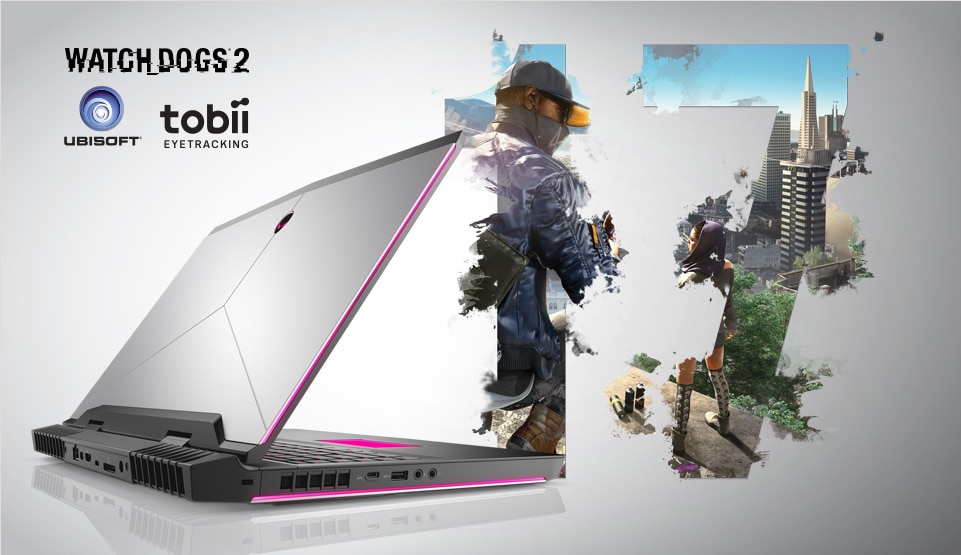 Tech gamers need.
The Alienware 17 has been upgraded to give gamers the tools they need to be the best.
Killer™ Wireless:
Killer DoubleShot™ Pro provides wired and wireless networking setups that prioritize internet traffic and data stream to the applications most important to you.
Alienware Graphics Amplifier support:
Enables future-proofing of upgradeable full length, dual-wide graphics and additional 4-port USB 3.0 hub for added peripherals. We've added a PCIe x4 Gen 3 connection with dedicated throughput for connectivity that's superior even to a Thunderbolt.
Thunderbolt Type-C port:
This multi-use port is ready to be used as a USB 3.1 port, offering 10Gbps of data transfer, a Thunderbolt connection capable of 40Gbps, or even a Display Port enabling various monitors supporting the DP protocol.
Longer battery life:
The Alienware 17 contains a 68Whr battery with an optional 99 Whr
*
 lithium-ion battery. We offer the maximum amount of battery power legally allowed with the 99Whr battery– storing and delivering the most amount of power found in any laptop battery for longer uninterrupted gameplay. The new Alienware 17 can support up to 10 hours of battery life, as tested with the 99 Whr battery and an FHD LCD configuration.
*
Solid-state drive:
An SSD brings awesome benefits to your system. Load your games faster, get shock and vibration protection, better speed and capacity, and much more. Solid-state drives (SSDs) make virtually no noise and have less failures because they have no moving parts. A quieter system means you can better pinpoint every footstep your enemy makes.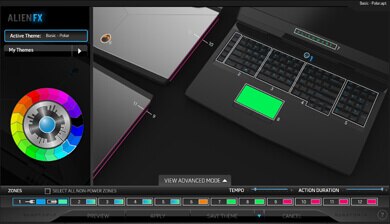 Experience the full spectrum.
AlienFX uses 20 different colors to create over 80 quadrillion unique themes to give your machine a more personalized look. Supported on over 130 titles, lighting zones can be customized to react to things like in game actions, powering on and off, and notifications by pulsing, morphing or simply holding a solid color. Once you've finished your theme, you can save and upload it to the Alienware Arena community site where you can share your custom creation with others and download any you find. And for times when you want a little less visual stimulation, AlienFX allows you to "go dark" by disabling all lighting effects until you're ready to turn them back on.
Alienware Command Center
AlienFusion: De nieuwe Always Ready-modus zet je systeem in een stand tussen slaapmodus en ingeschakeld, waardoor belangrijke programma's op de achtergrond actief blijven terwijl het systeem stil is en met een verlaagd energieverbruik draait.

AlienAdrenaline: AlienAdrenaline biedt gebruikers alle tools die ze nodig hebben om de concurrentie een stap voor te blijven, met aanpasbare opties voor games en applicaties, een optimalisatietool voor systeemprestaties en een tool voor monitoring van prestaties.

Temperatuurregeling: Met de Active Thermals-module kun je instellingen wijzigen en interne temperaturen en de snelheid van bepaalde ventilatoren in je pc monitoren.


Ports & Slots
1. Type-A SuperSpeed USB 3.0 Port| 2. RJ-45 Killer Networks e2400 Gigabit Ethernet Port | 3. Mini-Display Port 1.2 (certified) Output | 4. HDMI 2.0 Output | 5. Thunderbolt™ 3 Port | 6. Alienware Graphics Amplifier Port | 7. Power/DC-in Jack | 8. Noble Lock port (cable and lock sold separately) | 9. Type-C SuperSpeed USB 3.0 Port| 10. Type-A SuperSpeed USB 3.0 Port with PowerShare technology | 11. Headphone 1/8" Port (retaskable for Microphone/Line-In analog audio input) | 12. Audio Out 1/8" Ports (Compatible with inline mic headset)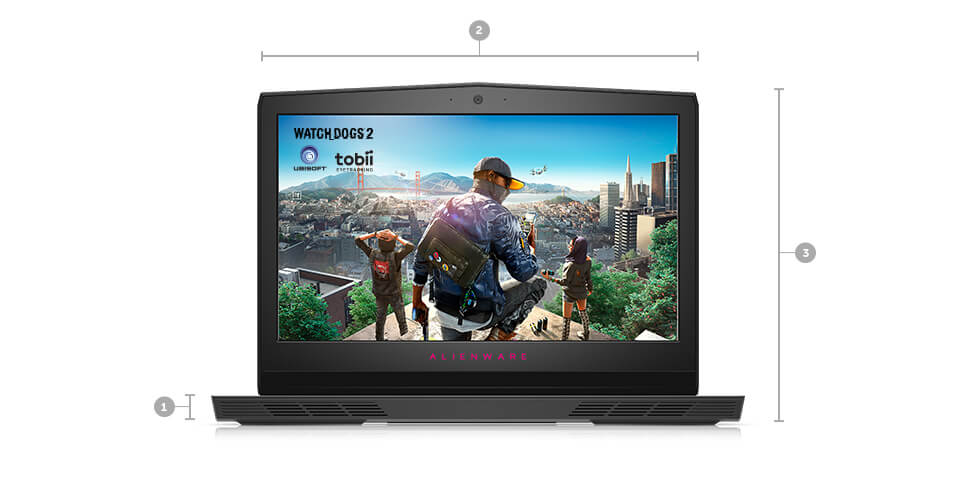 Dimensions & Weights
1. Height: 29.9mm (1.18") | 2. Width: 424mm (16.7") | 3. Depth: 332mm (13.1")
 Average Weight: 4.42 kg
*
 (9.74lbs)
Essential accessories for your Alienware 17
Maximize the performance of your Alienware 17 laptop with Dell-recommended essential accessories. Look for these great products and more at checkout.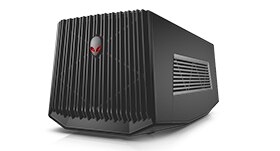 Alienware Graphics Amplifier

Transform your Alienware 13, 15 and 17 notebooks and X51 R3 desktop with the Alienware Graphics Amplifier and unlock the immersive power of enhanced gaming performance.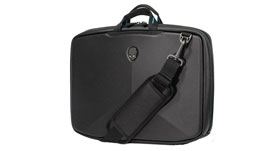 Dell Alienware 17 Vindicator Slim Case V2.0
Whether it's for gaming at home or on the road, the Alienware Vindicator Slim Case has you covered. It fits up to 17-inch screen laptops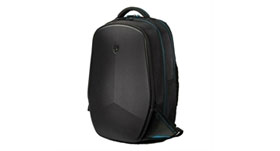 Dell Alienware 17 Vindicator Backpack V2.0
Designed to impress, the Alienware Vindicator Backpack boasts an extremely durable exterior with room in its 3 main compartments to protect your goods.

Alienware 25 Gaming Monitor - AW2518H
Enjoy unrivaled gameplay in a 25" monitor with the Alienware iconic design featuring a 240Hz refresh rate, 1ms response time, NVIDIA® G-sync™ technology, and custom AlienFX™ lighting.

Alienware Pro Gaming Keyboard – AW768
Improve your gaming ability with a mechanical gaming keyboard featuring brown switches, 15 programmable macro key functions, on board memory and a zone-based RGB backlight with AlienFX™ technology.

Microsoft Xbox ONE Wireless Controller
Experience the unique intensity, precision and comfort of the Xbox One Wireless Controller. Impulse Triggers deliver fingertip vibration feedback, so you can feel every jolt and crash in high definition. Responsive thumbsticks and an enhanced D-pad provide greater accuracy.
Standaard werken zonder zorgen.
Alien Autopsy is vooraf geïnstalleerd op alle nieuwe Alienware apparaten. Deze applicatie geeft advies en meldingen zodat je op de hoogte bent van problemen voordat ze optreden en tools om problemen op te lossen. 

Alienware Respawn biedt flexibele, geautomatiseerde back-up en herstel om te zorgen dat je belangrijke documenten, foto's en mediabestanden veilig blijven.

En de support van Dell bespaart tijd en gedoe met waardevolle informatie over garantie en services.
Alle mogelijke support. Zonder enige moeite.

Premium Support Plus
Of u nu een doorgewinterde veteraan bent of een nieuwe gamer, Premium Support Plus biedt u een betere gamebeleving met 24x7 support, pc-optimalisatie, voorspellende probleemdetectie en meer.

Premium support
U kunt 24x7 vertrouwen op hulp van Dell Premium Support. Met de experts bij de hand kunt u verwachten dat problemen snel en eenvoudig worden opgelost met minder tijd in de wachtstand.

Bescherming tegen ongelukken
U kunt stroomstoringen, valpartijen en morsen van vloeistof niet voorkomen, maar Dell Accidental Damage Service helpt u alles eenvoudig te herstellen. Dell zorgt ervoor dat u snel en eenvoudig weer aan de slag kunt.
Onderscheidingen en Recensies
Drivers, Handleidingen en Support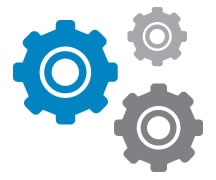 Dell Support
Met de productsupport van Dell zit u goed, van drivers en handleidingen tot diagnostische tools en vervangende onderdelen.