PowerEdge R940XA - Full Configuration
Extreme versnelling voor zakelijke inzichten
Stimuleer GPU database versnelling voor uw bedrijfskritieke applicaties met een krachtige, 4-socket server. Schaal capaciteit met grote interne opslagcapaciteit.
Aanbiedingsprijs
€ 48.010,06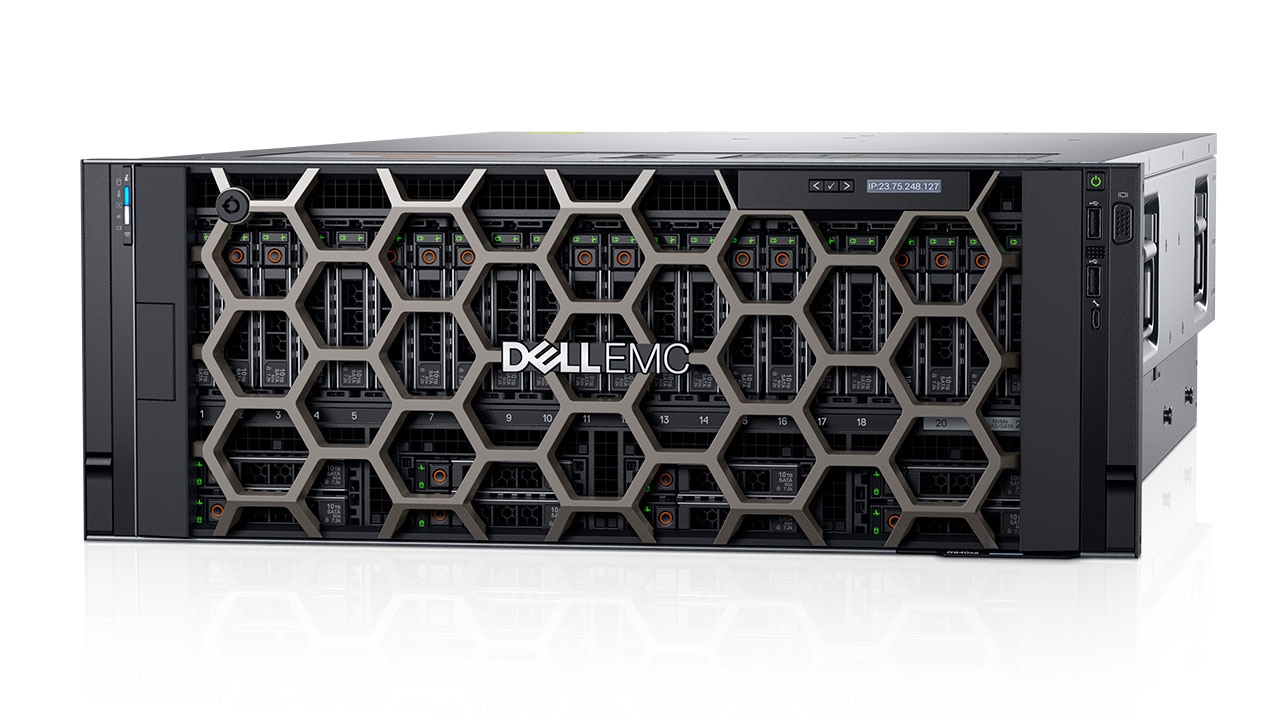 Technische specificaties PowerEdge R940XA - Full Configuration
PowerEdge R940XA - Full Configuration
Prijs van Dell
€ 48.010,06
Exclusief btw, gratis verzending
Prijzen voor support en services zijn afhankelijk van de selectie van de hardware en het besturingssysteem
Bestelcode emea_r940xa_vi_vp
Kenmerken en Design

Snel inzicht in data in bedrijfsresultaten omzetten
De PowerEdge R940xa versnelt applicaties voor het leveren van realtime beslissingen. De R940xa combineert vier CPU's met vier GPU's in een krachtige verhouding van 1:1 om database-versnelling te bevorderen. Met maximaal 6 TB geheugen en 4-socket prestaties levert de R940xa consistente en snelle responstijden. Schaal capaciteit op locatie om toenemende cloudkosten en beveiligingsrisico's te compenseren. 
Ideale workloads:
Rekenintensieve applicaties
Zelflerende systemen en kunstmatige intelligentie
GPU database versnelling

Dynamisch capaciteit schalen terwijl uw workloads worden opgebouwd
U kunt de 4U-R940xa flexibel aanpassen aan veranderende zakelijke behoeften. De grote interne opslagcapaciteit biedt u de ruimte om te groeien terwijl uw databases toenemen in complexiteit en omvang.
Verhoog de prestaties met tot wel vier 2e generatie Intel® Xeon® schaalbare processors en tot 112 processorcores
Kies uit maximaal vier GPU's op dubbele breedte of tot vier FPGA's op dubbele breedte of acht op enkele breedte om workloads te versnellen
Verwerk grote hoeveelheden gegevens met maximaal 48 DIMM's (waarvan er 24 DCPMM's kunnen zijn) en tot 15,36 TB geheugen
Schaal capaciteit met tot wel 32 2,5" harde schijven/SSD's, inclusief maximaal vier NVME-schijven
Snel uitbreiden met maximaal 12 PCIe-sleuven voor externe aansluitingen

Stroomlijn IT-activiteiten in uw datacenter
Met intelligente automatisering zorgt u dat u minder tijd en moeite nodig hebt om IT-omgevingen te beheren. 
Automatiseer efficiëntie met gecombineerd systeembeheer van OpenManage Enterprise, geïntegreerde iDRAC9 en SupportAssist
Zorg voor een hefboomwerking van bestaande investeringen in beheerconsoles met OpenManage-integraties voor VMware vCenter en Microsoft System Center of verbindingen voor Nagios
Vereenvoudig de implementatie met behulp van serverprofielconfiguratie om de server volledig te implementeren en voor te bereiden
Los problemen op met tot wel 72% minder inspanning van IT met behulp van geautomatiseerde proactieve en voorspellende technologie van ProSupport Plus en SupportAssist.*

Uitgebreide datacenterbeveiliging en maximale uptime leveren
Dell EMC biedt een cyberrobuuste architectuur met beveiliging die is geïntegreerd in elke server om uw data te beschermen. Functies voor hoge beschikbaarheid helpen bij een ononderbroken werking.
Bescherm serverconfiguratie en firmware tegen schadelijke veranderingen met de functie om configuraties te vergrendelen
Gebruik systeem wissen lokale storageapparaten om privacy van gegevens te waarborgen wanneer u servers een andere bestemming geeft of verwijdert
Behoud de controle over uw firmware-consoles met geïntegreerde authenticatie die ontworpen is om alleen correct ondertekende updates uit te voeren
Zorg voor uptime met hot-pluggable harde schijven en voedingen
Dell EMC biedt volledige end-to-end services
Optimalisatie van de IT-levenscyclus is essentieel. Wij bieden deskundige services
*
voor alle fasen in een levenscyclus, waarmee u tijd en resources kunt besparen met minder inspanningen en uw IT-ervaring kunt verbeteren.

Consulting
Via consultingservices krijgt u deskundige hulp, zodat u uw IT-omgeving kunt uitbreiden, optimaliseren en omvormen in uw eigen tempo en met het beschikbare budget. Wij hebben een scala aan gecertificeerde consultants en engineers in dienst, die worden ondersteund door programmabeheerteams, en die diepgaande technische expertise kunnen leveren. Wij geven u de zekerheid dat uw project op de juiste manier en op tijd wordt uitgevoerd.

Support
U kunt zich in alle vrijheid richten op de transformatie van uw bedrijf met de supportkennis en de inzichten van Dell EMC waar we wereldwijd om bekend staan. Kies de juiste support op basis van het belang van specifieke systemen, en profiteer van geautomatiseerde voorspellende analyses, samenwerking met derde partijen en een Technology Service Manager.

Implementatie
ProDeploy Client Suite helpt u vanaf dag één meer uit uw technologie te halen. Om de overgang te versnellen, biedt de Residency service doorlopende overstap-ondersteuning. Vertrouw op onze experts bij het leiden van implementaties, van de installatie van basishardware tot planning, configuraties en complexe integraties. Laat onze experts u helpen met uw bedrijfsresultaten, vandaag en morgen.

Onderwijs
Education Services omvat een uitgebreide suite van trainingsservices met meerdere levermethoden, waaronder training onder begeleiding van een instructeur, online op eigen tempo en onder begeleiding van een virtuele instructeur. Dankzij onze uitgebreide en flexibele trainingsprogramma's kunt u er eenvoudig voor zorgen dat uw personeel de vereiste vaardigheden heeft om uw nieuwe technologie optimaal en met goed resultaat te beheren en gebruiken.


Drivers, Handleidingen en Support

Dell Support
Met de productsupport van Dell zit u goed, van drivers en handleidingen tot diagnostische tools en vervangende onderdelen.