Smart Value PowerEdge R7425 Server Basic
Geschikt voor data-intensieve workloads
Profiteer van een lage TCO met deze 2U-rackserver met twee sockets voor data-analyses, HPC, geheugenafhankelijke en schaalbare softwaregedefinieerde implementaties.
Gratis bezorging!
Aanbiedingsprijs
€ 2.712,50
Exclusief btw, gratis verzending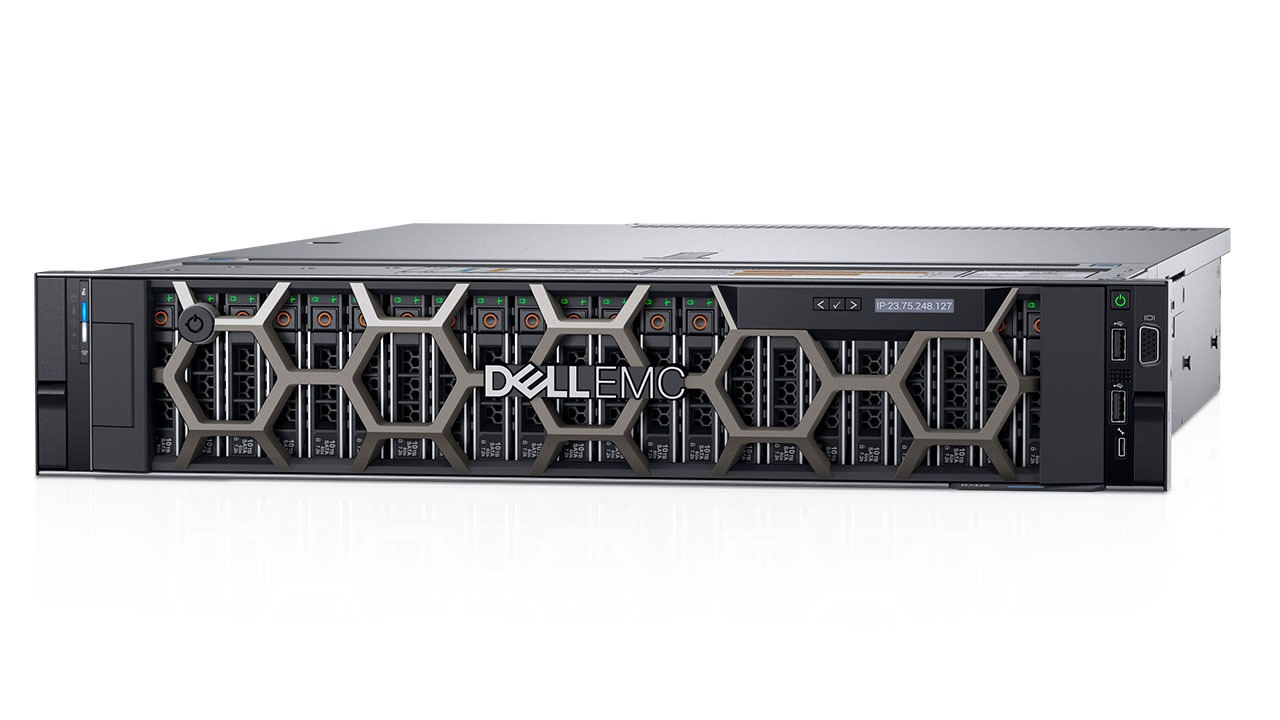 Technische specificaties Smart Value PowerEdge R7425 Server Basic
Gratis bezorging!
Smart Value PowerEdge R7425 Server Basic
Oorspronkelijke prijs
€ 4.375,00
Prijs van Dell
€ 2.712,50
Exclusief btw, gratis verzending
Support prices are dependent on hardware and OS costs.
Bestelcode per742501_vsp
Kenmerken en Design

Schaalbare prestaties voor extreme computing
De PowerEdge R7425 biedt een lage TCO voor data-analyse, hybrid cloud en schaalbare softwaregedefinieerde implementaties. Voeg eenvoudig extreem veel geheugen en storagecapaciteit toe voor data-intensieve workloads met lage latency. Met maximaal 64 cores, 128 PCIe-paden, en tot 32 DIMM-slots biedt de R7425 de combinatie van computing en I/O waarmee u zelfs de meest data-intensieve projecten aankunt.

Geoptimaliseerd voor:

HPC

Cloud client-computing met VDI

Database/ in-line analyse

Software-gedefinieerde omgevingen geschaald uitbreiden

Uitstekende configuratieflexibiliteit
De Dell PowerEdge R7425 rackserver zorgt voor snelle workloadprestaties en geavanceerde applicatie-efficiëntie. Met maximaal twee AMD EPYC™ processors van enterpriseklasse biedt de R7425 u een flexibele architectuur voor diverse workloads en omgevingen.
Optimaliseer het geheugen en de I/O-flexibiliteit met tot wel 32 DDR4 DIMM's en 128 PCIe-paden
Zorg voor krachtige storageprestaties met tot wel 24 NVMe SSD's
Vergroot de geheugencapaciteit tot 2 TB voor database-analyses
Maximaliseer VDI-instanties met maximaal 64 cores

Automatiseer productiviteit met intelligent, geïntegreerd beheer
Dankzij de intelligente automatisering van Dell EMC OpenManage bent u minder tijd kwijt aan routineonderhoud, zodat u zich kunt richten op de prioriteiten voor uw bedrijf.
Uptime maximaliseren en IT-inspanningen verminderen door tot wel 72%* aan problemen op te lossen met ProSupport Plus en SupportAssist
Maak gebruik van bestaande beheerconsoles met eenvoudige integratie voor VMware® vSphere®, Microsoft® System Center en Nagios®
Verhoog de productiviteit met de agentloze Dell EMC iDRAC9 voor geautomatiseerd beheer
Vereenvoudig de implementatie met OpenManage next-generation console en serverprofielen om servers op snelle, schaalbare manier te configureren en voor te bereiden

Versterk uw datacenter met uitgebreide bescherming
Een uitgebreide, cyberrobuuste architectuur met beveiliging is geïntegreerd in elke server om uw data te beschermen.


Bescherm serverconfiguratie en firmware tegen schadelijke veranderingen met de nieuwe mogelijkheid om configuraties te vergrendelen

Gebruik systeem wissen van de lokale storage om privacy van gegevens te waarborgen wanneer u servers een andere bestemming geeft of verwijdert

Geautomatiseerde updates controleren bestandsafhankelijkheden en juiste opstartvolgorde bij updates, voordat ze onafhankelijk worden van het besturingssysteem/de hypervisor

Behoud de controle over uw firmware-consoles met geïntegreerde authenticatie die ontworpen is om alleen correct ondertekende updates uit te voeren
Drivers, Handleidingen en Support

Dell Support
Met de productsupport van Dell zit u goed, van drivers en handleidingen tot diagnostische tools en vervangende onderdelen.