Smart Value Power Edge R6415 Server Basic
Høy tetthet for skalerbare workloader
Kompakt skalerbar 1U-rackserver med én sokkel-løsning for lave totale eierkostnader. Ideell for virtualisering med høy tetthet og skalerbar programvaredefinert lagring.
Kvalifiserer for innbytteprogrammet*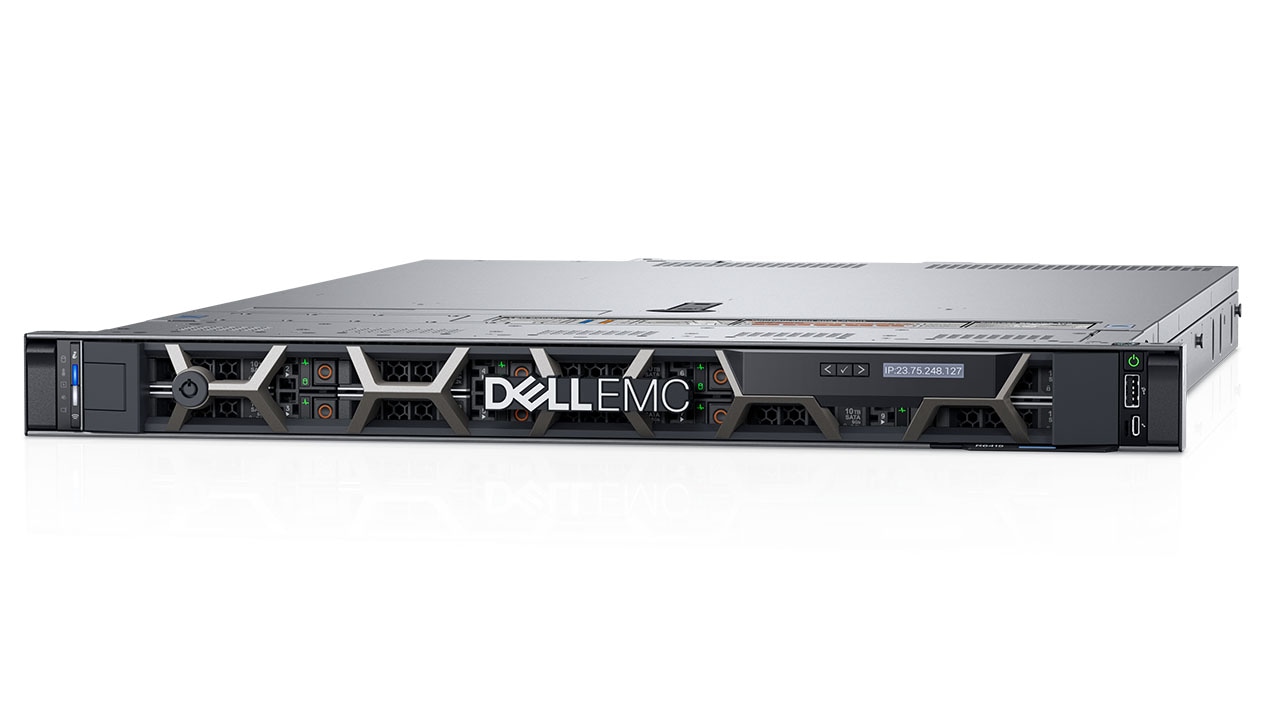 Video: PowerEdge R6415-rackserver 1:24
Tekniske spesifikasjoner og tilpasning Smart Value Power Edge R6415 Server Basic
Processor Thermal Configuration
Memory Configuration Type
Memory DIMM Type and Speed
Boot Optimized Storage Cards
Additional Virtual Machines for MS2016
Virtualization software and Support
BIOS and Advanced System Configuration Settings
Advanced System Configurations
Embedded Systems Management
NVMe and PCIe Storage Adapters
ISDM and VFlash Card Reader
iDRAC Systems Management Options
Dell Services:Extended Service
Dell Services: GCP/OEM PM
Diagnosis On-Site Service - OSD
Distribusjonstjenester

Dell Services : Solution Services
Også inkludert i dette systemet
Følgende tilleggsutstyr og standardvalg er inkludert i bestillingen.
Enterprise Order - Norway
Kvalifiserer for innbytteprogrammet*
Smart Value Power Edge R6415 Server Basic
Prisene for støtte avhenger av kostnadene for maskinvare og operativsystem
Sendes i løpet av 8–10 arbeidsdager
Bestillingskode per641501_vsp
Funksjoner og design

Databehandling med høy tetthet for skalerbare workloader
Få kompakt databehandling i datasenteret med PowerEdge R6415. Denne effektive rackserveren med én sokkel er spesielt tilpasset for virtualisering og skalerbar, programvaredefinert lagring. Dra nytte av avansert lagringsytelse med opptil 10 NVMe-stasjoner. Med AMD EPYC™-prosessor i virksomhetsklassen, gir R6415 opptil 32 kjerner per prosessor samtidig som du reduserer flaskehalser med opptil 1 TB minne og 128 PCIe-spor.
Ideelle workloader:
Kompakt programvaredefinert lagring
Virtualisering

Diskendring med Dell EMC PowerEdge-servere
Datasenterutviklingen begynner med moderne plattformer som enkelt kan skaleres og er optimert for applikasjonsytelse. PowerEdge R6415 er basert på en skalerbar systemarkitektur og gir valgmuligheter og fleksibilitet som enkelt dekker ytelseskravene.
Gjør implementeringen mindre komplisert, og skaler fra 3 til over 1000 noder uten problemer for programvaredefinert lagring med Dell EMC-klar node for ScaleIO.
Få mest mulig ut av lagringsytelsen med opptil 10 NVMe SSD-disker.
Skaler databehandlingsressurser med AMD EPYC-mikroprosessor som gir opptil 128 PCIe-spor med høy båndbredde og tilgang med kort ventetid

Automatiser produktiviteten med intelligent, innebygd administrasjon
Takket være den intelligente automatiseringen i Dell EMC OpenManage kan du bruke mindre tid på rutinemessig vedlikehold og fokusere på driftskritiske oppgaver.
Oppnå maksimal oppetid og avlast IT-avdelingen med å løse problemer med opptil 72 %* med ProSupport Plus og SupportAssist.
Dra nytte av eksisterende administrasjonskonsoller med enkel integrering for VMware® vSphere®, Microsoft® System Center og Nagios®
Få bedre produktivitet med agentfri Dell EMC iDRAC9 for automatisert administrasjon
Gjør implementeringen enklere med neste generasjons OpenManage-profiler for konsoller og servere som konfigurerer og klargjør servere på en rask og skalerbar måte

Styrk datasenteret med omfattende beskyttelse
En omfattende og cyber-fleksibel arkitektur med innebygd sikkerhet i hver server bidrar til å beskytte dataene dine.
Beskytt serverkonfigurasjonen og fastvaren mot skadelige endringer med en ny funksjon for å låse konfigurasjonen
Bruk systemsletting av innhold som er lagret lokalt, for å beskytte personlige data når du avvikler eller bruker servere på nytt
Automatiser oppdateringer som kontrollerer filavhengigheter og riktig rekkefølge på oppdateringer, før du implementerer dem uavhengig av operativsystemet/hypervisoren
Ta kontroll over fastvarekonsollene med innebygd godkjenning som er utviklet for å bare tillate kjøring av riktig utformede oppdateringer
Drivere, brukerhåndbøker og kundestøtte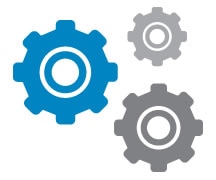 Dells kundestøtte
Dells produktstøtte gir deg tilgang til alt du trenger – fra drivere og håndbøker til diagnoseverktøy og erstatningsdeler.