Smart Value Power Edge R740XD Server Optimal
Optimert skalerbarhet og ytelse
Få bedre lagringsskalerbarhet og -ytelse med opptil 24 NVMe-disker og totalt 32 x 2,5" eller 18 x 3,5" disker i en 2U-plattform med to sokler.
September Sale! Save up to 3440NOK
Tekniske spesifikasjoner og tilpasning Smart Value Power Edge R740XD Server Optimal
Embedded Systems Management
HBA (Host Bus Adapter – vertsbussadapter) / konvergerende nettverkskort
Rackskinner
Mer informasjon
ReadyRails™ Sliding Rails With Cable Management Arm
Inkludert i prisen
Passord
Fabrikkgenerert passord for iDRAC9 (nytt for 14G iDRAC9) - som standard leveres alle PowerEdge-servere med et fabrikkgenerert iDRAC-passord som gir ekstra sikkerhet. Dette passordet genereres på fabrikken og finnes på informasjonsetiketten foran på kabinettet, ved siden av ID-merket til serveren. Originalt passord - kunder som foretrekker det kjente, originale passordet "calvin", bør velge dette alternativet. Av sikkerhetshensyn anbefaler Dell EMC på det sterkeste å endre det opprinnelige passordet som en del av serverimplementeringen.
Hjelp meg å velge
Alternativer for systemadministrering for iDRAC
Microsoft SQL Server
SQL promotion - 4915 NOK Rabat
+ kr 110 630,00
+ kr 63 429,00
mer
Shipping Material
PowerEdge R740 Shipping Materia
Inkludert i prisen
Grunnleggende service
Få mest mulig ut av investeringen med støttekunnskapen og innsikten Dell er kjent for i hele verden.  Fokuser på virksomheten mens Dells eksperter hjelper deg med å gjøre IT enklere.
Utvidet service
Maksimumsperioden er 5 år
Maksimumsperioden er 7 år
Maksimumsperioden er 7 år
Maksimumsperioden er 7 år
Maksimumsperioden er 7 år
mer
Services - Keep your Components
Diagnosis On-Site Service - OSD
Distribusjonstjenester

La Dell-ekspertene ta seg av distribusjoner, fra planlegging og grunnleggende maskinvareinstallasjon til konfigurasjon og komplekse integreringer.
Hjelp meg å velge
mer
Program for virtualisering og støtte
Dell Services : Solution Services
Også inkludert i dette systemet
Følgende tilleggsutstyr og standardvalg er inkludert i bestillingen.
Try & Buy Order Type
September Sale! Save up to 3440NOK
Smart Value Power Edge R740XD Server Optimal
Prisene for støtte avhenger av kostnadene for maskinvare og operativsystem
Sendes i løpet av 3–4 arbeidsdager
Bestillingskode per740xd01m
Funksjoner og design

Optimer fleksibiliteten og tettheten
Skaler lagrings- og dataytelsen etter behov med PowerEdge R740XD Server. Denne tosoklers 2U-plattformen gir en skalerbarhet og ytelse som kan tilpasses til en rekke applikasjoner. Velg opptil 24 NVMe-disker, eller i alt 32x 2,5" eller 18x 3,5" disker. Etter hvert som du skalerer implementeringene, kan du også skalere produktiviteten med innebygd intelligens og automatisering fra iDRAC9 og hele OpenManage-porteføljen, som er laget for å forenkle IT-livssyklusen.
Passer for:
Programvaredefinert lagring
Big Data-server
HPC
Tjenesteleverandører: datalag

Oppnå IT-forvandling med Dell EMC PowerEdge-servere
Forvandle datasenteret for moderne applikasjoner og operasjoner ved hjelp av R740xd. Lagringsytelse og -fleksibilitet gir en perfekt balanse for programvaredefinert lagring eller behandling og analyse av datasett.
Gjør implementeringen mindre komplisert, og skaler fra 3 til over 1000 noder uten problemer for programvaredefinert lagring med Dell EMC-klar node for ScaleIO. 
Få mest mulig ut av lagringsytelsen med opptil 24 NVMe-disker, og sikre at applikasjonsytelsen kan skaleres etter behov.
Skaler databehandlingsressurser med Intel® Xeon® SP, som gir en økning på 27 % for prosessorkjerner og en økning på 50 % for båndbredde sammenlignet med den forrige generasjonen med Xeon prosessorer*.

Automatiser produktiviteten med intelligent, innebygd administrasjon
Dell EMC-automatisering og intelligent datahåndtering lar deg bruke mindre tid på rutinemessig vedlikehold, slik at du kan fokusere på viktigere ting.
Oppnå maksimal oppetid og avlast IT-avdelingen med opptil 72 %* med ProSupport Plus og SupportAssist.
Dra nytte av eksisterende administrasjonskonsoller, med enkel integrasjon for VMware® vSphere®, Microsoft® System Center og Nagios®.
Øk produktiviteten med Dell EMC iDRAC9 for automatisert og effektiv agentfri administrasjon.
Enklere implementering med neste generasjons konsoll og serverprofiler fra OpenManage, for fullstendig å konfigurere og forberede serverne på en rask og skalerbar måte.

Forsterk datasenteret med omfattende beskyttelse
Dell EMC leverer en omfattende og robust arkitektur med innebygd sikkerhet i hver server for å beskytte dataene dine.
Beskytt serverkonfigureringen og fastvaren mot skadelige endringer med en ny funksjon for å låse konfigureringen.
Bruk systemsletting av innhold som er lagret lokalt, for å beskytte personlige data når du avvikler eller bruker servere på nytt.
Automatiser oppdateringer som kontrollerer filavhengigheter og at oppdateringer gjennomføres i riktig rekkefølge, før uavhengig implementering fra operativsystemet/hypervisoren.
Behold kontrollen over serveroppdateringer med intelligent, innebygd godkjenning som bare tillater riktig undertegnede oppdateringer.
Drivere, brukerhåndbøker og kundestøtte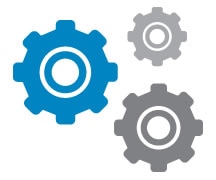 Dells kundestøtte
Dells produktstøtte gir deg tilgang til alt du trenger – fra drivere og håndbøker til diagnoseverktøy og erstatningsdeler.