Inspiron
• For the budget conscious
• Everyday computing solution
• Customize with colours
• Eligible for Windows 10 free upgrade.
Do everything you love with the latest processors and plenty of storage space available on Inspiron 3000 Series all-in-one PCs.
Step up to the great multimedia experience provided by the Inspiron 5000 Series desktop and all-in-one PCs.
The ultimate family of Inspiron all-in-one PCs offers all the latest features and premium performance.
Gaming desktops featuring graphics ready for VR, meticulous design for optimal cooling and powerful performance.
XPS
For the ultimate experience
All-in-Ones and desktops with exceptional build quality, unique materials and powerful features. Eligible for Windows 10 free upgrade.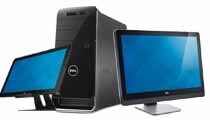 XPS
Alienware
Every battle end in triumph with Alienware™, merging high-end desktop-quality gaming with a laptop freedom. Eligible for Windows 10 free upgrade.
Designed for VR and engineered with liquid cooling and tool-less access, the Alienware Aurora was built to get you deeper in the game.
The Alienware Steam Machine opens up a new way to play, with the endless possibilities of SteamOS. It's designed for your living room and built for fun.
Bring high performance PC gaming into any room with the powerful yet compact Alienware X51. It connects easily to your TV so you can game on the big screen.