40-portowy przełącznik Fibre Channel 8 Gb/s
Klienci wdrażający sieci SAN oparte na macierzach Dell Compellent i PowerVault, którzy potrzebują zgodności z przyszłymi rozwiązaniami w zakresie infrastruktury 8 Gb/s oraz szybkich połączeń między przełącznikami.
Ten produkt jest aktualnie niedostępny. Poniżej podano informacje o zalecanym porównywalnym systemie.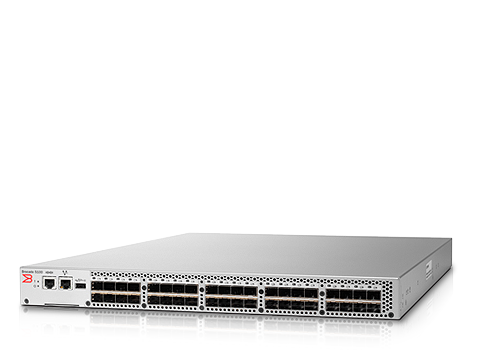 Brocade 5100 SAN Przełącznik
Brocade
Porty Fibre Channel
Dostępne 24 porty w partiach po pięć portów w ramach licencjonowania portów na żądanie (Ports on Demand) od 12 portów oraz 32 porty uniwersalne (E, F i FL)
Skalowalność
Architektura pełnego szkieletu zawierająca maksymalnie 239 przełączników
Maksymalne certyfikowane wartości
50 przełączników. W razie potrzeby można certyfikować również większe szkielety sieci.
Zgodność operacyjna
Wszystkie przełączniki i kontrolery Brocade
Wydajność
Szybkość łącza 1,063 Gb/s, pełny dupleks; 2,125 Gb/s, pełny dupleks; 4,25 Gb/s, pełny dupleks; 8,50 Gb/s, pełny dupleks. Autowykrywanie szybkości portów 1 Gb/s, 2 Gb/s, 4 Gb/s i 8 Gb/s; możliwość programowego ustawienia stałej szybkości portów. Dopasowywanie szybkości portów 1 Gb/s, 2 Gb/s, 4 Gb/s i 8 Gb/s.
Mechanizm Trunking ISL
Trunking łącza między przełącznikami (ISL — Inter-Switch Link) umożliwia połączenie maksymalnie czterech portów między parą przełączników w jedno logiczne łącze zagregowane o łącznej szybkości do 32 Gb/s, co zapewnia optymalne wykorzystanie przepustowości i równoważenie obciążenia.
Opóźnienie sieci
1,2 µs bez rywalizacji, routing przecięcia przy 4 Gb/s. Opóźnienie rośnie w miarę zwiększania szybkości portu wejściowego i rosnącej różnicy między szybkością portu wejściowego i wyjściowego.
Klasy usług
Klasa 2, Klasa 3, Klasa F (ramki między przełącznikami)
Typy portów
FL_Port, F_Port, N_Port i E_Port; samowykrywanie na podstawie typu przełącznika (U_Port)
Typy ruchu danych
Przełączniki sieci Fabric obsługujące transmisję pojedynczą i rozgłoszeniową
Typy nośników
Laser Small Form-Factor Pluggable (SFP). Fale krótkie do 500 m, fale długie do 10 km
Usługi sieci szkieletowej
Simple Name Server, Registered State Change Notification (RSCN). Opcjonalne usługi szkieletu: Brocade Advanced Zoning; Brocade Fabric Watch; Brocade ISL Trunking; Brocade Advanced Performance Monitoring; Brocade Web Tools.
Opcje
Nośniki SFP, Ports on Demand, Advanced Fabric Services
Zarządzanie
Obsługiwane oprogramowanie do zarządzania

Telnet; SNMP (FE MIB, FC Management MIB); Brocade Advanced Web Tools z łatwą obsługą i konfigurowaniem; Brocade Advanced Zoning; Brocade Fabric Manager (opcjonalne)

Dostęp do zarządzania

Port 10/100 Ethernet (RJ-45); wewnętrzny port szeregowy (RS-232); w ramach pasma poprzez Management Server

Bezpieczeństwo

Model M5424 jest zgodny z następującymi normami bezpieczeństwa:
Stany Zjednoczone Bi-Nat UL/CSA 60950-1 1st Ed lub najnowsza; ANSI C63.4
Kanada Bi-Nat UL/CSA 60950-1 1st Ed lub najnowsza; ICES-003 Class A
Japonia CISPR22 i JEIDA (drgania harmoniczne)
Wspólnota Europejska EN60950-1 lub najnowsza EN55022 i EN55024
Australia/Nowa Zelandia -- EN55022, CISPR22 lub AS/NZS CISPR22
Argentyna IEC60950-1 lub najnowsza
Federacja Rosyjska IEC60950-1 lub najnowsza 51318.22-99 i 51318.24.99 lub najnowsza
Korea KN22 i KN24

Diagnostyka
Test POST oraz osadzone narzędzia diagnostyczne online/offline
Obudowa
Obudowa
Szerokość: 272,75 mm
Wysokość: 32,48 mm
Głębokość: 307,24 mm
Waga: 2,12 kg (bez nośników)
Warunki środowiska pracy
Temperatura
Podczas pracy: od 0°C do 40°C (od 32°F do 104°F)
W stanie spoczynku: od -20°C do 70°C (od -4°F do 158°F)

Wilgotność
Podczas pracy: od 10% do 90%, bez kondensacji przy 29°C
W stanie spoczynku: od 5% do 95%, bez kondensacji przy 38°C

Wysokość n.p.m.
Praca: do 3048 m
Przechowywanie: do 10 668 m

Wstrząsy
Podczas pracy: 20 G przez 6 ms
W stanie spoczynku: 50 G ze zmianą prędkości 4216 mm/s²

Wibracje
Podczas pracy: 0,4 G z częstotliwością od 5 Hz do 500 Hz przez 60 minut
W stanie spoczynku: 0,5 G z częstotliwością od 2 Hz do 200 Hz przez 15 minut; 1,04 GRMS z losową częstotliwością przez 15 minut
Zasilanie
Maksymalna moc wyjściowa:
125 W

Zużycie energii przez system:
Maks. 91 W (w przypadku 40 portów działających z szybkością 8Gb/s), nominalnie 84 W

Nominalne napięcie wejściowe:
Od 100 do 240 V prądu zmiennego, uniwersalne

Częstotliwość linii wejściowej:
Od 47 do 63 Hz

Minimalne napięcie wejściowe:
85 V prądu zmiennego

Maksymalne napięcie wejściowe:
264 V prądu zmiennego

Współczynnik BTU (80% wydajności):
311 BTU/godz.

Natężenie prądu przy włączeniu:
Maks. 35 A
Highlights
Brocade 5100 — 40 Port 8-Gbit/sec Fibre Channel switches for entry and midrange enterprise SANs

Fast, Reliable 8-Gbit/sec Performance
Non-blocking and non-oversubscribed platform with a total bandwidth of 680 Gbit/sec in 1U
Designed to increase network performance with enhanced Brocade Inter-Switch Link (ISL) Trunking, which allows up to eight ports (at 2, 4 or 8-Gbit/sec speeds) between a pair of switches to be combined to form a single, logical ISL with a speed up to 64 Gbit/sec
Offers Adaptive Networking services, including Adaptive fabric quality of service (QoS), traffic isolation and ingress rate limiting, enabling organizations to maintain optimized application performance in virtual environments.
Extended distance support that enables native Fibre Channel extension up to 3600 km 
Affordable Scalability
Combines up to 40 ports of industry-leading 8-Gbit/sec technology with Ports on Demand scaling from 24 to 32 to 40 ports, allowing "pay-as-you-grow" scalability
Provides integrated, per-port routing for excellent scalability, interoperability and fault isolation
Designed to protect existing investments by providing 8-Gbit/sec technology with auto-sensing capabilities to also recognize 1, 2 and 4-Gbit/sec devices
Helps future-proof investments by allowing organizations to use 4-Gbit/sec small form-factor pluggables (SFPs) today and upgrade to 8-Gbit/sec SFPs when required 
Simple Deployment and Management
Utilizes the Brocade EZSwitchSetup wizard, making SAN configuration a simple, three-step point-and-click task
Includes a USB port that can increase serviceability and error logging by facilitating firmware upgrades and downloads of system log files
Meets high-availability requirements with redundant, hot-pluggable components, nondisruptive software upgrades and hot code activation for a wide range of SAN configurations
Employs familiar Brocade software and management interfaces, including Brocade EFCM and Brocade Fabric Manager, simplifying management and reducing training costs 
Excellent Value for a Variety of SAN Environments
Designed to provide a greater than 40 percent power efficiency improvement (watts/Gbit) over the previous generation of Brocade switches, further helping to reduce power consumption and the overall cooling burden in a data center
Includes a USB port that provides excellent serviceability and error logging functionality by facilitating easy firmware upgrades and downloads of system log files
Offers Top Talkers, which monitors resources and can assist in finding hot spots to increase resource utilization
Can distribute traffic across ISLs in SAN by utilizing ISL Trunking and dynamic path selection, helping to increase utilization of the SAN and reduce costs
Introducing Dell ProSupport
Professional, proactive and proven support services designed to address the technology challenges you face today.

Dell™ ProSupport™ starts with the Dell ProSupport for IT service model designed for IT professionals like you. Dell ProSupport for IT provides:
7x24 direct access to Dell expert centers
Fast-track dispatch for Dell-certified technicians
Escalation management through Dell's Global Command Centers
Next, Dell ProSupport options align to the way you use technology — rapidly responding to your needs, helping to protect your investment, your productivity and your sensitive data, and providing excellent proactive support services that can reduce the risk and complexity of managing your infrastructure.
SPEED OF RESPONSE
PROTECTION
PREMIUM PROACTIVE
Mission Critical — Perfect for server and storage environments where avoiding unplanned downtime and reducing recovery time through priority response are a must. The package includes priority 4-hour on-site service

*

or optional 2-hour response with 6-hour hardware repair, Dell's proven critical situation response process and emergency dispatch.

Keep Your Hard Drive

*

 — Enables you to control your sensitive data by retaining your hard drive and helps you comply with current data privacy regulations to help mitigate risks associated with regulatory or civil liabilities.

Enterprise-wide Contract — Provides excellent proactive capabilities through:

Designated Service Delivery Manager

Performance benchmarking and custom reporting

Planning and assessments

Proactive Maintenance — Designed to maximize the availability and stability of your infrastructure proactively. The package includes a detailed system assessment and implementation of driver or firmware updates and upgrades for your server or storage systems.

Remote Advisory Options — Provides telephone and internet access to technical expertise for specialized applications and solutions such as Microsoft® Exchange, virtualization and more.


Infrastructure Consulting Services
Some key challenges facing IT departments today include simplifying operations, planning and building for scalability and improving utilization of their existing systems. Dell's Infrastructure Consulting Services suite is organized into focused practice areas that signify the intersection of these common customer challenges and our domain expertise — including systems management, messaging, databases, virtualization/consolidation and storage.

Storage installation
Go from factory to deployment with Dell storage installation services. Our modular suite of installation services allow you to customize the right package of services needed to rapidly implement your new system.

Storage consolidation
Consolidation services provide a common platform to allocate and manage growing demands for data storage and helps reduce administrative effort by establishing a single management console. Dell's comprehensive approach to storage consolidation helps you accelerate productivity by delivering customized systems, software and services that ease management and can result in lower total cost of ownership.

SAN implementation services
This service includes planning, design, configuration, project management and implementation of Dell/EMC storage arrays (DAS and SAN). This service is available for Dell/EMC storage system solutions only and is not currently available for Dell PowerVault™ or (non-Dell) EMC storage array solutions.

Backup and recovery
To sustain the continued operation of your storage solution, you should engineer availability, security and reliability into every process from the outset. Dell can provide backup and recovery solutions that help ensure adequate procedures are in place to minimize or avoid data loss.

Asset Recovery and Recycling Services
Proper disposal, reselling and donation of computer equipment is a time-consuming task that typically falls to the bottom of many IT to-do lists. Dell helps simplify the end-of-life processes for IT equipment in a way that can maximize value for your organization.

Add a host
Dell provides for the design and implementation of a single Dell PowerEdge™ server or Dell PowerVault™ NAS (with approved operating system versions) as an additional host into an existing SAN or DAS solution.

Add a JBOD
Dell provides for the basic design, installation and implementation of a single Dell enclosure as additional storage into an existing Dell PowerVault™ Storage Area Network (SAN) or Direct Attach Storage (DAS) solution.


Dell Storage online training course
Arm your employees with the knowledge and skills they need to be as productive as possible. Dell offers comprehensive training services, which include hardware and software training, as well as PC skills and professional development classes. Dell training can help improve system reliability, maximize productivity and reduce end-user requests and downtime.