Multitask with ease and efficiency.
Print, scan, copy and fax with ease and efficiency. The Dell™ B1265dnf Multifunction Mono Laser Printer offers productivity and value for your small workgroup.
Ten produkt jest aktualnie niedostępny. Poniżej podano informacje o zalecanym porównywalnym systemie.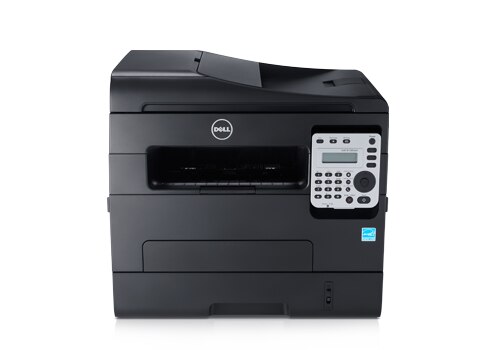 B1265dnf Multifunction Mono Laser Printer
Dell
Boost productivity.
This 4-in-1 multifunction printer is an excellent value, making it simple for everyone in your small workgroup to work efficiently.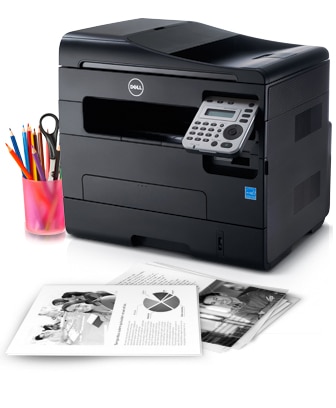 Enjoy secure, paperless faxing:
Stay secure and prevent incoming faxes from being accessed by unauthorized personnel. Securely send a fax by simply setting up a PIN. Use your PC to enable a fax to be sent from the Dell B1265dnf printer. Incoming faxes can also be programed to be sent directly to your PC.

Help simplify workflow:
Easily digitalize and archive documents with the scanner and 40-page automatic document feeder (ADF). Share your printer with co-workers via the built-in Ethernet. Dell Printer Manager software, which comes with your Dell B1265dnf, lets you easily access Scan Assistant and embedded web services, helping to simplify office workflow.

Get superb copy features:
With a touch of the "ID copy" button on the operational panel, you can copy both sides of an ID card on a single side of paper. Additional copy features include clone copy, poster copy and N-up copy (copying 2 or more pages to one piece of paper).
Print directly from mobile devices.
The Dell B1265dnf lets you and your team easily print documents, photos, images and reports directly from most mobile phones and tablets.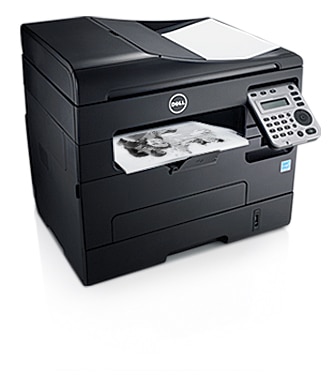 Convenient printing on the go, direct from your mobile device
Discover an easy way to print directly from compatible mobile devices with Dell Document Hub app. With this free app, you can also connect to popular cloud services and monitor your printer and toner status*.

Print with AirPrint™
Print directly from your iPhone®, iPad® or iPod touch® using AirPrint*. AirPrint works with a variety of apps including Safari, Mail, Photos, iWork and PDFs in iBooks. So you can print seminar confirmation tickets, photos, vital emails and web pages quickly and easily.

Connect with Google Cloud Print™
Using Google Cloud Print, you can make your home and work printers available to you and anyone you choose, from the applications you use every day. Google Cloud Print works on your phone, tablet, Chromebook, PC, and any other web-connected device you want to print from.
Discover quality features and outstanding reliability.
Bring quality features and reliable operation to your workplace with the Dell B1265dnf Multifunction Mono Laser Printer.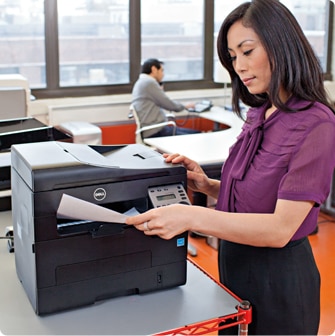 Save time: Experience the convenience of high-speed printing — up to 29 ppm mono (letter) and 28 ppm (A4)*.

Enjoy true efficiency and outstanding reliability: Stay productive with a high duty cycle of up to 20,000 pages per month, a high-input 250-sheet paper tray and high standard memory of 128MB RAM.

Experience automatic two-sided printing: Conserve resources, including paper and toner with a built-in duplexer.

Get an environmentally-conscious design: Save toner and paper with one touch of the Eco button. It automatically engages two-sided printing and reduces toner usage by printing in draft mode. The Dell B1265dnf is RoHS and ENERGY STAR 1.2 qualified*. You can recycle empty toner cartridges.
Take advantage of comprehensive services.
Get peace of mind long after your purchase with a suite of service and support options for your Dell B1265dnf mono laser printer.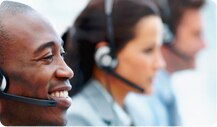 Dependable support:
Get technical support for printing issues via phone or online during your standard 1-year Limited Hardware Warranty
*
. Also, enjoy a year of Next Business Day Onsite Service after Remote Diagnosis.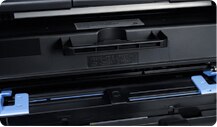 Extended coverage:
Stay covered longer when you choose optional Next Business Day Onsite Service after Remote Diagnosis.
Printer
Printer Type

Scan, Fax, Copy, Print, 4-in-1 Multifunction Black & White Laser Printer.



Print Speed (PPM)

Simplex, B/W @ 600 x 600 dpi, Up to 28ppm* (A4)
Simplex, B/W @ 600 x 600 dpi, Up to 29ppm* (Letter)



Resolution


Print Resolution
600 x 600 dpi, 1200 dpi Image quality

Scan Resolution
Optical: 1200 x 1200 dpi (color@platen), 600 x 600 dpi (B/W@platen), 600 x 600 dpi (color, B/W@ADF)
Enhanced: 4800 x 4800 dpi

Copy Resolution
Text and text/photo 600 x 300 dpi
Photo (600 x 600 dpi)

 

Warm-up Time:(sec)

From power on to Ready state on Display:
Less than 30 secs



First Page Out:

From Ready state:
Less than 8.5 sec (from Ready mode)

From Power Saver mode (Simplex Letter, 600 dpi):
Less than 14 sec (from Sleep mode)



Printer Language Support

Printer Driver Language 
SPL, PCL6
Host based XPS
XPS driver can also be supported on Web

Printer data stream
SPL
PCL6(V2.1)

Page Layout Options

Portrait or Landscape orientation,
multiple copies,
duplex printing(Manual),
multipage printing (N-up),
Poster
booklet printing,
watermarks
Collate
Overlay
Print last page first
Rotation




Acoustics

Printing(Simplex Mode):
Less than 50 dBA*

Standby Mode:
Less than 26 dBA*


Media Input Sources


Standard:
250-sheet Cassette, 10-sheet Manual Tray
Maximum:
260 sheets



Media Output capacity


Standard:
150 sheets face down, 1 sheet face up
Maximum:
151 sheets



Media Trays


Printer allowable Printable area:
A = Left margin: 4.32 mm
B = Right margin: 4.32mm
C = Top margin: 4.32 mm
D = Bottom margin: 4.32mm
Width = Paper width - (A+B)
Length = Paper length - (C+D)

Type of Tray:
Standard Tray + 10 sheets Manual Tray



Duplex (Two-sided printing)


Automatic Duplexer



Media Types Supported

Plain, Thin, Thick, Thicker, Bond, Cardstock, Cotton, Colored, Pre-Printed, Recycled, Archive, Transparency, Label, Envelope, Thick Envelope



Media Weight and Size


250-sheet cassette
Media size: US letter, US legal, A4, A5, A6, executive, folio, Oficio, ISO B5, JIS B5
Weight: 16 - 43 lb (60 to 163g/m2 )
Minimum size (custom): 4.13 x 5.85 in. (105 x 148.5 mm)
Maximum size (custom): 8.5 x 14 in. (216 x 355.6 mm)

Multipurpose tray
Media size: US letter, US legal, A4, A5, A6, executive, folio, Oficio, ISO B5, JIS B5, monarch envelope, DL envelope, No. 10 envelope, C5 envelope, C6 envelope, postcard 4 x 6
Weight: 16 - 58 lb (60 to 220g/2 )
Minimum size (custom): 3 x 5 in. (76.2 x 127 mm)
Maximum size (custom): 8.5 x 14 in. (216 x 356 mm)



Fax Functionality


Fax broadcasting, delayed fax/scheduled fax, priority fax, fax forwarding, secure fax receive, distinctive ring pattern, ECM, PC fax, speed dial 200 locations



Copy Functionality


ID copy, N-up, clone, poster, autofit, collate, contrast, background removal

Usage Rate

Maximum Usage Rate(Duty Cycle):
Up to 20000 pages per month

Average Usage Rate:
269 pages per month

Maximum Engine Life:
100K pages or 5 years (whichever comes first)



Consumables List

Fuser Unit: 100K pages
Transfer Roller: 100K pages
Pick-up Roller: 50K pages
ADF rubber pad: 20K pages
ADF feed roller: 20K apges


Standard:
128MB DDR3 667MHz (non-expandable)

Code:
12 MB(for programs)
System operacyjny
Compatible Client Operating Systems

Windows
Win7(32/64bit)
2000, XP(32/64bit)
Vista(32/64bit)
2003 Server(32/64bit)
2008 Server(32/64bit)
2008R2(64bit)

Mac OS
Mac OS 10.4~10.7

Linux
RedHat Enterprise Linux WS 4, 5, 6 (32/64 bit)
Fedora 5, 6, 7, 8, 9, 10, 11, 12, 13 (32/64 bit) 14, 15
SuSE Linux 10.1 (32 bit)
OpenSuSE 10.2, 10.3, 11.0, 11.1, 11.2, 11.3, 11.4 (32/64 bit)
Mandriva 2007, 2008, 2009, 2009.1, 2010 (32/64 bit)
Ubuntu 6.06, 6.10, 7.04, 7.10, 8.04, 8.10, 9.04, 9.10, 10.04, 11.04 (32/64 bit)
SuSE Linux Enterprise Desktop 10, 11 (32/64 bit)
Debian 4.0, 5.0, 6.0 (32/64 bit)

Unix
Sun Solaris 9,10,(x86, SPARC)
HP-UX 11.0, 11i v1, 11i v2, 11i v3 (PA-RISC, Itanium)
IBM AIX 5.1, 5.2, 5.3, 5.4

Novell Netware Support
NetWare 5.x,6.x and later (TCP/IP)

SAP R/3 environment
SAP R/3 4.5B or later (device types)
Sieci
Wired Network


Protocol Stacks
TCP/IP,IPv4/IPv6

Network Print Applications
Port 9100, LPD/LPR, IPP,WSD

Management Services & Device Discovery
HTTP, SNMP (v1,v2,v3), MIBv2 (RFC1213 compliant), BOOTP, DHCP, Auto IP, WINS, DNS,Bonjour, IGMP, mDNS, SLP

IPv6 – Protocol supported
Transportation:Ipsec, ICMPv6,Printing: Port 9100, LPD, DHCPv6, DNSv6,HTTP, SNMP (v1 v2 v3)

Certifications
Dell

IPV6 Compliance Test
Dell

Media Access Control (MAC) address
48-bit address space (MAC-48, EUI-48 supported)

Web Browsers Support (For EWS)
Microsoft Internet Explorer, 6, 7 ,8, 9 and later
Apple Mac OS X Safari 1.0 and later (v4.0 developer beta)
Mozilla Firefox 2.x ,3.x,4.x,and 5.x
Google Chrome 9,10
Opera 9.x and later

Access Method
HTTP

Main Features (Critical)
Printer Configuration
Network Setup
Paper Setup
Report
Firmware Update
EWS Login/Password
Fax Setup


Standard Interfaces (Cables not included)


Hi-Speed USB2.0
Ethernet 10/100 Base TX
Fax/Phone/TAM Interface


I/O Access control

IP Filtering-EWS, Network Protocol & Port Enable/Disable
Power Specification

100 vac models Input Voltage range: 110 - 127 VAC, 50/60 Hz nominal
120 vac models Input Voltage range: 110 - 127 VAC, 50/60 Hz nominal
230 vac models Input Voltage range: 220 - 240 VAC, 50/60 Hz nominal

Ready mode:
Less than 50 W

Power Saver mode:
Less than 3.0 W

Average current consumption@ Printing
120VAC : 5.5 A
230VAC : 2.9 A



Included Software

Dell Printer Manager: Helps easily customize the printer's settings
Dell Supplies Ordering Utility: Intelligent monitors toner status and proactively notifies you before you run out of toner
Firmware Download Utility: Effectively manages firmware update
Lite StatusMonitor: Tracks printer status
Smarthru™ Office 2.0: A robust software to scan document/images and to perform text recognition
Scan assistant: Manage easy scan job
Wymiary
Printer Dimensions (W x D x H)
15.98" x 13.31" x 15.12" (406 mm X 338 mm X 384 mm)

Printer Weight
24.47 lbs (11.1kg) - with toner
22.93 lbs (10.4kg) - without toner

Normy
Operating Specification

Operating-Temperature:
10 to 32 ºC

Operating-Relative Humidity:
20% to 80%

Altitude:
Operating: 2,500M (8,200 feet)

Non Operating -Unpackage:
Temperature:0 to 40ºC (32 to 104ºF)

Non Operating -Unpackage:
Relative Humidity:10 to 80% RH

Non Operating Altitude:
Operating: 2,500M (8,200 feet)

Packaged:Temperature:
-20 to 40ºC(-4 to 104ºF)

Packaged:Relative Humidity:
20 to 95% RH

Packaged::Altitude:
10,300M (34,000 feet)




Product certification

Safety certifications:
IEC/EN60950-1 (International); IEC60825-1 (Laser); CE Mark (EU); GS Mark (Germany); SASO (Saudi Arabia); ICASA (South Africa); UL/cUL Listed (UL60950-1 US/Canada); FDA/DHHS (21CFR, Chapter 1, Subchapter J, Class-1 Laser, US); NOM (Mexico); CCC (China); other safety approvals required by individual countries

EMC certifications:
EN55022 Class B; EN55024; EN61000-3-2; EN 61000-3-3; ETSI TBR21 (EU); FCC CFR Title 47, Part 15 Class B (USA); ICES-003(Canada); FCC Part 68 (USA); CE (EU countries); SABS (South Africa); ICASA (South Africa); CCC (China); C-tick (Australia); ANATEL (Brazil); and other certifications required by individual countries.

Other Critical compliances:
ErP Lot 6 ;
ErP Lot 4 ;
RoHS-compliant4,
Energy Star 1.2 Qualified,
CECP Certified (China);
CEL (China)
CEC Certified (China)
WEEE

Other certifications:
WHQL (Win 7, 2003, Vista), SAP

Product Safety, EMC and Environmental Datasheets
Dell Regulatory Compliance Home Page
Dell and the Environment

Contents in Box:
Starter CD,
NOM Techsheet(DAO),
Product Information Guide,
Placemat,
Power cord,
retail warranty card,
1000 page* black shipwith toner,
RJ11 plug

Standard Service Support: 

 • 2 -5 years extended Limited Hardware Warranty which includes the corresponding 2 - 5 Years Next Business Day Advanced Exchange Service
 • 1 - 5 Years Next Business Day Onsite after Remote Diagnosis Service
 • 1 - 5 Years Dell ProSupport available during the term of warranty