Korzystaj z najnowszej technologii pamięci masowej
Niezwykle gęsta sieciowa pamięć masowa zapewniająca sprawne działanie firmy i aktualność informacji dzięki wydajności, pojemności, skalowalności i dostępowi do odpowiedniego oprogramowania
Ten produkt jest aktualnie niedostępny. Poniżej podano informacje o zalecanym porównywalnym systemie.
PowerVault NX3100 Sieciowa pamięć masowa
PowerVault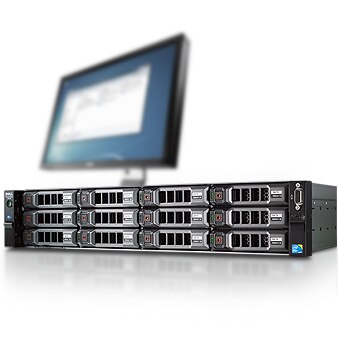 Udostępnianie nawet 576 TB plików i danych aplikacji.
Rozbudowa wewnętrznej pojemności do 36 TB przy zastosowaniu 12 dysków w kompaktowej obudowie 2U. Dostępne są dyski SAS 450 GB lub 600 GB albo napędy SAS Near Line o pojemności 1 TB, 2 TB lub 3 TB. System NX3100 można rozbudowywać zgodnie z potrzebami firmy.
Zwiększenie pojemności zewnętrznej nawet do 576 TB dzięki szerokiej ofercie macierzy PowerVault firmy Dell.
Zarządzanie danymi za pomocą wbudowanego oprogramowania. Rozwiązanie pozwala tworzyć oparte na zasadach działania przenoszenia, tworzenia kopii zapasowych lub zarządzania cyklem obiegu danych w inny sposób.
Zapewnienie lepszego zarządzania usługami udostępniania plików w ramach udziałów SMB (Server Message Block) oraz NFS za pomocą interfejsu FSRM (File Services Resource Manager).
Dzięki połączeniu serwerów plików i blokowej pamięci masowej w jednym systemie PowerVault NX3100 można łatwiej zarządzać większą ilością urządzeń. Pozwala to na dalsze korzystanie z dotychczasowych protokołów, technologii oraz infrastruktury IP, a zarazem ograniczenie ogólnych kosztów wdrażania i obsługi środowiska udostępniania plików i danych blokowych.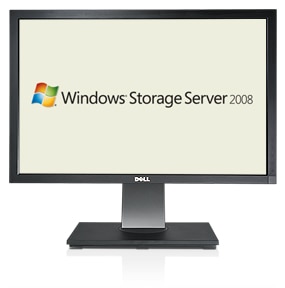 Optymalna technologia
Rozwiązanie NX3100 to idealne połączenie dużej pojemności i oprogramowania zapewniającego najwyższą wydajność sieci pamięci masowej. Instalowany fabrycznie system operacyjny Windows® Storage Server 2008 R2 x64 oferuje najlepsze funkcje obsługi plików z systemu Windows® Server 2008 i wzbogaca je o zaawansowane możliwości zarządzania pamięcią masową, które pozwalają na szybsze, bardziej wydajne i niezawodne udostępnianie plików.


Elastyczność wyboru większej pojemności lub wyższej wydajności dzięki dyskom twardym SAS, SAS Near Line i SATA.
Ograniczenie liczby zdublowanych plików (automatyczna deduplikacja na poziomie plików) dzięki technologii Single-Instance Storage (SIS).
Dostęp do informacji w krótszym czasie dzięki przestrzeniom nazw systemu plików DFS (Distributed File System).
Udostępnianie plików w systemach klienckich Windows i innych systemach operacyjnych przez zastosowanie systemów plików CIFS (SMB 2.0) i NFS.
Blokowa i plikowa pamięć masowa, technologia Single Instant Storage oraz możliwość zwiększania pojemności wewnętrznej i zewnętrznej. Inteligentne połączenie tych kluczowych dla małych i średnich firm funkcji sprawia, że inwestycja w pamięć masową będzie służyć przez wiele lat.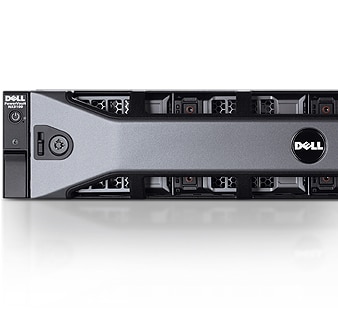 Łatwa konfiguracja i zarządzanie
Sieciowa pamięć masowa PowerVault NX3100 to gotowe połączenie wszystkich elementów potrzebnych do bezpiecznego i wydajnego udostępniania informacji. Rozwiązanie pozwala zaoszczędzić czas, pieniądze i zasoby wymagane w przypadku samodzielnego wdrażania serwera plików od podstaw.


Automatyzacja instalacji i ustawień dzięki narzędziu do wstępnej konfiguracji.
Obsługa dowolnej liczby użytkowników dzięki dołączonym dodatkowym licencjom klienckim (CAL).
Zarządzanie informacjami za pomocą zdalnego komputera z przeglądarką internetową przy użyciu pulpitu zdalnego i konsoli Microsoft Management Console.
System pamięci NAS NX3100 można bezproblemowo zintegrować ze środowiskiem systemu Windows® za pomocą już wdrożonych narzędzi administracyjnych i do ochrony. Integracja z klientami wyposażonymi w system inny niż Windows® również przebiega bezproblemowo i z pełną widocznością.

Zintegrowany kontroler Dell Remote Access Controller (iDRAC) i protokół Java Remote Desktop Protocol (RDP) zapewniają automatyczne działanie i zdalne zarządzanie. Ponadto funkcja Pulpit zdalny dla administracji oferowana przez system Windows® Storage Server 2008 R2 umożliwia zdalne administrowanie cyklicznymi zadaniami zarządzania, co oszczędza czas i pieniądze.
Dell Services
Dell offers services across the storage lifecycle that can help you plan a storage solution aligned with your IT objectives, efficiently implement the technology into your business and help maintain your storage solution at peak performance to support your critical business operations.
Plan - Design and Assess

Whether you're consolidating disparate data stores onto a SAN platform for the first time, or adding platforms to support growing storage requirements, Dell's experienced SAN professionals can help you choose the right technology to meet the demands of your scalable enterprise.

Storage Consolidation Services
Infrastructure Consolidation Readiness Assessment Analyses existing infrastructure, operational practices and technical readiness to develop a roadmap for conducting a server or storage consolidation.
Consolidation Planning and Validation Develops a detailed consolidation deployment plan as well as a validated and refined solution design.
Implement - Deploy, Train and Recover

Dell provides a choice of deployment service offerings ranging from as needed, over-the-phone consultation and remote assistance to on-site project management and deployment services for complex storage migration and consolidation initiatives.
On-site or remote installation of your complete Dell storage system is highly recommended. By allowing Dell to provide installation, you can help reduce the time required to get your system up and running, while making efficient use of your employees' time.
Remote Installation for the Dell NX4 provides customers with an alternative to on-site installation for direct attach or Dell NX4 configurations. By using a combination of Phone and Remote support, Dell technicians can assist customers with all aspects of configuring Windows hosts to access the Dell NX4. This service is only available for those configurations deemed "customer installable" and applies only to Windows configurations.
Getting your IT resources quickly up-to-speed on any new technology is essential in today's fast-past business environment. Dell's comprehensive on-line or on-site training courses will arm your IT staff with the skills they need to proficiently manage your new Dell NX4.

Maintain - Support and Optimize

After your Dell NX4 is fully operational, Dell can help keep it running smoothly. Dell ProSupport services can help you maximize your SAN's availability and performance.
Operations Performance Benchmarking Innovative management tools and processes, providing customers with unprecedented visibility into their IT operations and a mechanism for continuous improvement.
ECC Real-time Tracking Window A real-time web based tool that allows customers to track the real-time position and status of every open incident they are experiencing around the world, without picking up the phone.
SAN Maintenance Service is designed to provide periodic health checks, updates and upgrades for your SAN system throughout your Limited Warranty period. We can analyse your system for overall health and provide software and system updates and upgrades. We can also provide how-to assistance for configuring or installing SAN components through our Enterprise Assistance program. For ongoing performance, dependability, changing demands and challenges, the SAN Maintenance service is the smart choice for your SAN system maintenance.
1 Technician, replacement part or unit (depending on service contract) will be dispatched if necessary following phone-based troubleshooting. Subject to parts availability, geographical restrictions (on site and/or next business day service not available in some locations) and terms of service contract. Service timing dependent upon time of day call placed to Dell. Defective unit must be returned or paid for. Replacements may be refurbished.
2 Technician, replacement part or unit (depending on service contract) will be dispatched if necessary following phone-based troubleshooting.
3 The defective hard drive must still be covered by the hardware limited warranty.
4 Limited Warranty coverage for the Dell NX4 is available for up to three (3) years with initial purchase of the product and may be extended for up to one (1) additional year with purchase of a separate warranty extension plan prior to the expiration of the original limited warranty2 purchased for the product. The exact length of the Limited Warranty coverage period will be reflected on your packing slip or invoice.

Dell ProSupport
– Designed to address the technology challenges you face today.
 
Dell ProSupport starts with the Dell ProSupport for IT service model designed for IT professionals like you. Dell ProSupport for IT provides:
7x24 Direct access to Dell Expert Centers
Fast-track dispatch for Dell-certified technicians
Escalation management through Dell's Global Command Centers
Next, Dell ProSupport Options align to the way you use technology – rapidly responding to your needs, protecting your investment, your productivity and your sensitive data, and providing enhanced proactive support services to help reduce the risk and complexity of managing your infrastructure.


SPEED OF RESPONSE
PROTECTION
PREMIUM PROACTIVE
Mission Critical  - Perfect for server and storage environments where avoiding unplanned downtime and reducing recovery time through priority response are a must. The package includes priority 4-hour on-site service or optional 2-hour response with 6-hour hardware repair, Dell's proven Critical Situation process, and emergency dispatch.
Data Management and Protection


Keep Your Hard Drive helps you retain control of sensitive data
Hard Drive Data Recovery provides unlimited attempts to recover data from a failed hard drive
Certified Data Destruction wipes your hard drive clean and destroys data

Enterprise-Wide Contract – Provides enhanced proactive capabilities through:


Designated Service Delivery Manager
Performance benchmarking and custom reporting
Planning and assessments

Proactive Maintenance - Maximizes the availability and stability of your infrastructure proactively. The package includes a detailed system assessment and implementation of driver or firmware updates and upgrades for your server or storage systems.

Remote Advisory Options - Provides telephone and Internet access to technical expertise for specialized applications and solutions such as Microsoft Exchange, Virtualization, and more.
Additional Service Offerings
Comprehensive Storage Training and Certification
Through comprehensive storage training courses, Dell provides expertise in implementing Dell storage into an existing IT infrastructure. If you are interested in validating or maintaining your skill sets for company compliance, the Dell Certified Network Storage Networking Professional Certification path is available.
To sustain the continued operation of your storage solution, you should engineer availability, security and reliability into every process from the outset. Dell can provide backup and recovery solutions that help ensure adequate procedures are in place to minimize or avoid data loss.