Wydajność stacji roboczej do montażu w szafie serwerowej. Przełom w dziedzinie zdalnego dostępu.
Światowej klasy rozwiązanie do zdalnego dostępu o niezrównanej wydajności
Ten produkt jest aktualnie niedostępny. Poniżej podano informacje o zalecanym porównywalnym systemie.
Precision R5400 montażu w szafie serwerowej
Precision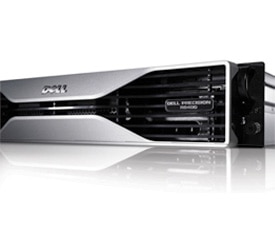 Uncompromised Workstation Performance
The Dell Precision R5400 available with Intel® Xeon® processor a high-performance, dual-socket rack workstation that provides an industry-standard alternative to blade workstations and fully scalable, high-performance graphics options, as well as:


Wide choice of standard desktop workstation class OpenGL graphics cards with the flexibility to change at a later date
Additional standard PCIe and PCI slots for excellent flexibility
No proprietary enclosure means low initial investment and freedom from being locked to a single vendor
New possibilities for High Performance Computing solutions through multithreaded applications written to utilize the outstanding performance of GPGPUs (general purpose GPUs on high end graphics cards) in addition to, the workstation CPUs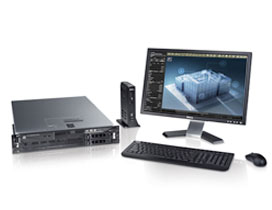 Next-Generation Flexibility
The Dell FX100 Remote Access Device, part of Dell's Flexible Computing offering, consists of a standard PCIe card housed in the host rack workstation and a portal device that is directly connected to the remote user's peripherals. Unlike software-based remote access solutions, the FX100 uses dedicated hardware to compress, encrypt and manage the communication between the host system and the portal.

With the Dell FX100 Remote Access Device, a remote user's front of screen experience will be similar to actually sitting at the workstation.

The Dell FX100 Remote Access Device benefits from the Teradici® PC-over-IP® technology that helps optimize the remote user experience for workstation class applications including full support for high end OpenGL graphics cards.

For virtual remote desktop environments the FX100 (with Teradici® firmware release 3.X) is a certified PCoIP® Hardware Zero Client with VMware View™ 4 enabling simple plug-and-play access to VMware View™ 4 Virtual Desktops.
Karta graficzna
Obsługa 2 kart graficznych PCI Express x16 2. generacji o pobieranej mocy do 150 W każda (w dwóch gniazdach na karty PCI Express x16 1. generacji)
ATI FireMV 2260
NVIDIA® Quadro® 6000
NVIDIA® Quadro® FX 5800
NVIDIA® Quadro® FX 4800
NVIDIA® Quadro® 4000
NVIDIA® Quadro® FX 3800
NVIDIA® Quadro® 2000
NVIDIA® Quadro® FX 1800
NVIDIA® Quadro® FX 580
NVIDIA® Quadro® NVS 295
Karta NVIDIA® Quadro® NVS 420 z obsługą czterech monitorów
Procesor obliczeniowy NVIDIA® Tesla™ C1060
Wszystkie karty graficzne obsługują konfiguracje z dwoma monitorami.
Obudowa
Obudowa
Stacja robocza 2U do montażu w szafie serwerowej
Wysokość: 8,65 cm (3,4")
Szerokość: 42,62 cm (16,78")
Głębokość:
Z przednią ramką 73,25 cm (28,84")
Bez przedniej ramki 68,45 cm (26,95")

Waga:
Z ramką przednią 20,85 kg (45,97 funta)
Bez ramki przedniej 20,45 kg (45,08 funta)

Kieszenie
2 kieszenie wewnętrzne na 9 cm (3,5") dyski twarde
1 kieszeń zewnętrzna na napędy optyczne 13 cm (5,25") o obniżonej wysokości
 
Gniazda
Wszystkie o pełnej wysokości i długości

Standardowe — 2 gniazda PCI-e x16 Gen 1 o pełnej długości dla kart graficznych z podwójnym zasilaniem 150 W; (łącznie 300 W)

Wybór kart typu riser:
1 x PCIX 64-bitowa 100 MHz; 1 x PCIe x16, podłączona jako x8 (domyślnie)
Lub
1 x PCIX 64-bitowa 100 MHz; 1 x PCI 32-bitowa; 5V

Standardowe porty wejścia/wyjścia
5 portów USB 2.0: 2 z przodu, 3 z tyłu, 1 wewnątrz
2 porty szeregowe, 2 gniazda PS/2, 1 gniazdo RJ-45, stereofoniczne wejście i wyjście dźwięku na panelu tylnym
Zasilanie
Moc : 750 W z ponad 80-procentową sprawnością
Maksymalne wydzielanie ciepła dla zasilacza 750 W: 2559 BTU/h
UWAGA: wydzielanie ciepła jest obliczane z uwzględnieniem poboru mocy zasilacza.
Napięcie : Automatyczne wykrywanie napięcia zasilania — od 90 do 265 V przy 50/60 Hz
Bateria podtrzymująca : Mała bateria litowa 3 V CR2032

Dell ProSupport
Faster, more reliable support services designed to address the technology challenges you face today. This new support portfolio is focused on your needs, time demands and budgets.

Need professional support services that take care of both you and your employees' IT needs 7x24? Choose Dell ProSupport™ to get access to a certified technician in two minutes or less.

Got an IT staff? Choose Dell ProSupport for IT and get tech-to-tech support with Fast-Track Dispatch, along with 7x24 access to Dell-certified technicians.


Dell ProSupport Service Model

Dell ProSupport

Dell ProSupport for IT

Designed for organisations with limited or no dedicated IT staff.

Includes:

7x24 direct break-fix hardware support for your employees
"How-to" support on popular software applications such as Norton AntiVirus™, Microsoft® Office, Microsoft® Small Business Server, Intuit® QuickBooks®, Adobe® Photoshop® and Adobe® Acrobat™
Access to a certified technician in two minutes or less

Designed to provide tech-to-tech support for IT professionals, database administrators and internal service desks or helpdesks.

Includes:

7x24 direct access to Dell Expert Centers
Fast-track dispatch for Dell-certified technicians
Escalation management through Dell's Global Command Centers
Next, further customise your support solution by taking advantage of the Dell ProSupport Options below that align to how you use your technology.


<><>>

SPEED OF RESPONSE

PROTECTION

Mission Critical 4-Hour Onsite Service

*

-

Priority onsite service to get you back up and running fast

Specialised Onsite Options – Allows you to augment your daily IT management or tap into specific technical expertise for critical projects when needed. Recommended options for laptops include:


Onsite Parts Management to help minimise downtime by having parts at your fingertips.
Onsite Personnel to augment your IT staff.
Onsite Diagnosis for accelerated troubleshooting.

Asset Management and Protection




Accidental Damage Protection

* repairs or replaces accidentally damaged systems



Data Management and Protection




Keep Your Hard Drive* helps you retain control of sensitive data
Hard Drive Data Recovery provides data recovery from a failed hard drive
Certified Data Destruction wipes your hard drive clean and destroys data
<><>>

Customisation and Set-Up


Deployment Services
Our end-to-end deployment services are designed to simplify and accelerate the customisation and utilisation of your new systems. Dell Deployment Services include everything from order consolidation to coordination of deployment resources.
Learn More

Managed Deployment
Dell Managed Deployment Services are for customers who need a complete, end-to-end deployment solution. Managed deployments are useful within complex logistical environments that require a single point of accountability.
Learn More

Custom Factory Integration
Dell offers custom factory integration services to help accelerate your system deployments. We can perform a range of services such as custom configuration, consolidation and integration in our factory.
Learn More

ImageDirect
ImageDirect is a web-based, hosted image management service that enables customers to easily create, manage and load custom images for Dell commercial client systems.

Intel® AMT and Intel® vPro™ Support
For Intel® AMT and Intel® vPro™ customers, new deployment service options such as unique password pre-population; pre-configured management settings; and no-touch deployment can help ease deployment concerns while saving time and money.

Advanced Configuration Services
With Advanced Configuration Services (ACS), you can save time and resources by selecting various settings during the purchase process. You can choose to partition your hard drive; select boot order; change BIOS settings; and modify various standard software configuration settings.



<><>>

Asset Recovery Services


Asset Recovery Services
Asset Recovery Services offers safe and environmentally-appropriate disposal solutions for outdated or end-of-life IT assets. This service includes transportation, flexible logistics, equipment processing, detailed data security and environmental reports at an affordable price.
Learn More