Select
Broadcom® NetXtreme™ II 5708 Dual Port Ethernet Mezzanine Card with TOE for Dell™ PowerEdge™ M1000E-Series Blade Servers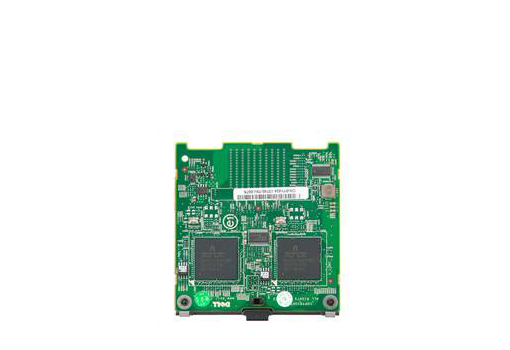 Broadcom NetXtreme II 5708 Ethernet Mezzanine Card
Broadcom
The Broadcom® NetXtreme™ II 5708 Ethernet Mezzanine Card featuring TOE (TCP/IP Offload Engine) is a dual port Gigabit Ethernet adapter able to simultaneously perform accelerated networking and storage networking on standard Ethernet for PowerEdge™ M1000E-Series Blade Servers. The NetXtreme II 5708 Adapter features TCP/IP Offload Engine (TOE) technology for Windows, which reduces the server CPU utilization and improves application performance. TOE offloads the TCP protocol processing from the server CPU onto the server adapter. This preserves valuable CPU cycles for applications processing and improves overall server performance and network efficiency.
Receive Side Scaling (RSS)
TCP/IP Offload Engine (TOE)
Advanced Features
TCP/IP Offload Engine (TOE) for increased bi-directional throughput and performance
Receive Side Scaling (RSS)
Standards Supported
IEEE 802.3z, 802.3x, Dynamic 802.3ad, 802.3p, 802.1Q PCI Express™ ver 1.0a, ACPI ver 2.0
Operating System
Microsoft® Windows® 2003 Server all editions
Red Hat® Enterprise Linux® 3 and 4 for x86 and AMD64/EM64T
SUSE® Linux Enterprise Server 9 for x86 and AMD64/EM64T
NDIS 2 for DOS

No Linux support for TOE, Microsoft Server 2003 Scalable Networking Pack required for TOE
Server Compatibility
PowerEdge M1000e-Series Blade Servers
Performance Features
Automatic link aggregation and load balancing
PCI Hot-plug: remove/replace server NIC without powering down the server
Smart Load Balancing for heterogeneous failover and increased throughput
Multiple boot agents supporting RPL, BootP, and PXE
Protocols
NETBUI, Collision Sense Multiple Access/Collision Avoidance, 802.2 NetBios, IPX/SPX, IPX, IP, TCP/IP
Environmental Operating Conditions
Operating Temperature: 32° to 131° F (0° to 55° C)
Storage Temperature: -40° to 185° F (-40° to 85° C)
Power
+3.3V +/-5%, Maximum 2A @3.3V (DC)
Dell Global Services can deliver what is needed to help ensure that your IT investment is optimized.
Supporting Your Unique Environment
The right support is not one-size-fits-all, so Dell ProSupport provides a flexible, reliable and easy support model – empowering you to customize services to meet your unique business needs. For example, organizations with an IT team can take advantage of Dell ProSupport for IT. You get the tech-to-tech support you need, and the ability to bypass phone-based trouble shooting when you already know the problem with Fast-Track Dispatch.

Dell ProSupport options give you the opportunity to directly align support to address critical challenges – like maximizing the uptime of your server and storage infrastructure. With the right options, the Dell ProSupport Mission Critical option is designed to help you reduce critical downtime by as much as 48%*. Dell is recognized as a leader in the industry for mission critical support – and is the 2005 and 2007 winner of the highly coveted SSPA Award for Mission Critical Support. Further maximize the availability and stability of your infrastructure through Dell ProSupport Proactive Maintenance with scheduled assessments, streamlined patch management and detailed reporting.

Additionally, Dell ProSupport Remote Advisory options can provide telephone access to technical expertise on applications and solutions such as Microsoft Exchange, Virtualization and more.

To learn more about Dell ProSupport visit www.dell.com/prosupport.
Strengthening Your IT Infrastructure
Dell Infrastructure Consulting can help integrate your new enterprise hardware into an existing or evolving IT infrastructure. We can provide guidance whether you're adding single or multiple servers, a storage area network or virtualizing your environment.

We can also help you enhance the overall performance of your IT infrastructure and data center by consolidating software and hardware, reviewing data usage to optimize the environment, developing a business continuity plan and by helping you migrate to standards-based technologies.
Accelerating Deployment
Dell helps simplify implementation with deployment services that speed time to production of new hardware and IT solutions. During the initial system-build of your server, we can customize software and hardware to match your specific requirements. By helping you rapidly deploy new capabilities while minimizing disruptions, we can contribute to improved efficiencies and lower costs.
Empowering Your Team
Our education services provide training and certification courses to help you and your team better manage and use your new hardware so you can reap the full benefits of standards-based technologies.

Get the most from your new systems. Turn to Dell for the services you need to help Get IT Faster, Run IT Better and Grow IT Smarter.

For more information, please visit www.dell.com/services.