Performance and efficiency in a cost-effective solution
High-bandwidth, low-latency fabric for enterprise data centers and high-performance-computing (HPC) environments.
Powerful, high-performance server blade switches
Full cross-sectional bandwidth from server blades to fabric
Reliable transport
I/O consolidation
Virtualization acceleration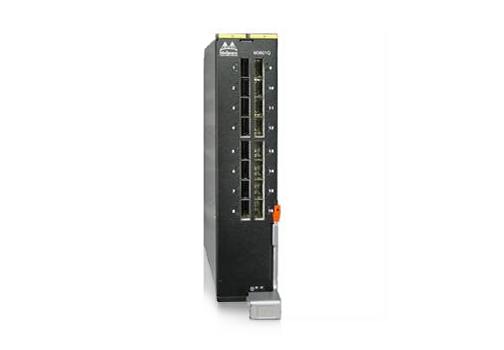 Mellanox M3601Q Infiniband Switch Blade
Mellanox
Sustained Network Performance
The M3601Q from Dell supports static routing to reduce or eliminate congestion situations. For conditions when output ports are oversubscribed, the M3601Q Supports IBTA 1.2 congestion control mechanisms. The switch system works together with the ConnectX I/O HCA to restrict the traffic causing congestion and ensures high bandwidth and low latency to all other flows. Whether used for parallel computation or as a converged fabric, the combination of high bandwidth, adaptive or static routing, and congestion control provides stellar traffic carrying capacity.
Easy to Manage
The M3601Q is easily managed through any IBTA compliant subnet manager. Mellanox recommends installing and running on each server blade of the Mellanox OpenFabrics software stack. Any server can then run the subnet manager along with switch management tools. Port configuration and data paths can be set up automatically or customized to meet the needs of the application. Firmware can be updated in-band for simple network maintenance.
Dell ProSupport *— Fast, reliable support services designed to address the technology challenges you face today. This support portfolio is focused on your needs, time demands and budgets.

Need professional support services that take care of both you and your employees' IT needs 7x24? Choose Dell ProSupport to get access to a certified technician.

Got an IT staff? Choose Dell ProSupport for IT and get tech-to-tech support with Fast-Track Dispatch, along with 7x24 access to Dell-certified technicians.



Dell ProSupport Service Model


Dell ProSupport for End Users
Designed for organizations with limited or no dedicated IT staff.
Includes:

7x24 direct break-fix hardware support for your employees
"How-to" support on popular software applications such as Norton AntiVirus, Microsoft Office, Microsoft Small Business Server, Intuit QuickBooks, Adobe Photoshop and Adobe Acrobat.

Dell ProSupport for IT
Includes: 

7x24 Direct access to Dell Expert Centers
Fast-track dispatch for Dell-certified technicians
Escalation management through Dell's Global Command Centers

Next, add Same-Day Response for faster resolution:

Same-Day Response — Ideal for customers using their Dell systems for time-sensitive operations or critical business functions. A Dell-trained technician will arrive onsite within 4 hours* after problem determination, depending on location, to help get your system back in operation as rapidly as possible.

Limited Hardware Warranty

One year unit exchange Limited Hardware Warranty supplemented with one year of Next Business Day Onsite Service part or unit hardware replacement
7-day/24-hour Telephone Technical Support for troubleshooting and diagnosis of Dell hardware
Customization and Set-Up

Installation – Dell provides streamlined standard installation services so you can easily choose the specific package that quickly gets new systems into the workspace and old systems out.
You can upgrade to three years of part or unit hardware replacement, with either Same Day, 4 Hour response or Next Business Day Onsite Service response.