Add power to your switch
The PowerConnect J-EX8208 modular Ethernet chassis switch delivers a high-performance platform for today's high-density 10GbE data center, campus aggregation and core networks. The J-EX8208 powers your network with scalable growth options to add up to 8 line cards which can deliver up to 64 ports of 10GBASE-T support.

High-density line-rate performance at all packet sizes
Easily migrate to higher-speed connections without changes to the switch fabric, routing engines, power or cooling systems
Complete toolbox with Junos® operating system
The item you have selected is not available for purchase online. Please contact your sales representative to purchase.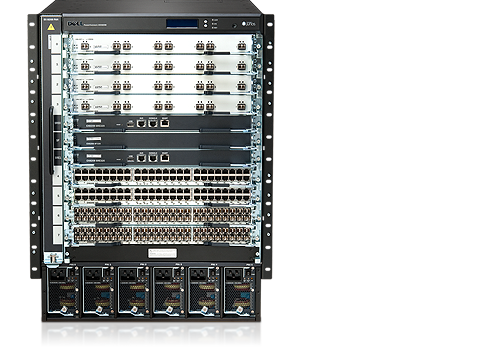 PowerConnect J-8208
PowerConnect
Purpose-built for your data center
The PowerConnect J-EX8208 modular Ethernet chassis switch offers eight dedicated line-card slots in a 14-rack-unit chassis and features a switch fabric with 960 million packets-per-second forwarding.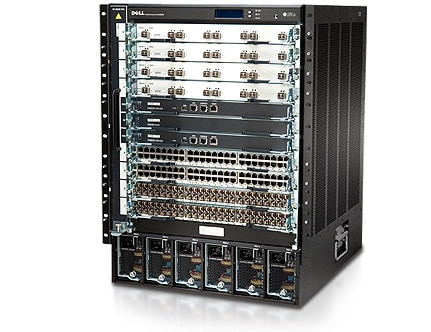 Meeting your challenges
The PowerConnect J-EX8208 delivers the high availability, fast communication and strong security you need today as well as a platform for supporting the requirements of tomorrow.

Comes with a 320-Gbps-per-slot switching capacity
Expandable to include 100 Gbps uplinks
Supports hardware-based generic routing encapsulation (GRE) tunneling
Maximum Performance
High-density line-rate performance at all packet sizes
Up to 64 10GbE or 384 GbE line rate ports in a compact 14 rack unit chassis
Deep buffering: Up to 512MB per 10 GbE port and 42 MB per GbE port
Highly scalable L2-L4 tables for MAC address, IPv4 and IPv6 routes, ACLs and multicast groups enable large scale deployment in campus or datacenter without sacrificing line rate performance
Advanced routing
The PowerConnect J-EX8208 Switch Fabric and Routing Engine (SRE) module unites switch-fabric, control-plane and management-plane functionality on a single module. It also includes an integrated routing engine with a 1.2 GHz processor with 2GB of DRAM and 2GB of flash storage.
Junos operating system
The PowerConnect J-EX8208 secure router runs on the Junos operating system, a common OS used across all J-Series products as well as on many of the world's largest and most complex networks.

Highly disciplined, the Junos OS development process uses a single source code, follows a single quarterly release train and employs a highly available modular architecture that prevents isolated failures from bringing down an entire system.
Fully regression-tested, each new Junos release delivers a true superset of the previous version. As a result, whenever Junos-powered products are updated, all existing operating and maintenance capabilities will carry over as part of the update.
Dell ProSupport *— Fast, reliable support services designed to address the technology challenges you face today. This support portfolio is focused on your needs, time demands and budgets.

Need professional support services that take care of both you and your employees' IT needs 7x24? Choose Dell ProSupport to get access to a certified technician.

Got an IT staff? Choose Dell ProSupport for IT and get tech-to-tech support with Fast-Track Dispatch, along with 7x24 access to Dell-certified technicians.



Dell ProSupport Service Model


Dell ProSupport for End Users
Designed for organizations with limited or no dedicated IT staff.
Includes:

7x24 direct break-fix hardware support for your employees
"How-to" support on popular software applications such as Norton AntiVirus, Microsoft Office, Microsoft Small Business Server, Intuit QuickBooks, Adobe Photoshop and Adobe Acrobat.
Dell ProSupport for IT
Includes:

7x24 Direct access to Dell Expert Centers
Fast-track dispatch for Dell-certified technicians
Escalation management through Dell's Global Command Centers
Next, add Same-Day Response for faster resolution:

Same-Day Response — Ideal for customers using their Dell systems for time-sensitive operations or critical business functions. A Dell-trained technician will arrive onsite within 4 hours* after problem determination, depending on location, to help get your system back in operation as rapidly as possible.

Limited Hardware Warranty

One year unit exchange Limited Hardware Warranty supplemented with one year of Next Business Day Onsite Service part or unit hardware replacement
7-day/24-hour Telephone Technical Support for troubleshooting and diagnosis of Dell hardware
Customization and Set-Up
Installation – Dell provides streamlined standard installation services so you can easily choose the specific package that quickly gets new systems into the workspace and old systems out.
You can upgrade to three years of part or unit hardware replacement, with either Same Day, 4 Hour response or Next Business Day Onsite Service response.