10GbE and FCoE Transit Switch for PowerEdge M1000e
Sorry, this item is not available anymore for purchase online. Please see our recommended replacement product.
Easily migrate to 10GbE stack switches for improved scalability or add FCoE functionality to your data center with the Dell Networking M8024-k switch.

Manage Layer 3 switching using up to 24 integrated ports, with your choice of media and one FlexIO module, all while protecting your legacy Gigabit Ethernet (GbE) infrastructure.
For high availability, stack up to six wire-speed switches, each with redundant power but all six managed as a single unit.
Use as a Fibre Channel over Ethernet (FCoE) transit switch attached to an external converged data center network and extend an available FCoE fabric through FIP snooping.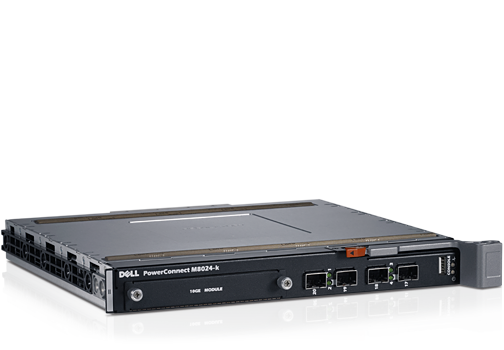 Dell Networking M8024-k Switch
PowerConnect

Improved 10Gb Ethernet connectivity for M-Series blades
Simplify 10GbE blade deployment and management with the Dell Networking M8024-k. Provide 10GbE connectivity for up to 16 M-Series blade servers equipped with the latest KR-based 10Gb network daughter cards (NDCs) or mezzanine cards.

Not ready for 10GbE? Don't worry. The M8024-k also supports GbE connections, to both the server and the local area network (LAN), helping ensure that you will be ready to quickly adopt 10GbE when the time comes. This kind of flexibility, along with the improved 10GbE bandwidth and performance, helps you meet the changing demands of data centers that embrace virtualization and other I/O (input/output)-intensive technologies.

The Dell Networking M8024-k is also an FCoE transit switch that can be attached to an external converged data center network to extend an available FCoE fabric. With the 4.2 firmware upgrade, the M8024-k uses FCoE Initialization Protocol (FIP) to perform functions of FC_BB_E device discovery, initialization and maintenance.

The FIP snooping feature enables the M8024-k to link Dell™ M-Series blades to an external top-of-rack or end-of-row FCoE forwarding switch and provides FCoE connectivity to the servers. This feature, along with Internet SCSI optimization, iSCSI TLV, and DCBx discovery and monitoring, enables seamless 10GbE performance in an end-to-end data center solution.

Connect with the benefits of virtualization

Meet the high-bandwidth demands of multi-core CPUs and server virtualization with up to 24 10GbE ports in the Dell Networking M8024-k. When combined with PowerEdge™ M710HD blades that feature 10Gb network daughter cards, the M8024-k provides end-to-end 10Gb Fabric A connectivity, leaving room for growth or additional technologies in Fabrics B and C.

Supporting connectivity to M-Series KR-based 10Gb network interface cards (NICs) and converged network adapters (CNAs), the M8024-k opens the door to cutting-edge networking features, such as NIC partitioning (NPAR), single-root I/O virtualization (SR-IOV) and iSCSI.

Flex and grow with FlexIO and scalable stacking

Build for the future with 16 internal 1/10GbE ports, four integrated external 1/10GbE enhanced small-form-factor pluggable (SFP+) ports and a FlexIO bay for easy growth as your business expands. With FlexIO, modular uplinks can be added or swapped as needed:
4-port SFP+ FlexIO Module
2-port 10GBASE-T FlexIO Module
3-port CX-4 FlexIO Module
In addition, single IP stack management enables simple scalability. With the 4.2 firmware release, up to six wire-speed switches can be connected together and administered as a single large port-count switch through web, command-line interface (CLI) or SNMP management interfaces on the master switch.
Get started quickly with Simple Connect for LAN
Deploy and manage 10Gb-based blade configurations simply and with minimal network administration using the default Simple Switch mode of operation. The Simple Switch option features port aggregation and auto configuration when connecting to any external LAN.

Alternatively, when operating in full switch mode, enjoy a shortened learning curve and seamless integration of the M8024-k into existing Cisco® or any other LAN that uses industry-standard CLI (IS-CLI). These capabilities — combined with enterprise-class quality of service (QoS), security and management features — help to ensure that the M8024-k meets your in-chassis Ethernet switching needs today and in the future.

Both modes of operation pave the way for deploying and managing M-Series blades simply and efficiently using 10Gb Ethernet — the ideal solution for improving data center utilization, helping to save both time and money.
Support and Education
Dell offers a variety of on-site and remote support options that can be added at time of purchase. Dell ProSupport ensures problems are diagnosed and resolved by experts.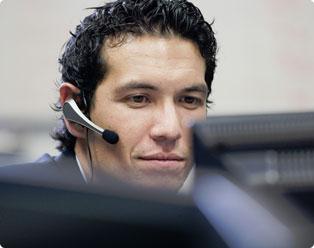 On-site and Remote Assistance

Get immediate access to Dell ProSupport professionals who can help you troubleshoot and diagnose issues that may arise in your network.

 
 
 
   
Managed Services

Free yourself to focus on the business and allow Dell to manage your network with dedicated professional support.
 
 
 
 
Education Services

Learn practical knowledge and operational techniques.
Assessments
Network assessments offer a holistic view of your multivendor environment and a reference point for how your infrastructure is performing. Our experts can pinpoint and expose issues in your network using specialized software and diagnostic tools. These unbiased and insightful analytics are aggregated into comprehensive reports that can include recommendations on how to improve performance, optimize devices and remediate problems.
Network Topology Assessment

Is your network complex and coiled? Dell can perform a detailed audit and inventory of all multivendor devices in the network to provide visibility and identify configuration issues.


Network Optimization Assessment

Many networks are a multivendor patchwork of devices not running at their optimal state. We can analyze devices from all leading vendors and make recommendations to optimize the entire multivendor design, fine-tune devices and maximize performance of the holistic environment.


Application Performance Assessment

When business applications and databases begin to show signs of latency or completely shut down, we can conduct a comprehensive analysis to uncover performance issues, isolate problems and accelerate troubleshooting of the enterprise infrastructure and software applications.


VoIP Assessment

Moving to a Voice-over-IP (VoIP) solution requires the right network infrastructure to support real-time voice protocols. Simulated load testing, analysis and review can identify the next steps to building a VoIP platform or fixing issues of an existing one.


Network Security Assessment

Safeguard your network from constant attack. Let our experts examine and uncover potential vulnerabilities and provide a comprehensive security design assessment.


Wireless Site Survey

Great wireless connectivity starts with a detailed site survey. Dell can analyze existing infrastructure, identify RF interference and recommend the best design and optimal placement of new devices.
Deployment
The Dell standardized deployment service guarantees that setup and optimization are done correctly so that you can launch faster and focus on daily business.
 
ProDeploy Plus

Expert planning and execution seamlessly weaves Dell's open systems architecture with existing network infrastructure from Cisco, HP, Juniper and others. Choose ProDeploy Plus, the most complete deployment offer on the market for complex environments.

 



ProDeploy





Setting up network protocols, and policies can be tricky. Dell certified network engineers can configure and optimize your new hardware remotely or on-site and get new technology up and running fast .

 



Basic Deployment



Mounting and cabling of wired and wireless devices can be tedious and time-consuming. Get worry-free hardware installations with experienced Dell technicians who do deployments every day .

Consulting
Dell network consulting provides on-site or remote access to highly skilled professionals who provide project assistance and guidance across a variety of technologies for a specific project or timeframe.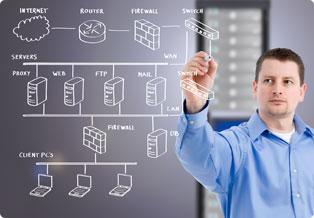 Networking Workshop

Get professional insight with a half-day collaborative whiteboard session to discuss potential improvements.


 
Time-Based Consulting



For those times when you need a little extra technical guidance, certified experts are available to discuss system design or help resolve complex issues that can be billed by the day, week or by the phone call. Time-based consulting is as flexible as you are.
Available Remote Consulting Services
Access Distribution Networking
Virtualization
Gateway and Security
Microsoft Exchange
Wireless Networking
Systems Management
Core Layer/MPLS Networking
Data Protection and Recovery
Storage Area Networking (SAN)
Storage Technologies