Organizations that require high availability and expansive memory capacity in a rack-dense system.
Sorry, this item is not available anymore for purchase online. Please see our recommended replacement product.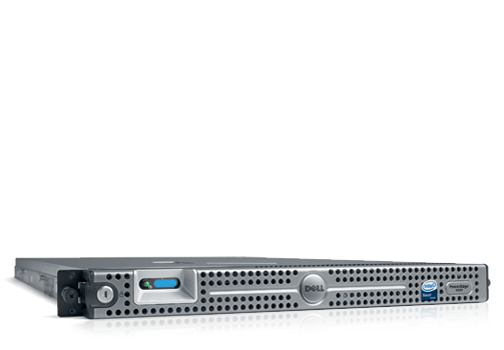 Poweredge R300 Rack Server
PowerEdge
Processor
Intel® Xeon® processors:

Single Quad-Core Intel Xeon Processor 5400 series at up to 3.16GHz
Single Quad-Core Intel Low Volt Xeon Processor L5400 series at up to 2.33GHz
Single Quad-Core Intel Xeon Processor 3300 series at up to 2.83GHz

Intel® Core 2 Duo® processors:

Single Dual-Core Intel Core 2 Duo processor E6405 at up to 2.13GHz
Single Dual-Core Intel Core 2 Duo processor E6305 at up to 1.86GHz

Intel® Celeron® processors:

Single Intel Celeron processor 445 at up to 1.86GHz
Drive Bays
2 x 3.5" cabled or hot-plug hard drive bays

Optional 1 slim-line DVD-ROM, CD-RW/DVD combo drive, or DVD+/-RW drive

2.5" 500GB* SATA
Chassis
Form Factor: 1U Rack:

1.68" (4.235 cm) H
16.78" (42.63 cm) W
26" (66.04 cm) D
29.66 lbs (13.45 Kg)

Four dual motor Axial FAN modules positioned in front of the CPU and memory.
Two dual motor Axial FAN modules positioned in front of the Redundant PSU.

Ports:

Rear: 2 x Gigabit NIC ports, 2 x USB 2.0 ports, 1 x video connector, 1 x serial connector
Front: 2 x USB 2.0 ports, 1 x video connector
Internal: 1x USB 2.0 ports
Management
Dell Systems Build and Update Utility CD included

Dell OpenManage Server Administrator Software included

Standard BMC with IPMI 2.0 support
Communications
2X embedded Gigabit NICs

Intel® Gigabit ET Dual Port Server Adapter

Intel® Gigabit ET Quad Port Server Adapter
Video Card
Integrated ATI® ES1000 VGA Controller with 32MB memory
Environmental Operating Conditions
Operating Temperature: 10º C to 35º C (50º F to 95º F)
Storage Temperature: -40º C to 65º C (-40º F to 149º F)
Operating Relative Humidity (non-condensing twmax=29C): 20% to 80% non-condensing
Maximum humidity gradient: 10% per hour, operational and non-operational conditions
Storage Relative Humidity: 5% to 95% non-condensing (twmax=38C)
Operating Vibration: 0.26G at 5Hz to 350Hz for 2 minutes
Storage Vibration: 1.54Grms Random Vibration at 10Hz to 250Hz for 15 minutes
Operating Shock: 1 shock pulse of 41G for up to 2ms
Storage Shock: 6 shock pulses of 71G for up to 2ms
Operating Altitude: -16 to 3,048m (-50 ft to 10,000 ft)
Storage Altitude: -16m to 10,600m (-50 ft to 35,000 ft)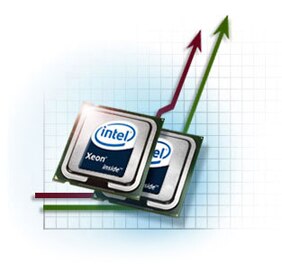 Exceptional Performance
The PowerEdge R300 introduces a new, advanced one-socket chipset and processors specifically designed for excellent performance and high-availability features. The R300 offers up to 26 percent boost in performance over the HP DL320 G5p*, making it the highest performing one-socket quad-core server*. And, to make implementation easier and smoother, we build, configure and can image the R300 in our factory so it's ready to work for you right out of the box.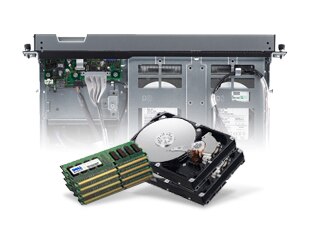 Reliability Your Business Can Trust
With high-availability features like hot-plug hard drives and redundant power supplies, the PowerEdge R300 helps prevent the loss of data and productivity. With up to 24 GB of memory — three times the memory capacity of competitive one-socket x86 servers — and Intel® quad-core processing, the R300 provides stable performance for memory-intensive applications. And, with authentication through an array of diagnostic tests prior to shipping, it's designed and built to increase uptime and boost business productivity from the moment you switch it on.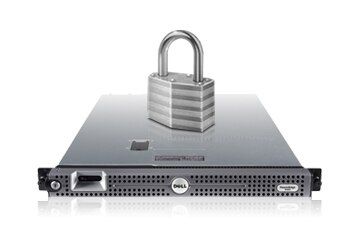 Security Comes Standard
Recognizing the importance of information security, the features of the PowerEdge R300 are designed to help ensure the confidentiality, integrity and availability of your data. In fact, this new generation of PowerEdge servers is the most secure ever produced. Standard features include a locked-down internal USB port, chassis intrusion switch, locking bezels and a built-in Trusted Platform Module (TPM) that enables system authentication, assists with encryption and helps prevent tampering.

Combine these excellent features with Microsoft Windows Server® 2008 through Dell and you have a secure, reliable, robust server environment. Advanced security and reliability enhancements help organizations to prevent data theft with Rights Management Services, BitLocker and Group Policy technologies.

Whether you need assistance evaluating Windows Server 2008 or are ready to implement, Dell has the expertise, resources and tools to assist organizations of any size.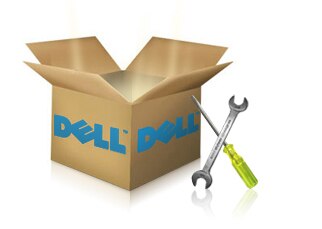 System Support
Dell ProSupport for IT is designed to provide tech-to-tech support for IT professionals, database administrators and internal service desks or helpdesks. Features such as Fast-Track Dispatch, direct access to Dell Expert Centers and customer-controlled severity levels were designed with your specific challenges in mind. With Dell ProSupport for IT, you are treated like the expert you are — allowing you to satisfy the needs of your internal customers while freeing up your time to focus on strategic IT projects.
Reliable Protection for Your Data

Dell offers storage technology that can enable you to derive maximum value from your information infrastructure.

No other company knows more about storing and protecting information on Dell servers and storage arrays than Dell. Direct feedback from customers drives the design and development of a broad range of storage products for organizations of all sizes.

Storage Area Network (SAN):
A network of shared storage resources

 

 
---
Network Attached Storage (NAS):
A storage server that connects to a network



 

 
---
Disk Storage Arrays:
Disk enclosures that connect to a server or network
 

 
---
Tape Automation:
Automated tape systems for consolidated backup

 

 
---
Tape Drives and Removable Disk Drives:
Tape and Removable Disk Drive devices used to back up and restore information

Virtualization Solutions
Dell Management Plug-in for VMware vCenter™
What if you could manage your physical infrastructure from your virtual console?
What if you could rapidly and consistently provision hardware and deploy virtual machines from within VMware vCenter?
What if you could reduce the number of steps needed to deploy virtual infrastructure?
With the Dell Management Plug-in for VMware vCenter installed in your VMware environment, you can:
• Get deep-level detail from Dell servers for inventory, monitoring and alerting — all from within vCenter
• Deploy BIOS and firmware updates to Dell servers from within vCenter
• Build hardware and hypervisor profiles and deploy any combination of the two on bare-metal Dell PowerEdge servers without a preboot execution environment (PXE)
• Automatically perform Dell-recommended vCenter actions based on Dell hardware alerts
• Access Dell hardware warranty information online
And, to give you even more power, we deliver our plug-in as a virtual appliance. That makes it easier to deploy and configure and offers integration directly into the vCenter console, providing more information inside of vCenter itself — unlike many other vendors who provide only "link-and-launch" capabilities to point to their own proprietary consoles.
The combination of the Dell Management Plug-In for VMware vCenter and the revolutionary embedded management features offered by Integrated Dell Remote Access Controller (iDRAC) with Lifecycle Controller in Dell PowerEdge servers gives you an unmatched level of integration between vCenter and your server hardware.