Tire proveito da mais recente tecnologia de armazenamento
Armazenamento ligado directamente à rede super denso com os níveis de desempenho, software, capacidade e escalabilidade que mantêm a sua empresa eficiente e actualizada.
Este produto está actualmente indisponível. Veja abaixo a nossa recomendação para um sistema semelhante.
Armazenamento ligado directamente à rede PowerVault NX3100
PowerVault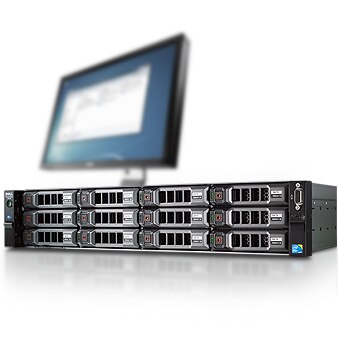 Partilhe até 576 TB de ficheiros e dados de aplicações.
Aumente a capacidade disponível internamente até 36 TB com 12 unidades de dados num chassis 2U compacto. Escolha um sistema SAS de 450 GB/600 GB ou near-line SAS de 1 TB/2 TB/3 TB O sistema NX3100 é expandido à medida das necessidades da sua empresa.
Expanda a capacidade externamente através de uma vasta selecção de matrizes Dell PowerVault para uma capacidade máxima de até 576 TB.
Gira os seus dados através do software de gestão de dados integrado. Crie acções baseadas em políticas para mover, efectuar o backup ou realizar outras operações de gestão do ciclo de vida dos seus dados.
Ofereça uma melhor gestão dos serviços de ficheiros através do Bloco de mensagens do servidor (SMB) e do NFS com Gestor de recursos de serviços de ficheiros (FSRM).
Ao combinar servidores de ficheiros e armazenamento em blocos num único sistema PowerVault NX3100, poderá gerir mais informação com menos esforço. Esta solução permite-lhe beneficiar dos protocolos, tecnologias e infra-estrutura IP existentes, reduzindo os seus custos de implementação e gestão ao nível global do sistema para a partilha de informação baseada tanto em ficheiros como blocos.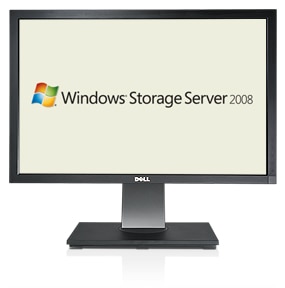 A tecnologia de armazenamento adequada para si
O NX3100 disponibiliza uma combinação adequada de alta capacidade de armazenamento e software para manter a sua rede de armazenamento altamente eficiente. O sistema operativo Windows® Storage Server 2008 R2 x64 instalado de fábrica reúne as principais funcionalidades de servidor de ficheiros do Windows® Server 2008 e adiciona funcionalidades avançadas de gestão de armazenamento concebidas para uma partilha de ficheiros mais rápida, mais eficiente e mais fiável.


Escolha maior capacidade ou melhor desempenho através das unidades de disco rígido SAS, near-line SAS e SATA seleccionadas.
Reduza os ficheiros duplicados (desduplicação transparente ao nível do ficheiro) com o armazenamento de instância única (SIS).
Aceda à informação mais rapidamente através dos espaços de nomes do Sistema de ficheiros distribuídos (DFS).
Partilhe ficheiros entre sistemas cliente Windows e não-Windows com CIFS (SMB 2.0) e NFS.
Armazenamento de blocos e ficheiros, Armazenamento de instância única e possibilidade de expansão da capacidade interna ou externamente. A integração inteligente destas funcionalidades SMB críticas ajuda a assegurar que o seu investimento em armazenamento estará protegido durante muitos anos.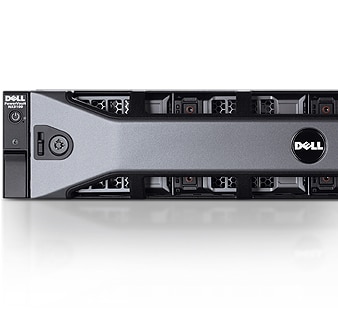 Fácil de configurar e gerir
O PowerVault NX3100 integra, de base, tudo aquilo de que necessita para começar a partilhar informações com segurança e eficiência, sem perder tempo, dinheiro e recursos a construir de raiz um servidor de ficheiros.


Automatiza a instalação e a configuração graças à ferramenta "tarefa de configuração inicial".
Suporta utilizadores ilimitados através das licenças CAL (Client-Added License) incluídas.
Gira a sua informação remotamente através de um browser Web utilizando o Ambiente de Trabalho Remoto e a Consola de Gestão da Microsoft.
O sistema NAS NX3100 integra-se facilmente no seu ambiente Windows®, utilizando as mesmas ferramentas de gestão e protecção que já implementou. A integração com clientes não-Windows® também é simples e transparente.

O funcionamento sem supervisão e a gestão remota são disponibilizadas através do Controlador de acesso remoto Dell integrado (iDRAC) e do Java Remote Desktop Protocol (RDP). Paralelamente, a funcionalidade Remote Desktop for Administration do Windows® Storage Server 2008 R2 disponibiliza a administração remota das tarefas de gestão recorrentes, o que economiza tempo e recursos preciosos.
Dell Services
Dell offers services across the storage lifecycle that can help you plan a storage solution aligned with your IT objectives, efficiently implement the technology into your business and help maintain your storage solution at peak performance to support your critical business operations.
Plan - Design and Assess

Whether you're consolidating disparate data stores onto a SAN platform for the first time, or adding platforms to support growing storage requirements, Dell's experienced SAN professionals can help you choose the right technology to meet the demands of your scalable enterprise.

Storage Consolidation Services
Infrastructure Consolidation Readiness Assessment Analyses existing infrastructure, operational practices and technical readiness to develop a roadmap for conducting a server or storage consolidation.
Consolidation Planning and Validation Develops a detailed consolidation deployment plan as well as a validated and refined solution design.
Implement - Deploy, Train and Recover

Dell provides a choice of deployment service offerings ranging from as needed, over-the-phone consultation and remote assistance to on-site project management and deployment services for complex storage migration and consolidation initiatives.
On-site or remote installation of your complete Dell storage system is highly recommended. By allowing Dell to provide installation, you can help reduce the time required to get your system up and running, while making efficient use of your employees' time.
Remote Installation for the Dell NX4 provides customers with an alternative to on-site installation for direct attach or Dell NX4 configurations. By using a combination of Phone and Remote support, Dell technicians can assist customers with all aspects of configuring Windows hosts to access the Dell NX4. This service is only available for those configurations deemed "customer installable" and applies only to Windows configurations.
Getting your IT resources quickly up-to-speed on any new technology is essential in today's fast-past business environment. Dell's comprehensive on-line or on-site training courses will arm your IT staff with the skills they need to proficiently manage your new Dell NX4.

Maintain - Support and Optimize

After your Dell NX4 is fully operational, Dell can help keep it running smoothly. Dell ProSupport services can help you maximize your SAN's availability and performance.
Operations Performance Benchmarking Innovative management tools and processes, providing customers with unprecedented visibility into their IT operations and a mechanism for continuous improvement.
ECC Real-time Tracking Window A real-time web based tool that allows customers to track the real-time position and status of every open incident they are experiencing around the world, without picking up the phone.
SAN Maintenance Service is designed to provide periodic health checks, updates and upgrades for your SAN system throughout your Limited Warranty period. We can analyse your system for overall health and provide software and system updates and upgrades. We can also provide how-to assistance for configuring or installing SAN components through our Enterprise Assistance program. For ongoing performance, dependability, changing demands and challenges, the SAN Maintenance service is the smart choice for your SAN system maintenance.
1 Technician, replacement part or unit (depending on service contract) will be dispatched if necessary following phone-based troubleshooting. Subject to parts availability, geographical restrictions (on site and/or next business day service not available in some locations) and terms of service contract. Service timing dependent upon time of day call placed to Dell. Defective unit must be returned or paid for. Replacements may be refurbished.
2 Technician, replacement part or unit (depending on service contract) will be dispatched if necessary following phone-based troubleshooting.
3 The defective hard drive must still be covered by the hardware limited warranty.
4 Limited Warranty coverage for the Dell NX4 is available for up to three (3) years with initial purchase of the product and may be extended for up to one (1) additional year with purchase of a separate warranty extension plan prior to the expiration of the original limited warranty2 purchased for the product. The exact length of the Limited Warranty coverage period will be reflected on your packing slip or invoice.

Dell ProSupport
– Designed to address the technology challenges you face today.
 
Dell ProSupport starts with the Dell ProSupport for IT service model designed for IT professionals like you. Dell ProSupport for IT provides:
7x24 Direct access to Dell Expert Centers
Fast-track dispatch for Dell-certified technicians
Escalation management through Dell's Global Command Centers
Next, Dell ProSupport Options align to the way you use technology – rapidly responding to your needs, protecting your investment, your productivity and your sensitive data, and providing enhanced proactive support services to help reduce the risk and complexity of managing your infrastructure.


SPEED OF RESPONSE
PROTECTION
PREMIUM PROACTIVE
Mission Critical  - Perfect for server and storage environments where avoiding unplanned downtime and reducing recovery time through priority response are a must. The package includes priority 4-hour on-site service or optional 2-hour response with 6-hour hardware repair, Dell's proven Critical Situation process, and emergency dispatch.
Data Management and Protection


Keep Your Hard Drive helps you retain control of sensitive data
Hard Drive Data Recovery provides unlimited attempts to recover data from a failed hard drive
Certified Data Destruction wipes your hard drive clean and destroys data

Enterprise-Wide Contract – Provides enhanced proactive capabilities through:


Designated Service Delivery Manager
Performance benchmarking and custom reporting
Planning and assessments

Proactive Maintenance - Maximizes the availability and stability of your infrastructure proactively. The package includes a detailed system assessment and implementation of driver or firmware updates and upgrades for your server or storage systems.

Remote Advisory Options - Provides telephone and Internet access to technical expertise for specialized applications and solutions such as Microsoft Exchange, Virtualization, and more.
Additional Service Offerings
Comprehensive Storage Training and Certification
Through comprehensive storage training courses, Dell provides expertise in implementing Dell storage into an existing IT infrastructure. If you are interested in validating or maintaining your skill sets for company compliance, the Dell Certified Network Storage Networking Professional Certification path is available.
To sustain the continued operation of your storage solution, you should engineer availability, security and reliability into every process from the outset. Dell can provide backup and recovery solutions that help ensure adequate procedures are in place to minimize or avoid data loss.