Cisco StackWise Plus Technology Enterprise-class stackable switch providing highly-available redundancy
Organizaţiile care caută un switch rezistent, la nivel de întreprindere, care să poate fi instalat în stive, care să ofere soluţii extrem de variate şi accesibile pentru medii în care timpul este un factor esenţial.
Acest produs nu este disponibil deocamdata. Gasiti mai jos recomandarea noastra de sistem comparabil.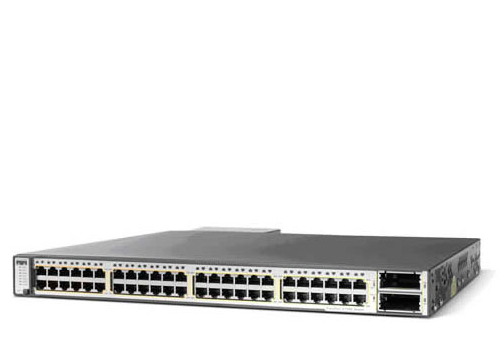 Cisco Catalyst 3750E-48TD Switch
Cisco Catalyst
Highlights
The Cisco® Catalyst® 3750E-48TD with StackWisePlus is an enterprise-class, robust stackable switch that provides highly available and highly redundant solutions in time sensitive environments. The 3750E-48TD has a line-rate, non blocking architecture that is designed to respond to additions, deletions, and redeployment while maintaining constant performance.
48 Ethernet 10/100/1000 ports and 2 X2 10 Gigabit Ethernet uplinks
IPv6 routing and multicast routing in hardware
Cisco's StackWise Plus technology for automatic management failover
Congestion management through traffic prioritization features
Modular power supply and fan with externally available backup
TwinGig converter module allows the conversion of the 10GE interfaces into dual SFP uplink ports
Cisco SMARTnet Service for Rapid Problem Resolution
Cisco SMARTnet Service is an award-winning technical support service that offers direct, anytime access to Cisco engineers and an extensive range of technical resources. SMARTnet delivers rapid issue resolution, flexible device-by-device coverage, and premium service options to help maximize operational efficiency.

Cisco SMARTnet provides the following:
Around-the-clock, global access to the Cisco Technical Assistance Center (TAC)
Access to the extensive Cisco.com knowledgebase and tools
Next-business-day advance hardware replacement (premium options available for business-critical devices, such as 2-hour replacement and onsite parts replacement and installation)
Ongoing operating system software updates and upgrades
Cisco OS software support to extend the life of Cisco devices with improved security, increased performance, bandwidth management, new protocol support, and greater interoperability
Proactive diagnostics and real-time alerts on select devices with Smart Call Home
De

ll ProSupport
Faster, more reliable support services designed to address the technology challenges you face today. This new support portfolio is focused on your needs, time demands and budgets.
Need professional support services that take care of both you and your employees' IT needs 7x24? Choose Dell ProSupport to get access to a certified technician in two minutes or less.
Got an IT staff? Choose Dell ProSupport for IT and get tech-to-tech support with Fast-Track Dispatch, along with 7x24 access to Dell-certified technicians.
Dell ProSupport Service Model


Dell ProSupport for End Users
Designed for organizations with limited or no dedicated IT staff.
Includes:
7x24 direct break-fix hardware support for your employees

"How-to" support on popular software applications such as Norton AntiVirus, Microsoft Office, Microsoft Small Business Server, Intuit QuickBooks, Adobe Photoshop and Adobe Acrobat.

Access to a certified technician in two minutes or less
Dell ProSupport for IT
Includes:
7x24 Direct access to Dell Expert Centers

Fast-track dispatch for Dell-certified technicians

Escalation management through Dell's Global Command Centers
Next, add Same-Day Response for faster resolution:

Same-Day Response — Ideal for customers using their Dell systems for time-sensitive operations or critical business functions. A Dell-trained technician will arrive onsite within 4 hours after problem determination, depending on location, to help get your system back in operation as rapidly as possible.
Basic Hardware Warranty
One year unit exchange limited hardware warranty supplemented with one year of Next Business Day part or unit hardware replacement

7-day/24-hour Telephone Technical Support for troubleshooting and diagnosis of Dell hardware
Customization and Set-Up
Installation – Dell provides streamlined standard installation services so you can easily choose the specific package that quickly gets new systems into the workspace and old systems out.

You can upgrade to three years of part or unit hardware replacement, with either Same Day, 4 Hours or Next Business Day response.