10Gb Flexible Modularity For PowerEdge M1000e Enclosures
Centrele de date ce implementează servere blade Dell cu necesităţi tot mai mari de performanţă I/O şi lăţime de bandă generate de tehnologii precum HPCC şi virtualizare.
Acest produs nu este disponibil deocamdata. Gasiti mai jos recomandarea noastra de sistem comparabil.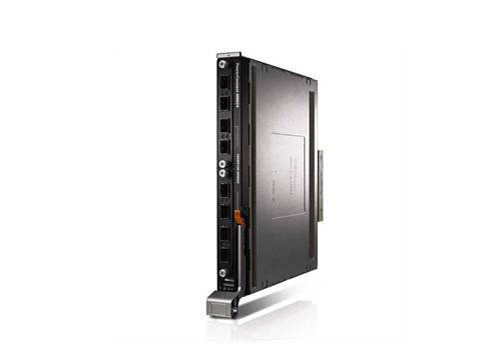 PowerConnect M8024 Switch
PowerConnect
Atribute porturi
24 auto-sensing 1/10Gb Ethernet switching ports available
- 16 internal server 1/10Gigabit Ethernet ports
- Flexible media choices for up to 2 external 10GE uplink modules per switch
• 4-port SFP+ 10GbE module (SFP+ ports are 10GE only)
• 3-port CX-4 10GbE copper module (CX4 ports are 10GE only)
• 2-port 10Gb Base-T copper RJ45 module
Auto-negotiation for speed, duplex mode and flow control
Auto MDI/MDIX
Port mirroring
Flow-based port mirroring
Broadcast storm control
Performanţă
Switch Fabric Capacity 240 Gb/s
Forwarding Rate 357 Mpps
Up to 16K MAC Addresses
512MB of CPU SDRAM
32MB of Flash Memory
Disponibilitate
Spanning Tree (IEEE 802.1D) and Rapid Spanning Tree (IEEE 802.1w) with Fast Link Support
Multiple spanning trees (IEEE 802.1s)
Supports Virtual Redundant Routing Protocol (VRRP)
Rutare
Layer 3 Routing Protocols

Static routes
Routing Information Protocol (RIP) v1/v2
Open Shortest Path First (OSPF) v1/v2/v3
Classless Inter-Domain Routing (CIDR)
Internet Control Message Protocol (ICMP)
ICMP Router Discover Protocol (IRDP)
Virtual Redundant Routing Protocol (VRRP)
Address Resolution Protocol (ARP)
Internet Group Management Protocol (IGMP) v2
Distance-Vector Multicast Routing Protocol (DVMRP)
DHCP – Helper/Relay
Support IGMP v3

Layer 3 Routing Performance

Up to 128 RIP Routing Interfaces
Up to 128 OSPF Routing Interfaces; up to 128 OSPF Areas; up to 128 Routing Interfaces per OSPF
Area; up to 32 routes for ECMP Routing; up to 4 next hops per ECMP
Up to 128 VLAN Routing Interfaces
Up to 256 Multicast Forwarding Entries
Up to 8K ARP entries; Up to 4K NDP entries

 
VLAN
VLAN support for tagging and port-based as per IEEE 802.1Q
Double VLAN tagging (QinQ)
Up to 1024 VLANs supported
Dynamic VLAN with GVRP support
Calitatea serviciului
Layer 2 Trusted Mode (IEEE 802.1p tagging)
Layer 3 Trusted Mode (DSCP)
Layer 4 Trusted Mode (TCP/UDP)
Advanced Mode using Layer 2/3/4 flow-based Policies, including metering/rate limiting, marking and bandwidth guarantees; up to 100 ACLs can be used for QoS flow identification via Class-maps
8 Priority Queues per Port
Adjustable Weighted-Round-Robin (WRR) and Strict Queue Scheduling
Port-based QoS Services Mode
Flow-based QoS Services Mode

Multicast
Static IP Multicast
Dynamic Multicast Support – 1024 Multicast groups supported in IGMP Snooping
IGMP snooping for IP multicast support
IGMP Querier
Protocol Independent Multicast (PIM-DM, PIM-SM)
Securitate
IEEE 802.1x based edge authentication -- supports single and multiple host access, guest access, voice authorization, and Microsoft Active Directory
Switch access password protection
User-definable settings for enabling or disabling Web, SSH, Telnet, SSL management access
Port-based MAC Address alert and lock-down
IP Address filtering for management access via Telnet, HTTP, HTTPS/SSL, SSH and SNMP
RADIUS and TACACS+ remote authentication for switch management access
Up to 100 Access Control Lists (ACLs) supported; up to 28 Access Control Entries (ACEs) per ACL
SSLv3 and SSHv2 encryption for switch management traffic
Management access filtering via Management Access Profiles
Alte switch-uri
Link Aggregation with support for up to 12 static aggregated links, 8 dynamic aggregated links per switch and up to 8 member ports per aggregated link; LACP support (IEEE 802.3ad)
Administrare
Supports a simple switch mode to allow auto configuration of complex network settings
Web-based management interface
Industry-standard CLI accessible via Telnet or Local Serial Port
SNMPv1, SNMP v2c and SNMPv3 supported
4 RMON groups supported (history, statistics, alarms and events)
TFTP transfers of firmware and configuration files
Dual Firmware images
Multiple Configuration file upload/download supported
Statistics for error monitoring and performance optimization including port summary tables
BootP/DHCP IP address management supported
Syslog remote logging capabilities
Temperature sensors for environmental monitoring
Şasiu
267 x 258 x 31mm (W x D x H)
27 cm (10.5") x 26 cm (10.2") x 3 cm (1.2")
Approximate weight: 2.7kg, 5.8 lbs

Hardware
512MB of CPU SDRAM
32MB of Flash Memory

Compatibilitate MIB
RFC 1213 MIB II
RFC 1215 Standard Traps
RFC 1286 Bridge MIB
RFC 1442 SMIv2 (SNMPv2 MIB)
RFC 1451 Manager-to-Manager MIB
RFC 1492 TACACS+
RFC 1493 Definitions of Managed Objects for Bridges
RFC 1573 Evolution of Interfaces
RFC 1643 Etherlike MIB
RFC 1757 Remote Network Monitoring (RMON) MIB
RFC 1907 SNMP v2 MIB
RFC 2011 Internet Protocol (IP) MIB using SMIv2
RFC 2012 Transmission Control Protocol (TCP) MIB using SMIv2
RFC 2013 User Datagram Protocol (UDP) MIB using SMIv2
RFC 2233 Interfaces Group using SMIv2
RFC 2618 RADIUS MIB
RFC 2665 Ethernet-like Interface Types MIB
RFC 2666 Identification of Ethernet Chip sets
RFC 2674 MIB for Bridge with Traffic Classes, Multicast Filtering and VLAN Extension (IEEE802.1p/q MIB)
RFC 2737 ENTITY-MIB
RFC 2819 RMON MIB
RFC 2863 Interface Evolution
Standarde suportate
IEEE 802.1AB
IEEE 802.1D
IEEE 802.1Q
IEEE 802.1p
IEEE 802.1w
IEEE 802.1x
IEEE 802.2
IEEE 802.3
IEEE 802.3I
IEEE 802.3u
IEEE 802.3x
IEEE 802.3z
IEEE 802.ab
IEEE 802.3ac
IEEE 802.3ad
IEEE 802.3ae
IEEE 802.3ak
Condiţii de mediu pentru funcţionare
Operating Temperature: 0º C to 45º C
Storage Temperature: -20º C to 70º C
Operating Relative Humidity: 10% to 90% non-condensing
Storage Relative Humidity: 10% to 95% non-condensing
10 Gigabit Ethernet
Each PowerConnect M8024 switch provides 24 10-GbE ports to the Dell PowerEdge™ M1000e blade chassis. This valuable capability delivers 10 GbE to each of the up to 16 server blades. The enhanced bandwidth and performance more than satisfies the increasingly important requirements of servers embracing technologies like virtualization.
Extreme Flexibility
In addition to the 16 internal 10 GbE ports, the M8024 delivers flexible external I/O connectivity choices, utilizing up to two modular 10 Gb Base-T, CX-4 and/or small form-factor pluggable + (SFP+) uplinks. Each SFP+ module provides four 10 GbE ports. When using two SFP+ modules, a total of eight external 10GbE ports are provided. Each CX-4 module provides three 10 GbE ports. Two CX-4 modules yield a total of six external 10 GbE ports. Two 10 Gb Base-T modules provide four 10 GbE ports. For even more flexibility, the M8024 supports mixed environments using combinations of SFP+, 10 Gb Base-T and CX-4 modules.
High Density
The PowerConnect M8024 is designed for the Dell PowerEdge M1000e chassis and extends significant bladed benefits, including:


Optimized data center space utilization
Reduced cabling and related components
Shared power and cooling infrastructure
Overall lower total cost of ownership (TCO)
PowerConnect Family Benefits
The Dell PowerConnect M8024 is a member of a broad family of Dell PowerConnect products and enjoys valuable features, functions and benefits available in other Dell switches installed in the data center. This not only eases integration but also simplifies ongoing management. IT personnel will find familiar products recognized for their valuable capabilities. Additionally, IT server administrators will find deployment of the M8024 to be simplified, and will enjoy the benefits delivered by the Simple Switch firmware feature included with the M8024. These capabilities, along with the rich capabilities of the M8024, make deploying 10 Gb Ethernet a quick and effective solution for growing data centers with Dell PowerEdge blades.
Dell ProSupport
Cu servicii de asistenţă mai rapide şi mai fiabile, concepute pentru a aborda provocările tehnologice cu care vă confruntaţi în prezent, portofoliul Dell ProSupport™* se axează pe cerinţele, pe exigenţele legate de timp şi pe bugetul dvs.
Aveţi nevoie de servicii de asistenţă profesională care să îndeplinească cerinţele IT atât ale dvs., cât şi ale angajaţilor dvs., 7 zile din 7, 24 de ore din 24? Alegeţi Dell ProSupport pentru a avea acces la un tehnician certificat.
Aveţi personal IT? Alegeţi Dell ProSupport pentru IT şi obţineţi asistenţă tehnică pentru profesionişti cu deplasare rapidă şi acces 24 de ore din 24, 7 zile din 7, la tehnicieni certificaţi de Dell.
Modele de servicii
Dell ProSupport pentru utilizatori finali
Fiind creată pentru organizaţiile cu personal IT redus sau fără personal IT, această ofertă include:
asistenţă directă 24 de ore din 24, 7 zile din 7, pentru reparaţii hardware pentru angajaţii dvs.;
asistenţă privind modul de utilizare a aplicaţiilor software populare, precum Norton™ AntiVirus, Microsoft® Office, Microsoft® Small Business Server, Intuit® QuickBooks, Adobe® Photoshop® şi Adobe Acrobat®;
acces la un tehnician certificat în cel mult două minute.
Dell ProSupport pentru IT
Creat pentru organizaţiile cu personal IT. Include:
acces direct 24 de ore din 24, 7 zile din 7, la Centrele de expertiză Dell;
detaşare rapidă a tehnicienilor certificaţi Dell;
Managementul escaladării prin Centrele de comandă globală Dell.
Pentru rezolvare mai rapidă, adăugaţi opţiunea Răspuns în aceeaşi zi. Această opţiune este ideală pentru clienţii care utilizează sistemele Dell™ pentru operaţiuni în care timpul este un parametru important sau pentru funcţii esenţiale pentru întreprindere. Un tehnician instruit de Dell va sosi la sediul dvs. în termen de 4 ore de la stabilirea problemei, în funcţie de locaţie, pentru a vă ajuta să repuneţi sistemul în funcţiune cât mai rapid posibil.




Particularizare şi instalare
Instalare – Dell oferă servicii de instalare standard simplificată pentru a putea selecta cu uşurinţă acel pachet care permite înlocuirea rapidă a sistemelor vechi cu cele noi la locul de muncă.
Întreţinere – puteţi opta pentru upgrade la înlocuire timp de trei ani a componentelor sau echipamentelor hardware, cu răspuns în aceeaşi zi, în 4 ore sau în următoarea zi lucrătoare.