Ultra-Dense Shared Infrastructure in a 2U Chassis
Scale-out environments such as HPCC, Web 2.0, gaming and cloud building, where high availability predominantly resides in the software layer.
Sorry, this item is not available anymore for purchase online. Please see our recommended replacement product.
PowerEdge C6100 Rack Server
PowerEdge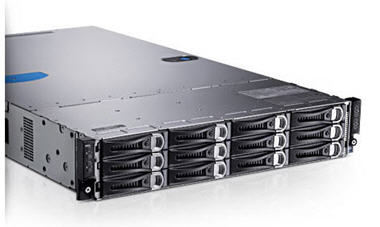 Ultradense, flexible and efficient computing
The PowerEdge™ C6100 provides capacity, performance and flexibility in a very dense package. The highly efficient 2U rack chassis supports up to 12 x 3.5" or 24 x 2.5" hot-plug Serial Attached SCSI (SAS), Serial ATA (SATA) or solid-state drive (SSD) hard drives.

The PowerEdge C6100 features up to 94 percent efficient hot-plug redundant power supplies that can help you improve energy efficiency and lower operating costs by effectively reducing total power consumption. Plus, a shared infrastructure can help reduce floor space, power use and cooling, producing one of the most eco-friendly designs yet.
Best-in-class density without sacrifice
Increasing density shouldn't mean sacrificing critical features such as single-node serviceability and hot-plug hard-drive flexibility.

With four 2-socket server nodes in a 2U rack chassis, the PowerEdge C6100 offers maximum density with the convenience of both single-node serviceability and hot-plug 2.5" and 3.5" hard-disk drives. The result: an uncompromised, remarkably efficient server with twice the density capability of traditional 1U servers.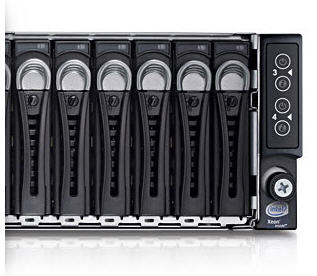 Ultimate Flexibility in a Standard 2U Chassis
The PowerEdge C6100 has the specialized features you need to run your hyperscale applications, while providing flexibility with open standards. The PowerEdge C6100 offers a number of flexible features in its standard 2U rack chassis, including:

Front-mounted 3.5-inch or 2.5-inch hot-plug hard drives
Up to four discrete 2-socket nodes
x16 PCIe slot and x8 mezzanine slots
Hot-plug redundant power supplies
Intelligent Platform Management Interface (IPMI) 2.0 dedicated management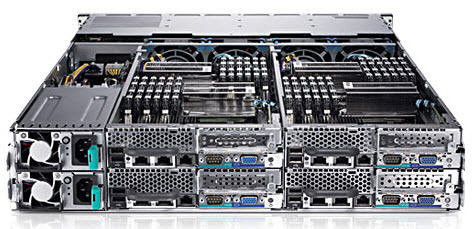 Save power and increase efficiency
By sharing power supplies, fans and backplanes, the PowerEdge™ C6100 effectively supports reducing the total amount of power consumed for energy efficiency and assists to lower operating costs.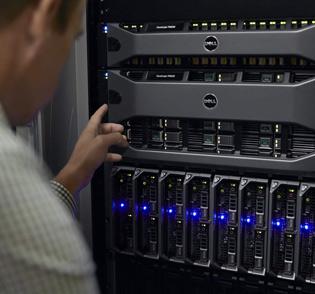 Global Services and Support
Dell offers a wide range of professional services to simplify the assessment, design, implementation, management and maintenance of your IT environment to help you transition from platform to platform.

Dell Support Services
Dell ProSupport offers a suite of support services that enable you to choose support models based on how you use technology and where you want to allocate resources. We recommend Dell ProSupport Plus with SupportAssist for mission-critical systems or Dell ProSupport for premium hardware and software support for your PowerEdge solution. For hyper-scale data centers, we also offer ProSupport Flex for Data Center.

Dell Enterprise Deployment Services
ProDeploy Enterprise Suite* offers a full range of deployment services and professional certifications to help you get more out of your technology starting on day one. Choose ProDeploy Plus for the most complete deployment offer available in the market, ProDeploy for expert configuration and installations, or Basic Deployment for worry-free hardware installations.
Dell Training Services
Dell Education Services aims to complement your relationship with Dell as a trusted partner by offering Education Services for our own products, for industry leading infrastructure solutions and for the ongoing development of your organization. It is a global organization with local representation, classrooms and web-based training available worldwide.

Contact your Dell representative today for more information or click here.
Optimized for performance and efficiency
Dell™ PowerEdge C servers are available with certified software from Dell partners to create optimized, fully-supported solutions that include hardware, software, service and support. These offerings include powerful solutions for new big data and cloud computing instances.

Dell Apache Hadoop Solution
Leverage Hadoop to process massive application datasets. The Dell | Cloudera® solution combines Dell servers, Crowbar software framework and networking components with Cloudera's Distribution, including Apache Hadoop (CDH) as well as management tools, training, technology support and professional services. This Dell Apache Hadoop Solution gives you a one-stop shop for deploying, managing and scaling a Hadoop cluster.

The Dell OpenStack-Powered Cloud Solution
Stand up an OpenStack cloud in hours instead of days. This massively scalable open source Infrastructure as a Service (IaaS) cloud solution leverages OpenStack™ cloud software on Dell PowerEdge C servers and switches, Crowbar software framework, Dell OpenStack expertise, service and support. It's open, compatible with other systems and gives you the freedom to build the cloud of your dreams.

The Dell Cloud Solution for Web Applications
Take the guesswork out of building and running efficient public and private clouds with a turnkey cloud solution. The Dell Cloud Solution for Web Applications brings together optimized Dell hardware, Joyent software and joint services, so you can easily and quickly deploy and manage an elastic, on-demand cloud infrastructure with confidence, with as little or as much outside support as you want along the way.

Dell Solution Services
Whether you need help with strategy and deployment, require IT or business consulting, or want to explore managed services that take the load off your IT staff, turn to Dell services for expert advice and world-class support for your data center environment.
 

    
Upgrade to Dell ProSupport
Hardware and software support when you need it, where you need it.

Learn More ›