Concentrated computing power in a 2S/1U form factor
Maximize computing power without compromise in space-sensitive environments with the Dell™ PowerEdge™ R620.
Sorry, this item is not available anymore for purchase online. Please see our recommended replacement product.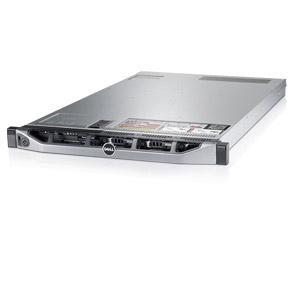 Dell PowerEdge R620 Rack Server
PowerEdge
Processing density
Rely on the exceptional combination of a hyper-dense 2-socket, 1U rack design and the latest generation server processing technology to provide outstanding productivity for space-sensitive environments.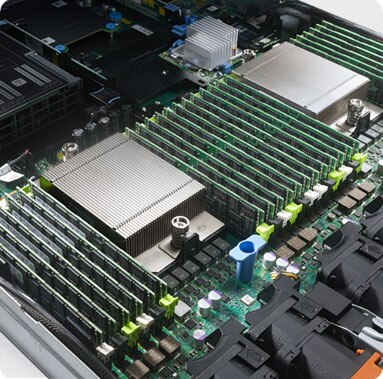 Performance-packed computing
Dramatically boost application performance with the latest Intel® Xeon® processor E5-2600 product family and up to 24 dual in-line memory modules (DIMMs). Built with 22-nanometer process technology and up to 12 cores per processor, it enables super-fast processing for compute-intensive tasks.
Find Out More

Impressive I/O capabilities
Take advantage of balanced, scalable I/O features that include integrated PCIe 3.0-capable expansion slots.
Find Out More

Flexible and scalable networking
Tailor your network throughput to match your application needs with features that allow you to take full advantage of your additional I/O performance.
Find Out More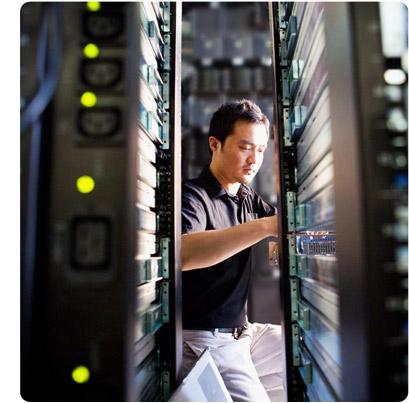 Powerful systems management
Experience easy lifecycle manageability with intelligent hardware-driven systems administration, extensive power management and other innovative management tools.
Find Out More

Exceptional operational efficiency
Ensure maximum uptime and low-risk maintenance with next-generation reliability, availability and serviceability (RAS) features within the R620 infrastructure.
Find Out More

Versatile storage capacity
Maximize the utility of your rack space with internal storage features that enable a variety of different configurations, including Express Flash PCIe technology.
Find Out More
The new generation PowerEdge experience
Make IT the engine for your business success. The newest generation PowerEdge family is engineered with the right combination of features and performance scalability to handle tough workloads for both large and small data center environments.
Improve operational efficiency with enhanced systems management
Streamline operations and boost productivity to get the most out of every dollar spent. Manage your Dell PowerEdge servers in complex IT environments by automating the most essential server lifecycle management tasks: deploy, update, monitor and maintain.
Global Services and Support
Dell Services can help reduce IT complexity, lower costs and eliminate inefficiencies by making IT and business solutions work harder for you. The Dell Services team takes a holistic view of your needs and designs solutions for your environment and business objectives while using established delivery methods, local talent and in-depth domain knowledge to help lower your total cost of ownership.
Dell offers a wide range of professional services to simplify the assessment, design, implementation, management and maintenance of your IT environment and to help you transition from platform to platform.

Dell ProSupport
Dell ProSupport offers a suite of support services that enable you to choose support models based on how you use technology and where you want to allocate resources. We recommend Dell ProSupport Plus withSupportAssist for mission-critical systems or Dell ProSupport for premium hardware and software support for your PowerEdge solution. For hyper-scale data centers, we also offer ProSupport Flex for Data Center. Contact your Dell representative today for more information*.

Dell Enterprise Deployment Services
ProDeploy Enterprise Suite* offers a full range of deployment services and professional certifications to help you get more out of your technology starting on day one. Choose ProDeploy Plus for the most complete deployment offer available in the market, ProDeploy for expert configuration and installations, or Basic Deployment for worry-free hardware installations.

Dell Training Services
Dell Education Services offers PowerEdge Server training courses designed to help you achieve more with your hardware investment. The curriculum is designed in conjunction with the server development team, as well as Dell's technical support team, to ensure that the training delivers the information and practical, hands-on skills you and your team need to confidently deploy, manage and maintain your Dell Server solution. To learn more or register for a class today, click here.
Dell OpenManage Systems Management portfolio

The Dell OpenManage systems management portfolio, including Dell PowerEdge server embedded management feature integrated Dell Remote Access Controller (iDRAC) with Lifecycle Controller, helps IT Administrators efficiently manage Dell servers in physical, virtual, local and remote environments, operating in band or out of band, with or without a systems management software agent. Irrespective of the operating system or hypervisor you deploy, iDRAC with Lifecycle Controller automates the most essential and frequently performed server management tasks to help your IT resources become more productive and your IT environment more cost-effective and well-maintained. Dell OpenManage also integrates and connects to leading third-party systems management solutions you may already own, so you can maintain your single point of control and capitalize on your existing investment.

Solutions and Systems Management

Dell Desktop Virtualization Solutions

You face an expanding set of challenges for provisioning, managing and supporting end-user computing across your enterprise. Your IT team is not growing, but support requirements are more complex as you plan how best to migrate and update client systems, and secure new "smart" mobile devices.

With Dell DVS you can create a centralized end-user computing environment that streamlines desktop management and reduces maintenance burden on your IT staff. Now you can focus on important projects to improve IT services. Dell DVS solutions are completely integrated and tested solutions that are powered by advanced Dell PowerEdge rack and blade servers.

Dell's purpose-built DVS solutions combine the performance, memory capacity and embedded hypervisor options in Dell PowerEdge servers with desktop virtualization software in optimized configurations. DVS solutions simplify deployments and accelerate your time-to-value. Dell DVS solutions deliver:

Storage Options

With Dell Compellent, Dell EqualLogic and Dell PowerVault, we have created a comprehensive and innovative portfolio of storage products, all of which are easy to deploy, manage and grow. Whether you use network attached storage (NAS), direct attached storage (DAS), internet SCSI (iSCSI) or Fibre Channel (FC), Dell has a product that can meet your business needs and reduce the cost and complexity of storage.


The Value of Dell Storage:

Dell's open, standards-based solutions let customers of all sizes integrate new technologies without sacrificing performance or their existing IT investments.
 
 
Direct-Attached Storage:

The Dell PowerVault MD storage family offers easy and economical expansion for Dell PowerEdge servers enabling high availability and scalability for demanding business applications.
 
 
 
Disk-to-Disk Backup

Due to expanding volumes of data that must be backed up and protected along with shrinking backup windows, many IT departments have moved to or added disk-based backups.
 
 
 
Network-Attached Storage

NAS is a specialized storage server with its own IP address that is made available to multiple clients and servers on a local area network (LAN) or wide area network (WAN). 
 
 
 
Object-Based Storage

The Dell DX Object Storage Platform is designed to intelligently access, store, protect and distribute fixed digital content.
 
 
 
Storage Area Network

A storage area network (SAN) is a network of shared storage devices, such as disk storage arrays and tape automation
 
 
 
Tape Backup

Considered the first and last line of defense against data loss, tape and removable disks can be used for long-term data storage and backup.
 
 
 
Unified Storage

Unified Storage is a term that describes the ability to manage both file- and block-level data.
Processor
Intel® Xeon® processor E5-2600 or E5-2600 v2 product family

Processor Socket:
2

Internal Interconnect:
2 x Intel QuickPath Interconnect (QPI); 6.4 GT/s; 7.2 GT/s; 8.0 GT/s

Cache:
2.5MB per core; core options: 4, 6, 8, 10, 12
Operating System
Microsoft® Windows Server® 2012
Microsoft Windows Server 2008 R2 SP1, x64 (includes Hyper-V®)
Novell® SUSE® Linux Enterprise Server
Red Hat® Enterprise Linux®
Virtualization options:
Citrix® XenServer®
VMware® vSphere® ESXi ™
Red Hat Enterprise Virtualization®
Up to 1.5TB (24 DIMM slots) 2GB/4GB/8GB/16GB/32GB/64GB DDR3 up to 1866MT/s
Drive Bays
Up to ten 2.5" hot-plug SAS, SATA, or SSD or up to four hot-plug 2.5" SAS, SATA, or SSD + two PCIe SSD
Availability
High-efficiency, hot-plug, redundant power supplies; DC power supplies; hot-plug hard drives; TPM; dual internal SD support; hot-plug redundant fans; optional bezel; luggage-tag; ECC memory; interactive LCD screen; extended thermal support; ENERGY STAR® compliant; extended power range; Switch Agnostic Partitioning (SWAP)
Power
Titanium efficiency, hot-plug redundant 750W power supply
Platinum efficiency, hot-plug redundant 495W, 750W or 1100W power supplies
Auto-ranging power supplies
RAID Controllers
Internal controllers:
PERC S110 (SW RAID)
PERC H310
PERC H710
PERC H710P
External HBAs (RAID):
PERC H810
External HBAs (non-RAID):
6Gbps SAS HBA
Storage
Maximum internal storage:
Up to 10TB

Hot-plug hard drive options:
2.5" PCIe SSD, SAS SSD, SATA SSD, SAS (15K, 10K), nearline SAS (7.2K), SATA (7.2K), SAS 512n (15K)
Self-Encrypting Drives available

Slots
3 PCIe slots:
Two x16 slots with x16 bandwidth, half-height, half-length
One x16 slot with x8 bandwidth, half-height, half-length
(ten-drive-bay configuration is available only with 3 PCIe slot option)

or

2 PCIe slots:
One x16 slot with x16 bandwidth, full-height, 3/4 length
One x16 slot with x16 bandwidth (or x8 with one processor only), half-height, half-length
Management
Remote Management
iDRAC7 with Lifecycle Controller
iDRAC7 Express (default), iDRAC7 Enterprise (upgrade option),
8GB vFlash media (upgrade option), 16GB vFlash media (upgrade option)

Systems Management
IPMI 2.0 compliant
Dell OpenManage™ Essentials
Dell OpenManage Power Center
Dell OpenManage Connections:
• Dell OpenManage Integration Suite for Microsoft® System Center
• Dell plug-in for VMware® vCenter™
HP Operations Manager, IBM Tivoli® Netcool® , and CA Network and Systems Management
Communications
Broadcom® 5720 quad-port 1GbE Base-T (no TOE or iSCSI offload)
Intel I350 quad-port 1GbE Base-T (no TOE or iSCSI offload)
Intel X540 dual-port 10GbE Base-T with 2 x 1GbE (FCoE capability enabled on the 10GbE ports)
Broadcom 57800S dual-port 10GbE Base-T with 2 x 1GbE (TOE and iSCSI offload available on 10GbE ports) Broadcom 57800S dual-port 10GbE SFP+ with 2 x 1GbE (TOE and iSCSI offload available on 10GbE ports)Broadcom 57840S quad-port 10GbE SFP+ Rack NDC (NPAR1.0, SRIOV, DCB, iSCSI and FCoE offloads and CEM)
Rack Support
ReadyRails II sliding rails for tool-less mounting in 4-post racks with square or unthreaded round holes or tooled mounting in 4-post threaded hole racks, with support for optional tool-less cable management arm
ReadyRails static rails for tool-less mounting in 4-post racks with square or unthreaded round holes or tooled mounting in 4-post threaded and 2-post (Telco) racks