Tento produkt momentálne nie je k dispozícii. Nižšie nájdete naše odporúcanie na porovnatelný systém.
Firemní projektor DellTM 1210S nabízí spolehlivý provoz a vynikající obraz – to vše za skvělou cenu.
Ostrý čistý obraz: Nativní rozlišení SVGA (800 x 600) zajišťuje ostrý obraz
Flexibilní konektivita Dva konektory VGA pro více zařízení
Projektor: Neobsahuje filtry, což snižuje náklady na údržbu. K dosažení přesnosti a věrnosti obrazu využívá technologii BrilliantColor.TM

Excellent image quality
Whether you're presenting your ideas in a boardroom or a classroom, the Dell™ 1210S projector displays graphics and text in bright, high-contrast detail that helps you get your points across
.
Sharp, clear visuals:

Enjoy excellent visuals with Super Video Graphics Array (SVGA) (800 x 600) native resolution.

Bright, wide views in any room:

2500 ANSI lumens (Max.) makes effective lights-on presentations a reality, and a maximum diagonal projection screen size of 303" (7.69 m) from 39.37 ft (12 m) away helps you display your ideas on a grand scale.

Stunning detail and depth:

A contrast ratio of 2200:1 or typical contrast ratio (full on/full off) ensures rich, deep colours, sharp image quality and easy-to-read text.
Versatility and convenience
The flexible Dell™ 1210S projector is easy to use in a wide variety of presentation scenarios.
Fast, smooth transitions: Dual VGA-In connectors allow easy switching from one presenter to another, offering great flexibility and effective information sharing.
Simple onscreen navigation: Page Up and Page Down controls let you navigate through your presentations easily (notebook and projector need to be connected via USB cable).
Convenient controls: Designed to fit snugly into the palm of your hand, the remote control makes it easy to adjust distorted images using keystone adjustment and hide presentations with the blank screen feature.
Flexible display options: The Dell 1210S projector has desktop and ceiling-mount (mounting equipment sold separately) options and front and rear projection modes for maximum versatility.
Economy and reliability
Thoughtful design features make it easy to operate and maintain the Dell™ 1210S projector while enjoying a low total cost of ownership.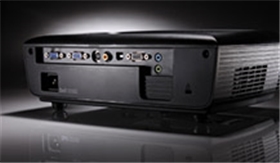 Security features: Password and security cable protection (security cable sold separately) help prevent mischief and/or restrict authorized access to the projector.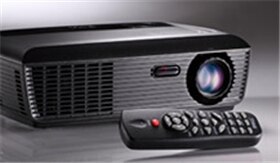 Power-saving design: The EU energy-related product (ErP)-compliant Dell 1210S projector consumes less than 0.5 watt of electricity in standby mode.
&nbsp

Podpora produktov
Od ovládačov a návodov až po diagnostické nástroje a náhradné diely máte k dispozícii podporu produktov spoločnosti Dell.
Začnite
&nbsp