Des couleurs étonnantes, profondes et détaillées
Nous sommes désolés, cet article ne peut plus être acheté en ligne. Veuillez consulter le produit de remplacement que nous vous recommandons.
Dell UltraSharp™ U2410
Dell
Superb User Experience
The Dell UltraSharp U2410 Monitor is packed with features that make it easy to connect and a pleasure to use, no matter how much screen time you log.


                
Picture-in-Picture and Picture-by-Picture Multi-Views:
View a smaller subscreen within your main screen, or two screens at once, using intuitive onscreen controls.
Flexible Viewing and Mounting Options:
Customize your viewing experience with the height-adjustable stand and tilt, swivel and pivot features. Or save valuable desktop space by detaching the panel from the stand for wall mounting (wall mounting equipment sold separately).
Intuitive Controls:
Easily manipulate the-on screen display with capacitive-touch switches.
Extensive Connectivity:
Enhance sound and picture quality with HDMI, Display Port and DVI-D digital connector with high-bandwidth Digital Copy Protection (HDCP) Ready. Composite and component connections, 4 USB ports and a media card reader allow easy connection of peripherals like cameras and game consoles.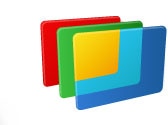 The Beauty of PremierColor Technology
PremierColor technology enables the Dell UltraSharp U2410 monitor to deliver vibrant, consistent, true-to-life colours - and minimizes the need for further calibration. It provides a simple and outstanding Out-of-Box experience.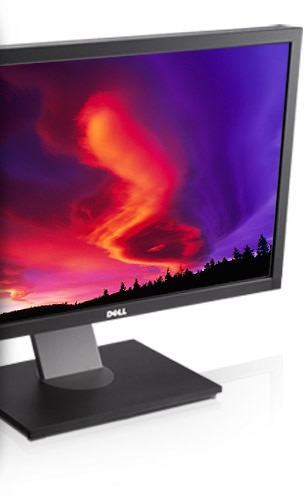 Factory Calibrated: Be enthralled by the first Dell monitor that is colour-calibrated at the factory for accurate, consistent and precise colours.

Compatible with Industry Colour Standards: Compatibility with industry color spaces such as Adobe RGB (96% coverage) and sRGB (100% coverage) enables the U2410 Monitor to meet the needs of professional users involved in color-centric work such as graphic design, CAD/CAM, gaming and media creation.

Customizable Colour Adjustment: With its 6-axis Colour Control, Custom Colour Mode is designed for advanced users who appreciate the ability to customize and adjust parameters for saturation, hue, gain and offset.

Amazing Colour Gamut and Colour Depth: A higher color gamut of 1.07 billion colors allows for an astonishing range of colors to be displayed. The high data accuracy of 12-bit internal processing helps to distinguish very low grayscale tones, allowing for a greater level of detail in dark areas.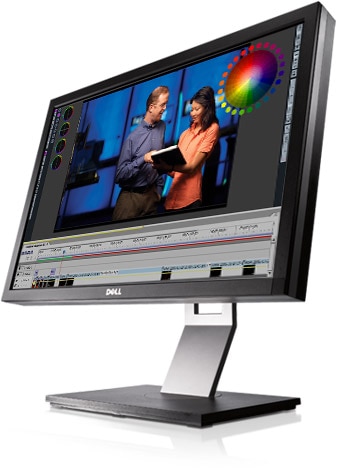 Uncompromising Screen Performance
Designed to handle graphics-intensive applications with ease, this high-performance 61 cm (24") monitor delivers stunning detail, depth and responsiveness.

61 cm (24") Display and 1920x1200 (max) WUXGA Resolution: Experience stunning high-definition detail and the ability to view more onscreen content.


16:10 Wide Aspect Ratio: View wide documents with ease and work in multiple windows with less scrolling and toggling between applications.


6-Millisecond Response Time* (Typical): Discover responsive, lifelike video playback with minimal ghosting and streaking.


80,000:1 Dynamic Contrast Ratio: Enjoy blacker blacks, razor-sharp graphics and text, brilliant color and near-microscopic detail.


Ease of ownership
UltraSharp 24"W monitor arrives with several levels of support to help protect your investment:

Zero bright pixels
Under Dell's Premium Panel Guarantee
*
, you will receive a replacement Dell UltraSharp monitor should even one bright defective pixel appear on the screen.

Asset management support:
The Dell UltraSharp 24"W monitor supports asset management through Dell Client Manager, enabling IT administrators to remotely control brightness and turn the monitor on and off.

Excellent out-of-box experience:
Certified, in-factory calibration and simple setup get you up and running quickly.
SERVICE ET SUPPORT TECHNIQUE

•Service standard : Support technique en ligne 7 jours sur 7 et 24 heures sur 24 sur l'ensemble de la durée de vie du produit, accès pendant 12 mois au support technique par téléphone Dell dédié aux imprimantes (file d'attente) et service d'échange le jour ouvrable suivant pendant 12 mois*.
•Options de service : Options d'extension de service à deux, trois, quatre et cinq ans disponibles. Possibilité de souscription au service de support technique commercial pendant un, deux, trois, quatre ou cinq ans. Service d'installation disponible en option.
•Maintenance de l'unité de fusion : Le service d'intervention le jour ouvrable suivant pour imprimantes laser Dell inclut la maintenance de l'unité de fusion et le remplacement des pièces pour toute la durée du contrat de maintenance.